News
Stricker Joins Goosen And O'Hair On Top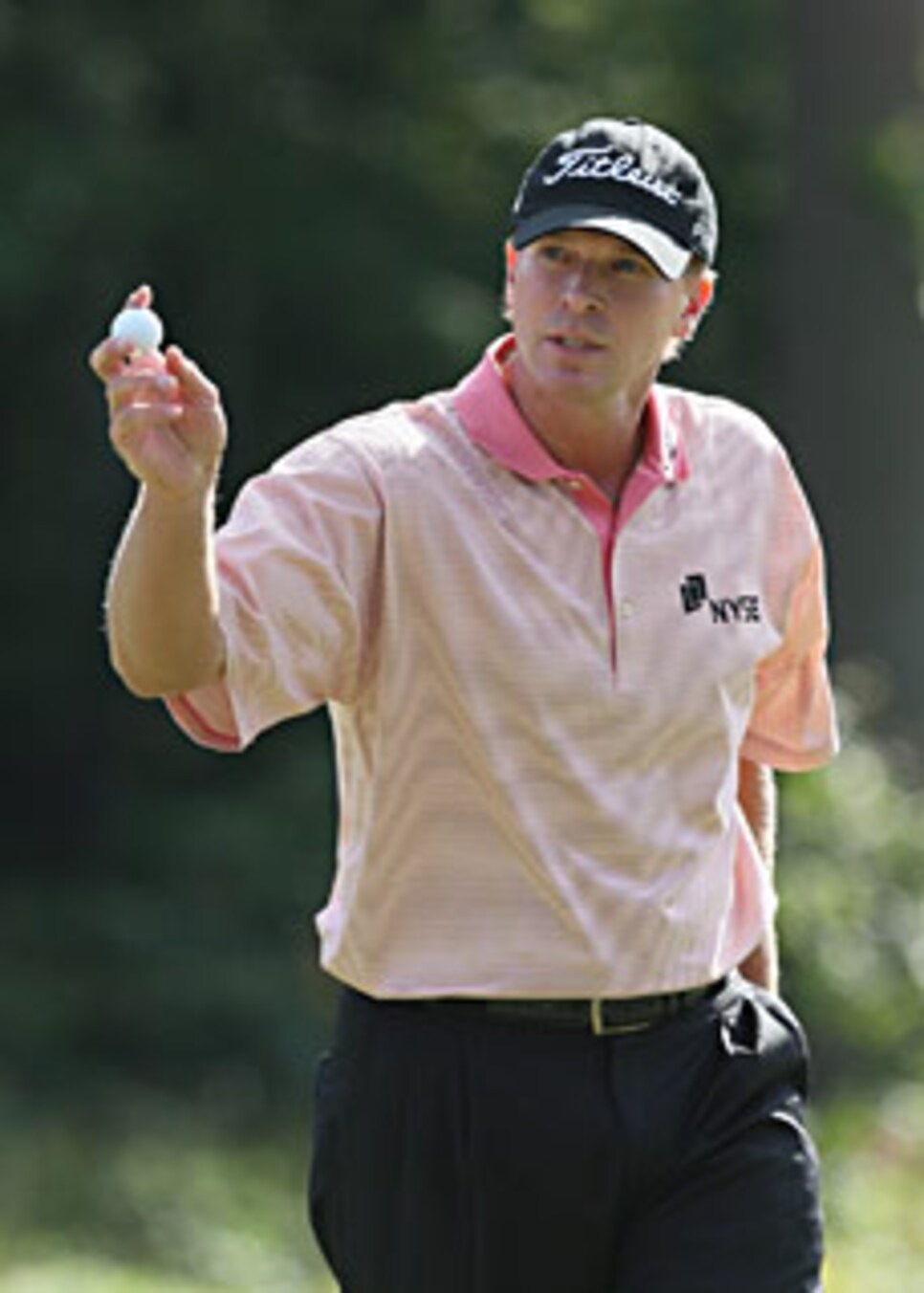 Stricker's six-under 65 included seven birdies, an eagle and three bogeys.
NORTON, Mass. (AP) -- Steve Stricker was among eight players who had at least a share of the lead Sunday in the Deutsche Bank Championship. He also knew how much each shot mattered.
Standing in the 18th fairway, a stiff breeze in his face and the front of the green 230 yards away, about 5 yards longer than the maximum distance he usually gets out of his hybrid. He went for it anyway, and it paid off.
He was filled with uncertainty until the ball barely cleared a creek and bounced up to 5 feet for eagle, giving Stricker a 6-under 65 and a share of the lead with Retief Goosen and Sean O'Hair.
"I maxed that one out, and it turned out good," Stricker said.
His chances to win on Labor Day are equally tenuous.
Stricker has the goods; he already has won twice this year and finished one shot behind last week at The Barclays. Even so, there are two other guys tied for the lead who have won this year, and simply too many players within range for anyone to get a handle on how Monday will shake out at the TPC Boston.
O'Hair overcame a scratchy start with birdies on two of the last three holes for a 70. Goosen, a two-time U.S. Open champion, had a chance to take the outright lead until a chunky bunker shot that kept him from getting up-and-down for birdie at the par-5 18th. He settled for a 68 to join the other leaders at 13-under 200.
"I needed a day like this today to get back into it," Stricker said.
Just about everyone else -- except Tiger Woods -- apparently had the same idea.
Woods struggled from the opening shot. He hit driver into the woods for a one-shot penalty, didn't make a birdie until the 15th hole and shot 1-over 72. That left him nine shots behind in a tie for 30th. Woods did not speak to reporters, going to the locker room to have his back stretched before heading to the putting green.
The gallery still has a rooting favorite among those trying to win. Padraig Harrington, cheered wildly in a region with a large Irish population, knocked in a long birdie putt at the 18th for a 67 and was among those one shot behind, along with Scott Verplank (68) and Kevin Na (66).
"There's a saying, 'There's 5 million people in Ireland and 40 million in the States,' and I think those 40 million people live in Boston," Harrington said. "There's great support here. When you get people supporting you, you do feed off it and try to go with it, and it's certainly helped me over the last three days."
Jim Furyk, who had a share of the 36-hole lead with O'Hair, slumped to a 73 yet still was in the hunt. He was at 10-under 203.
No one stands out as the obvious favorite. All of them share one goal.
"You know someone is going to shoot a good score tomorrow," Kevin Sutherland said after a 69 that put him in the group two shots behind. "You just need to be the guy who does it."
Stricker had a chance to take over the top spot from Woods in the FedEx Cup last week in The Barclays until he missed a 10-foot par putt on the final hole that would have forced a playoff with Heath Slocum.
He'll get another opportunity Monday, in small part to his bold play on the 18th.
"The only thing I had going for me is I had a little bit of a downhill lie that would keep the ball down a little bit," Stricker said. "I hit it solid and it landed three or four paces short and just got up there very nicely."
The top 70 advance to the third round of the PGA Tour Playoffs next week in Chicago, and Stricker has the best chance to overtake Woods atop the FedEx Cup standings. All he cares about is this week, which might be even more confusing than the points-based cup.
The winner can come from just about anywhere.
"I don't expect guys like Stricker and Harrington and Goosen ... to fall backwards, that's for sure," O'Hair said. "I don't know how low you're going to have to go, but you're still going to have to have a nice round of golf. If I go out there and focus on me and get comfortable on the first tee and not take four or five holes to get going, I should be right there at the end."
That wasn't the case Sunday in sunshine and a mild breeze that was strong enough for players to continuously toss blades of grass in the air to figure out which way it was blowing.
O'Hair took three shots from 20 feet just short of the green at No. 1, hooked his tee shot on the par-3 third for another bogey and chopped up the par-5 seventh, quickly falling out of contention. That was his last bogey, however, and he had a strong finishing kick.
Even a player like Geoff Ogilvy, who birdied his last two holes for a 68 to finish four shots behind, was not ruling himself out. The four shots is not the issue. Perhaps a larger obstacle is the 12 guys in front of him.
"It's the people," Ogilvy said. "Six back and second place is probably better than being four back and in 20th place."
The wind and firm greens made this the toughest day yet. Even after the cut was made (weeding out players not at their best), the average score was at 71.15, the first time all week it has played over par.
Even so, 29 players broke par.
"The guys managed to get it in the hole somehow," Goosen said. "I'm happy to be on top of the leaderboard, and I hope for a good tomorrow and see where we stand."