News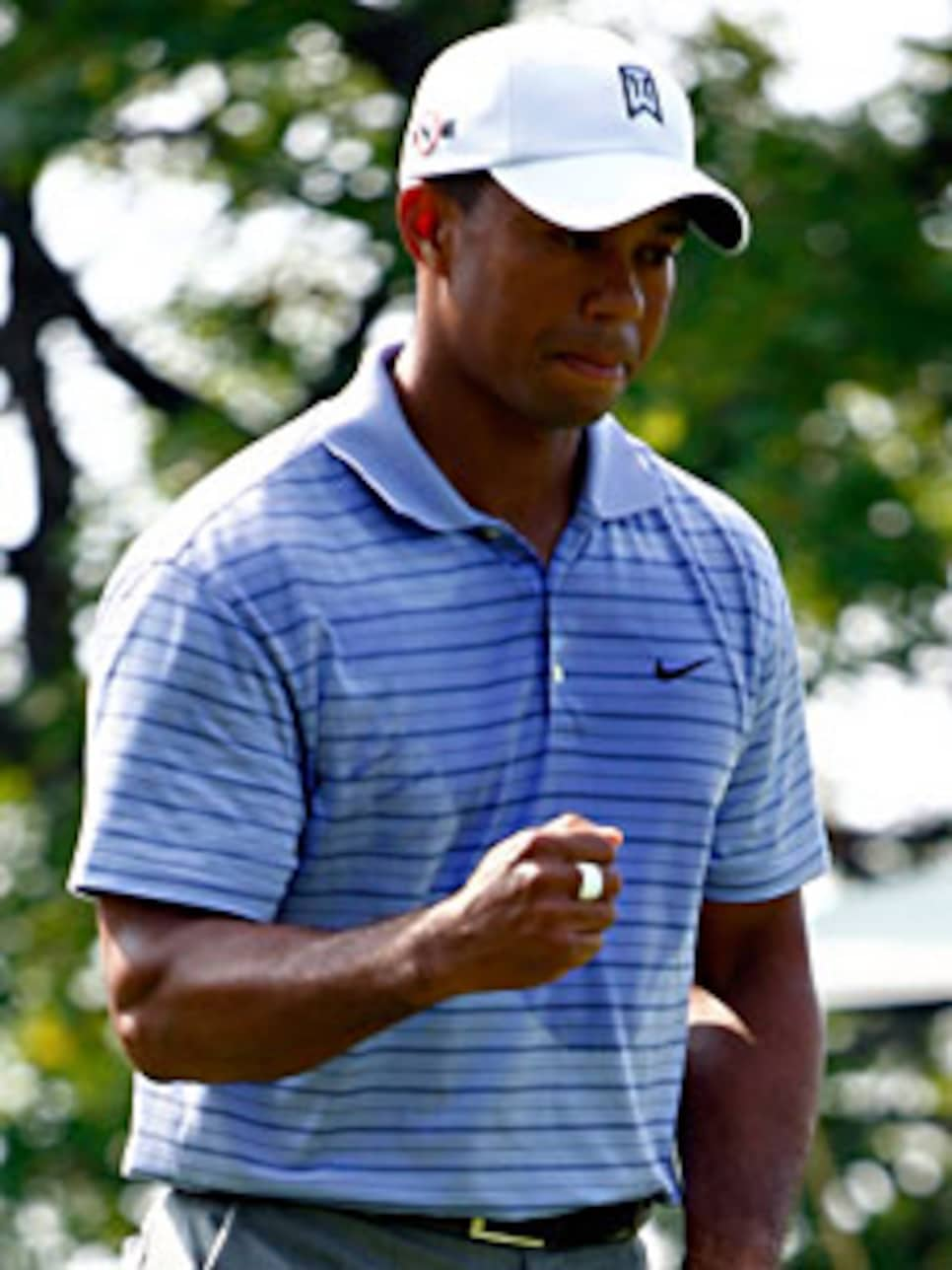 For the second day in a row Tiger opened with a bogey. It was the only blight on an otherwise perfect round of golf.
LEMONT, Ill. (AP) -- Tiger Woods dropped his 3-wood in disgust after his first tee shot Saturday sailed left into the bunker for another sloppy bogey. Four hours later, he finished off his best round of the year to build a seven-shot lead in the BMW Championship.
Getting better with every shot, Woods broke the course record at Cog Hill with a 9-under 62 and blew away the 68-man field in the third FedEx Cup playoff event.
He also tied the tournament record, set last year by Jim Furyk outside St. Louis at Bellerive.
"After I got past the first hole I was doing all right," Woods said. "It was one of those days that kind of built upon itself."
A course renovated by Rees Jones with hopes of landing a U.S. Open was no match for Woods. He hit his most unheralded shot of the round, a 7-iron that stopped 3 feet away from a dangerous pin at the par-3 sixth, and never came close to missing another green.
The signature shot was his 3-wood from just over 300 yards to 10 feet at the par-5 ninth for an eagle, so pure that the gallery crammed into the bleacher rose to its feet when the ball finally stopped rolling.
Woods was at 16-under 197 and had his largest lead on the PGA Tour since he was eight shots in front in the Buick Invitational at Torrey Pines early last year.
He will play in the final pairing Sunday with Brandt Snedeker, who had a 66. Marc Leishman had a 68 and joined Snedeker at 9-under 204, both of them hopeful of finishing high enough to get into the Tour Championship.
More than being his lowest round of the year, Woods was nearly nine shots better than the field, which averaged 70.71.
It will be his first time with the 54-hole lead since the PGA Championship last month at Hazeltine, where Y.E. Yang made up a two-shot deficit and became the first player to beat Woods from behind in a major.
Yang is 25 shots behind at Cog Hill.
Snedeker was worried about keeping his car this summer until his health improved and his game turned around. Now he has a chance to move into the top 30 in the FedEx Cup standings, which would qualify him for all the majors next year.
Winning this week? That's a taller task.
"Looks like Tiger is making it difficult on us," Snedeker said after closing with four straight birdies. "I'm playing fantastic. And the best thing is I fought extremely well out there."
Matt Kuchar improved his Tour Championship hopes with a 66 and was tied for fourth at 205 with Padraig Harrington (69).
It was Harrington who got Woods' attention early in the third round. The Irishman birdied three straight holes, chipping in on the fourth hole from deep rough, while Leishman birdied four straight in the middle of the front nine to reach 10 under.
Woods stood on the sixth tee three shots behind. Four holes later, he had the lead to himself. And midway through the back nine, when he was firing at flags and holing putts, the tournament seemed to be over.
Leishman made the turn with a two-shot lead, shot 1 over on the back nine and found himself seven shots behind.
"That's Tiger," he said. "Anything can happen -- well, anything good."
The par-3 sixth hole was the toughest of the third round at Cog Hill, the pin cut in the left corner guarded by deep bunkers front and back. Woods picked out the "6'' on the hole sign behind the green and swept a 7-iron in front right-to-left. Even better was his 6-iron from 188 yards in the rough on the next hole, where he had to shape it around a tree from left-to-right.
He lightly pumped his fist when it landed on the fringe 15 feet away, and even missing the birdie putt was OK.
"Just happy with a par," he said.
Such is the anatomy of his round -- he opened with a bogey, his best shot resulted in a par. It was the shots that followed that kept getting better, and Woods rarely has looked this dialed in.
"It was just a round that, as I said, kind of built upon itself, and I just kind of gradually kept hitting good shots, then making a couple of putts here and there," he said. "And lo and behold, I end up at 9-under par."
Woods will be going for his sixth victory of the year and his fifth at Cog Hill on Sunday, which would put him atop the FedEx Cup standings going to the Tour Championship in two weeks.
For everyone else, it's a matter of getting there.
Seven players among the top 10 are currently outside the top 30 required to get into East Lake. Snedeker would not have figured to be one of those players three months ago, when he was returning from a rib injury.
"I didn't think I was going to have a job in July," Snedeker said. "My whole goal was to secure my card. Now I'm back to my original goal of trying to make the Tour Championship. Any time you get to the Tour Championship, it's been a good year."