News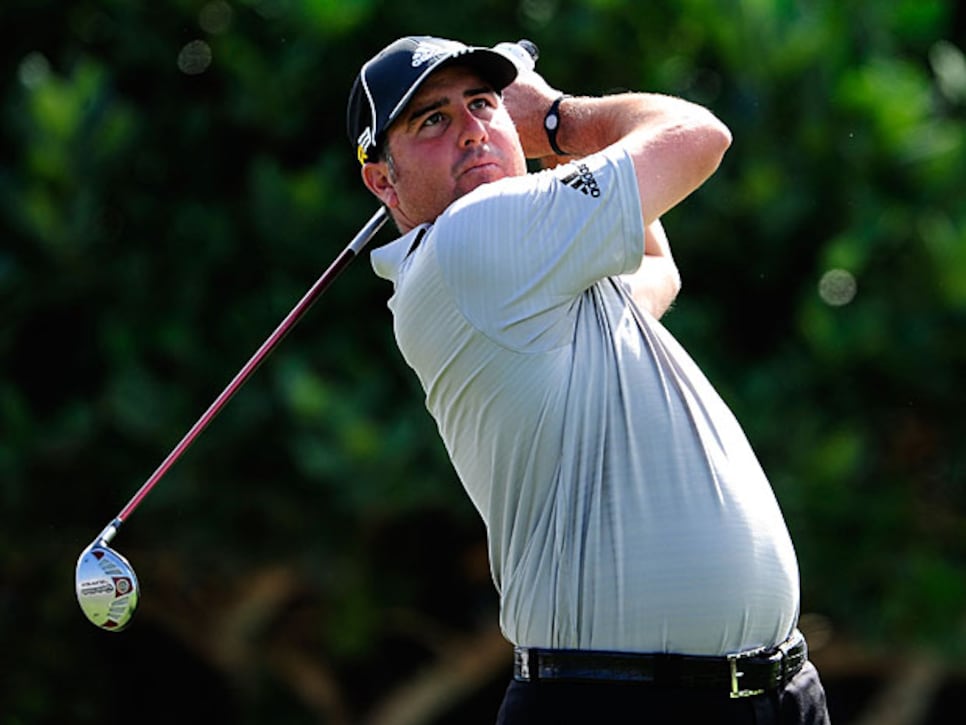 Defending champion Pat Perez is a solid pick to fare well again this week.
Welcome to Fantasy Fix, where we help you get your fantasy golf lineup set for the upcoming week and I don't acknowledge my bad picks from the week before. Let's just say David Toms may need to work his way back into my circle of trust.
Actually, speaking of bad picks, my "duds" selections couldn't have been more spot on. Nicholas Thompson finished dead last of all the players who completed two rounds at the Sony and Matt Kuchar, coming off a great week at Kapalua, missed the cut as well (Side note: My boss, trying to embarrass me, went out of his way to pick Kuchar in our one-and-done league even though I advised against it. Burn!).
On the docket this week is the five-day birdie bonanza known as the Bob Hope Classic. The tournament is contested on four different courses (the cut comes after the fourth round) and its extended pro-am draws plenty of big names from the entertainment industry who take a break from being in front of the camera so that they can play golf in front of the camera while wearing plaid pants and ridiculous hats. It also starts Wednesday, meaning you need to set your lineup earlier than usual, no matter what format your league uses. Here are some suggestions.
Pat Perez: It's boring to pick the defending champion, but so far this year, it's been a hot trend. Geoff Ogilvy repeated at Kapalua and Zach Johnson was in the mix at the Sony for a second straight year, before a disappointing weekend dropped him into a 12th-place tie.
Will Perez win again? Probably not since last year's victory remains his lone PGA Tour victory (Also, Steve Stricker isn't in the field to give it away again). Still, he's a pretty safe bet to throw a couple low rounds up there, which can be very helpful if you compete in a foursome league like I do or any other format rewarding individual rounds. Perez shot an opening-round 61 last year and in 2006, the previous time he played in this event, he opened with a 60. He also finished in 73rd place that year, perhaps the reason why he didn't come back for another three years.
Perez seems like a perfect player for events like this with his ability to get hot and post a good number. However, as a rule, I try to use the same logic that I do for any event when evaluating a player's chances (Momentum, track record, etc.), since it's even tougher to predict when someone is going to put it all together. Hence, why Tim Clark, who is as solid as they come, might become a staple of this section.
I was high on Clark before last week (T-12) and I will remain high on him. Did you see him at the Presidents Cup? Harding Park is still licking its wounds following his birdie barrage. Seriously, it's not a matter of if, but when this guy is going to start winning consistently on the PGA Tour. And when it does, I don't want to miss out on being able to take some credit for predicting it would happen.
Another sound selection is Mike Weir, who falls into the not-so-flashy, but still effective mold like Clark. And for a Canadian, this guy sure likes the desert. The 2003 champion, Weir also finished T-5 in 2006.
Finally, don't be shy about__Charley Hoffman__. His lone win on Tour came here in 2007 and in his subsequent returns, he's managed a more-than-respectable T-8 and T-19.
Kevin Na: The budding star has had plenty of success on Tour, but has very little to show at the Hope. In his five career appearances, his best effort was a T-47 in 2004. In 2007, he finished last among those who made the cut when he posted an 80 in the fifth round. Would that have even beaten George Lopez? Samuel L. Jackson? A lackluster showing at the Sony (T-52) doesn't make the him any more appealing this week either.
I've been wavering on John Rollins, but I'm deciding to avoid him this week. Rollins has a weird track record at the Hope, with two missed cuts, a T-62 and a T-53 sandwiching a playoff loss to Hoffman in 2007. Even that finish came with a final-round 73, though, so there are just too many bad memories here for me to endorse him.
I'm also staying away from__Carl Petterson__ (Three missed cuts in four appearances), and Jesper Parnevik, who missed the cut last year despite shooting a 61. No, that's not a misprint. Parnevik actually has a sparkling record in this event for his career, but not of late. Not that his record anywhere of late has been any good. I also refuse to pick anyone who opens their season six over through six holes as he did last week.
It's a little bit like cheating to pick a four-time winner on Tour as a sleeper, but that's exactly what I'm doing with Chad Campbell. I also need to pick a little chalk after the limb I went out on last week with my Wake Forest duo pick of Webb Simpson and Bill Haas got sawed off completely. Once thought to be on his way to elite status, Campbell quietly has been solid the past few years, including a near miss at the Masters last season. But he's nearly always enjoyed his trips to California for this event, most notably his win in 2006.
He finished T-9 last year and is coming off a T-8 in Honolulu. On top of that, his Texas roots give him advantage with combating the wind (Or so the television announcers always seem to say), the only possible obstacle facing the players this week on a four-course rotation that produces pitch-and-putt scores.
And how can you not take a flyer on John Merrick? The California native clearly has good vibes here with a runner-up finish last year and a T-16 in 2008. He also flirted with the lead through two rounds at Honolulu last week before falling back to a T-25 finish on the weekend.
I also like__Bubba Watson__, whose disastrous final-round 75 last year ruined a potential big payday after rounds of 62 and 63 put him in position for his first win on Tour.Rickie Fowler could make some noise here as well after a disappointing debut as a full-fledged PGA Tour member last week. Something tells me he'll put on a bit of a show in front of the fans and celebrities who will be teeing it up alongside him.
Then there's David Duval. In 1999, he famously shot a 59 in the final round to complete a stirring comeback and cement himself as the game's top player. That win was part of a stretch of four titles in his first eight events of the year. More than a decade later, things are much different. Duval has since missed the cut here five times, but I'm going to turn back the clock with this pick and hope there's a little magic left behind those shades.
Alex Myers is a contributing editor at GolfDigest.com.