News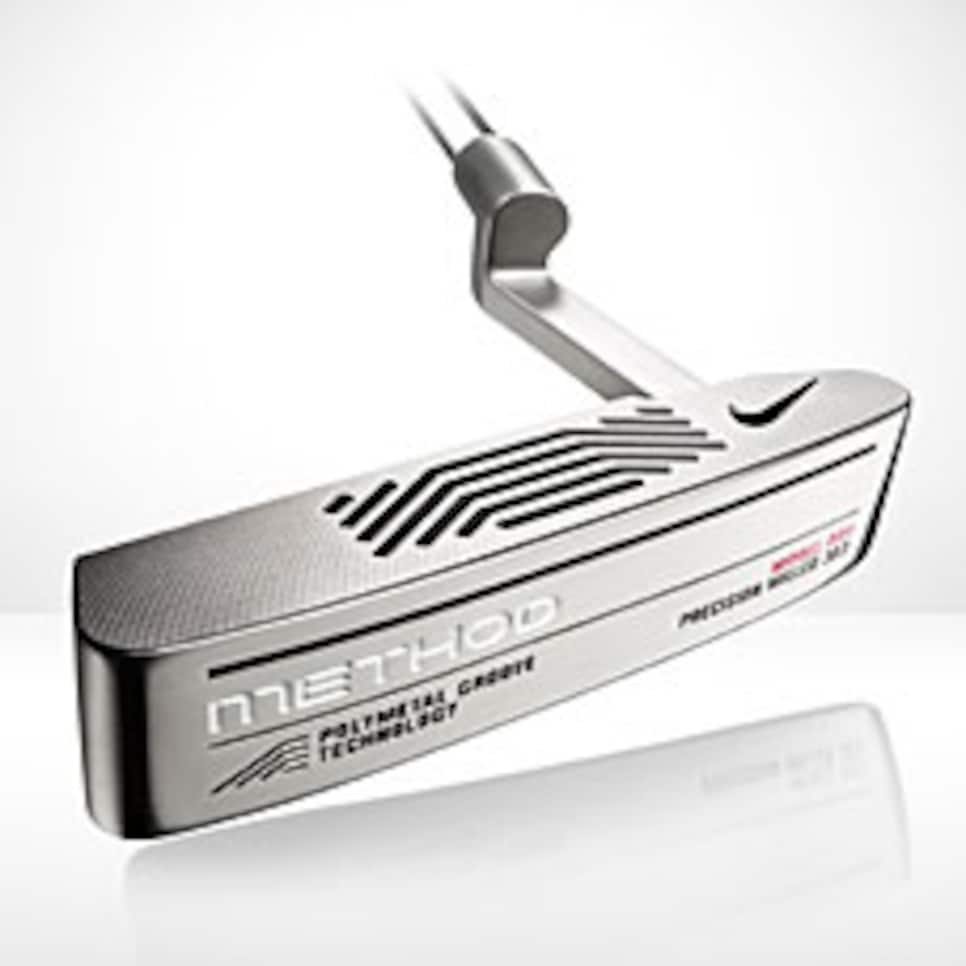 Nike Method: Versions of this putter with polymer grooves were used by the winners of the U.S. and British Opens.
In a 1987 ad for the Spalding Tour Edition, Greg Norman said, "As far as I'm concerned, the ball is going to revolutionize the golf ball business."
As it turned out, the Tour Edition wasn't exactly a great ball (it spun too much for tour players). But its construction—two-piece with a solid core—proved a harbinger for tour balls. Mark O'Meara won a pair of majors in 1998 using Top-Flite's solid-core Strata Tour 90 and two years later Tiger Woods changed the perception of what a tour ball should be when he put Nike's three-piece, solid-core Tour Accuracy in play on the PGA Tour at the 2000 Memorial and won six of his next eight events, including three majors. Later that year at Las Vegas, Titleist introduced its Pro V1 and within two weeks more than 100 pros were playing solid-core balls. A case of chemistry winning out over tradition.
Since then, golf ball RD specialists have worked almost exclusively with multilayers and solid cores when designing tour-caliber spheres. "Ten years ago it was a new technology—going from wound to solid-core and balata to urethane in covers," said Rock Ishii, golf-ball RD chief for Nike, earlier this year. "That was a huge jump. Now we're refining what we already know."
Those refinements include working with more layers, as engineers have discovered that certain materials can affect specific shots. More than 100 of the 900-plus balls on the USGA's list of conforming golf balls are four-piece construction, and at the PGA Championship it was expected the first five-piece tour ball would be put in play as Sergio Garcia and Retief Goosen, among others, have been testing TaylorMade's new Penta TP.
The Penta TP comprises a cover, three mantle layers and a solid core. As with most solid-core balls, the cover imparts spin and feel while the core supplies speed and impacts sound. The mantle layer immediately under the cover is designed to affect short-iron shots, the middle mantle aids mid-iron shots and the inner mantle affects long-iron shots.
"We modeled to see what layers affected what shots," said Dean Snell, senior director of golf ball research and development for TaylorMade. "Mid and longs irons were affected by all five layers while others, such as short pitch shots, were impacted only by the cover and inner mantle."
So are more layers on the horizon? It appears the idea of a ball's construction affecting specific shots still has some room to go. One engineer, in fact, said he has worked on designs for a ball with as many as seven layers.
In other words, the revolution is ongoing.
Jerry Kelly put a new 7.5- degree Cleveland Launcher driver with a Srixon shaft in play at the WGC-Bridgestone Invitational after discovering the shaft of his current driver had been worn down in the spot where it rests against his bag. "It [was] only a matter of time before it snapped," said Kelly, who added that sometimes he hits 30 or 40 drivers to find the right one but only needed six this time. "It was all the way down to the graphite through about four or five layers of paint."
Masters champ Angel Cabrera used a mid-length Ping iWi Anser putter at the WGC-Bridgestone Invitational, but it was a move made out of necessity. Cabrera had the putter he won the Masters with (along with his 3-wood and backup driver) stolen from his bag on the way home from the British Open. ... A new putter worked wonders for John Rollins, who changed Odyssey models at the Legends Reno-Tahoe Open and used a Rossie 2 putter to earn his third PGA Tour win. For the week Rollins ranked third in putts per GIR.