News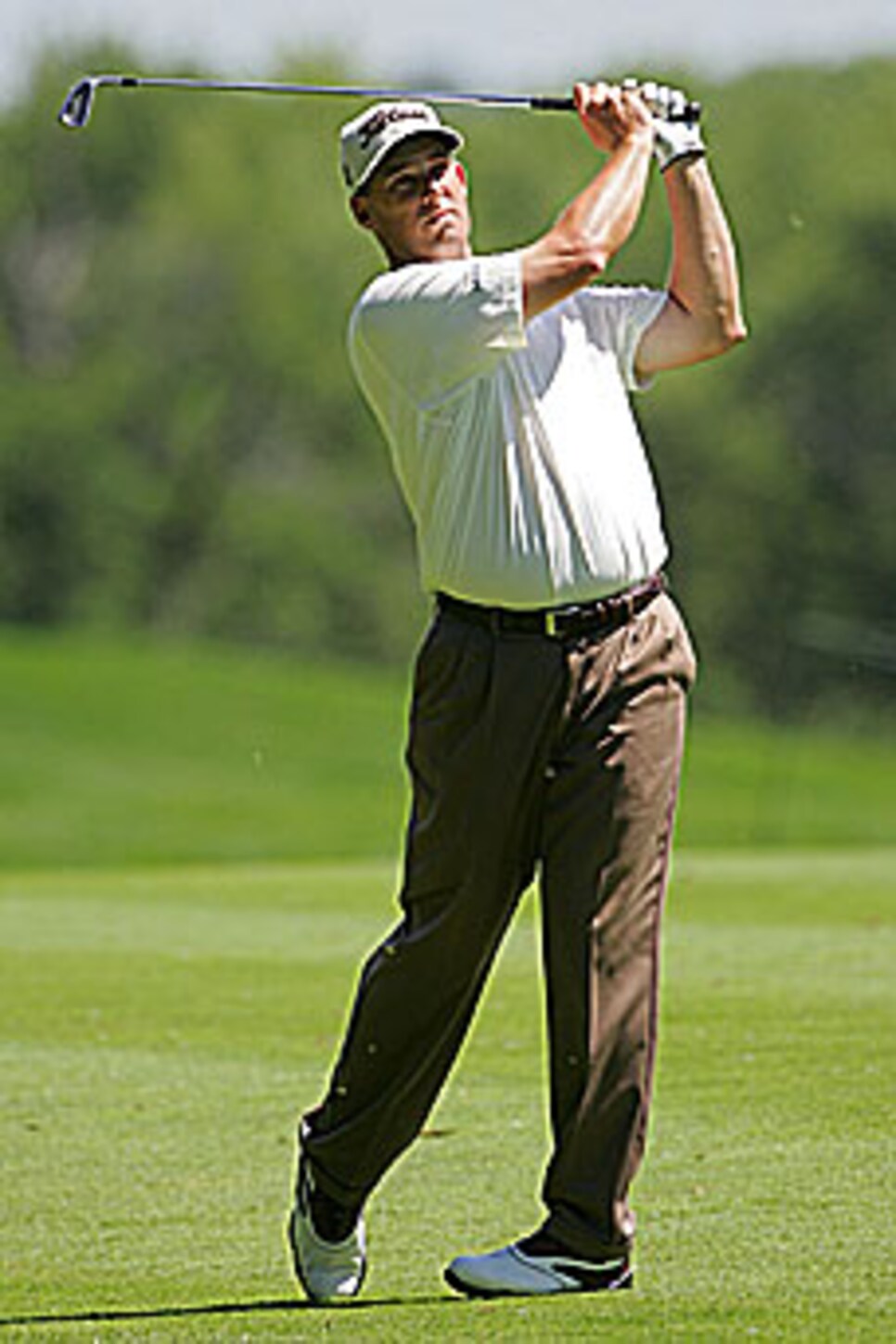 Despite making only one cut this year on the PGA Tour heading into this tournament, Darron Stiles leads at the midpoint.
SILVIS, Ill. (AP) -- Somewhere between the range and the course, Steve Stricker found his swing. Once he did, he rocketed toward the top of the leaderboard at the John Deere Classic.
Stricker vaulted into second place, tying a course record and matching the lowest score of his career with a 10-under 61 Saturday that left him three strokes behind Darron Stiles through two rounds.
Stiles (65), the first-round co-leader with Lee Janzen, remained on top at 13-under 129. Stricker, however, stole the show on a sunny day at TPC Deere Run.
"I didn't see it coming," he said. "I warmed up very poorly on the range this morning. I spent some time out here yesterday later in the day and putted a lot and found a little catch there in my putting. I made a lot of great putts. I wasn't very aggressive at times, but I hit the ball well and gave myself some opportunities."
The Wisconsin native and Illinois alum had plenty of support from the crowd as he assaulted a course that was battered the previous day by the second big rain storm of the week, causing the second round to be pushed back. By the time he was through, he was at 10-under for the tournament after matching a record set by 2002 champion J.P. Hayes. That put him in contention for his sixth PGA Tour victory and second this year heading into the final two rounds on Sunday.
"I shot 3 under on the back and I'm getting run over," said Scott Verplank, who was grouped with Stricker and shot 64 to go 8 under.
Tim Petrovic (67) and Jerry Kelly (64) were right behind Stricker at 9-under, and two-time U.S. Open champion Janzen (70) was in a crowd at 8-under. Kenny Perry (68) was 6 under, with Zach Johnson (68) 5 under. Reigning U.S. Open champion Lucas Glover was at 3 under made the cut but did not finish, while David Duval missed the cut altogether in his first start since that surprising three-way tie for second at Bethpage Black.
The remaining players are in for a busy day Sunday, with 36 holes scheduled. If they get a break between rounds, it'll be a short one because they won't be re-grouped.
"You may not be playing with the leader at all," Stricker said. "The leader could be behind us, in front of us. You don't know where they can come from."
Stricker seemed to come out of nowhere after an even first round.
He teed off on No. 10 in the morning and set the tone with birdies on four of his first six holes. The assault continued on No. 17, when he buried a 93-yard wedge for an eagle on the par-5 to go 6 under, and he made the turn at 7-under after dropping in a 17-foot birdie putt on 18.
Two more on the first and second holes dropped him to 9-under, and that's when thoughts of the tour-record 59 started creeping into Stricker's head. The momentum momentarily came to a stop when he bogeyed the par-3 No. 4, but that vision came back on the par-4 sixth when his 130-yard approach settled 8 feet from the cup to set up a birdie to go 10 under with three holes remaining.
"It entered my mind, but yet, I tried to play smart, too, and not get crazy and do anything out of my norm," Stricker said.
So he settled for a course record, instead of a tour record. He delivered one of his best performances, instead of a historic performance.
He needed just nine putts on his first nine holes and 22 in all, matching a career best.
The 61 tied the career low he set in January in the third round at the Bob Hope Classic. He followed that with a 62 but wound up in a tie for third after a collapse on the fifth day.
"I feel comfortable going low and I don't get spooked," said Stricker, who won the Crowne Plaza Invitational at Colonial in May.
As low as he went on Saturday, he still has more digging to do.
Standing in Stricker's way is Stiles, a 36-year-old who has never finished higher than ninth on the tour and had made just one of 11 cuts this year. Now, he has the lead heading into Sunday.
"I've done it before," said Stiles, a four-time winner on the Nationwide Tour. "Maybe not on the big tour, but I've done it."