News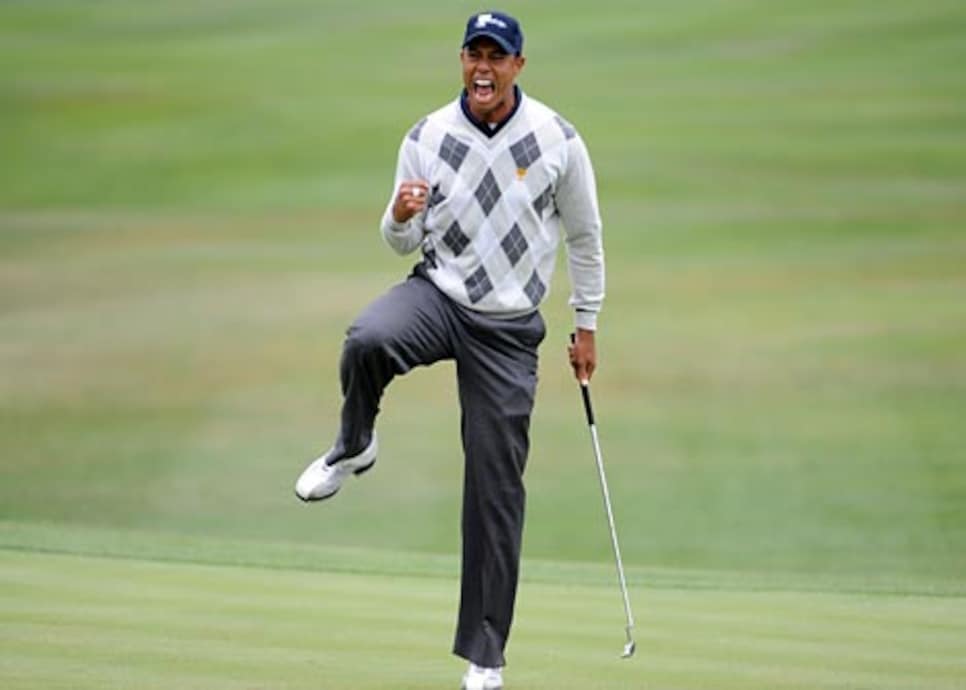 Woods was fired up after he sunk a long birdie putt on the 17th hole to spark a comeback win in his morning foursome match.
SAN FRANCISCO -- When you stop and think about it, the idea that Tiger Woods doesn't get up for team competition, really, is ridiculous.
Sure, Woods when cornered about his unremarkable overall performance in team events has pointed out that no one remembers a player's Ryder Cup or President Cup records compared to how he's done in major championships. But it doesn't mean that sharing the trophy atrophies his desire to win.
There's the sheer pride at stake when he competes against peers. There's the added need to reassert his station as the world's best. It's simply who he is. As Michael Jordan -- an expert on the subject -- said when it was noted how intense Woods seemed in his preparations on Wednesday, "He's into it. Every time he steps in front of the public, he's into it. Because he knows the expectations are there."
At the same time, it's more difficult for Woods to find his peak performance zone in team events. When he competes as an individual, Woods can control every part of his preparation, scheduling, and style of play. With a team, he can't. For one who lives his life to be a man apart, conformity can dull the edge. It's the best explanation why in five previous Presidents Cups and five Ryder Cups, Woods has a composite record of 23-24-3.
But Harding Park has been different. Of all team events Woods has ever played in, the external variables couldn't be more to his liking. First there is captain Fred Couples, whose admiration, respect and intuitive understanding of what makes Woods tick was a huge factor in shaping a leadership style that emphasized relaxed camaraderie and gave his horses free reign. Accordingly, there is no captain Woods would rather win for.
There was four-time partner Steve Stricker, who has the kind of self-effacing personality that Woods has always been most comfortable around, along with the kind of inner fire that Woods respects. There are assistant captains Jordan, who describes himself as Woods' big brother, and Jay Haas, one of Woods' favorite fellow players.
There is the Presidents Cup itself, which lacks the over-the-top celebrations intended to incite already overly partisan fans that make for bad blood between players. There is even San Francisco, a golf haven where he played many matches during his cherished years at Stanford.
The result is that going into Sunday, Woods and Stricker won all four of their matches, three in a walk and the other the most consequential of any played, their Saturday morning alternate shot against Tim Clark and Mike Weir. The International team was in control and seemingly on the verge of victory on the 17th green, where Woods had a 25-foot birdie putt while Weir's was only six feet. But Woods made and Weir missed, pulling the teams even and setting up what will probably be the signature shot of the event.
With the International team to the right of the 525 yard par-5 18th in two, Woods had 226 yards through the fog to the pin, a shot he calculated as a perfect cut 3-iron. It was precisely what he hit. Rather than pose and twirl the club with both hands as he does after most irons that meet his standards, Woods almost immediately began marching toward the green, his arms outstretched like an artist caught in full reverie over the magnificence of his creation. The ball stopped eight feet from the hole, the eagle and the match soon conceded when the Internationals failed to hole their birdie putt. Moments later, NBC's Roger Maltbie asked Woods what club he had hit, and the answer was emotionally charged and uncharacteristically guttural -- "A three iron - full, full." Even after he composed himself, and fell back into typical understatement, Woods couldn't hide his satisfaction. "That was good -- I liked that one,"
The point is, it was exactly the kind of moment Woods plays for, and it came in a team event. As Woods has often explained, he doesn't turn it on and off. Once the bell rings, every shot carries the same importance -- everything. It will be true in his Sunday singles against Y.E. Yang, just as it's never not been true.