News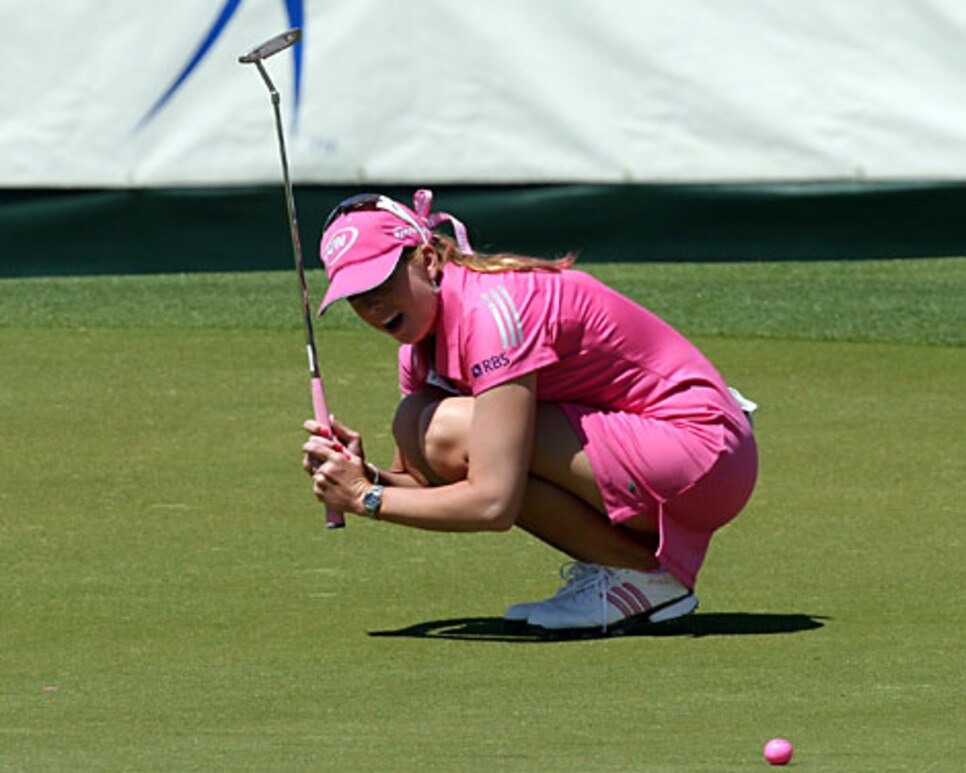 Most impressive about Paula Creamer's T-17 finish at the Kraft Nabisco Championship is that she was battling an intestinal illness the whole time.
Don't let all that pink stuff fool you. There is no fluff when it comes to Paula Creamer. She is one tough competitor. In 107 LPGA career starts going into this week's Corona Championship in Mexico, Creamer has made it to the finish line 104 times. Now, however, she faces the most devious of opponents -- uncertainty, an adversary she hopes amped-up medical care will eliminate.
The only one of Creamer's four full seasons on tour in which she failed to win -- in fact the only season in which she was not a multiple winner -- was 2006 when she played on despite a wrist injured after hitting a hidden tree root just three months into the season. Still, she made the cut in all 27 LPGA tournaments she played that year and never once used the injury as an excuse to withdraw.
That determination made it all the more noteworthy when Creamer failed to start at the J Golf Phoenix International last month, citing a recurring intestinal problem that has bothered her since the ADT Championship last November. The next week, she was up all night with a bad stomach on two separate occasions before the Kraft Nabisco Championship, yet she played and finished T-17.
According to a source close to the family, Creamer returned to her home in Orlando immediately after the Kraft Nabisco and on Wednesday of that week underwent extensive testing, which included biopsies, while under anesthesia. Dr. Bill Ruderman, a digestive/internal organ specialist, ruled out many possibilities but has yet to reach a definitive diagnosis. It was decided, however, that Creamer was well enough to travel to Morelia, Mexico, for this week's Corona Championship.
"Paula is gaining her strength back and some of the weight she lost the past few months while she was sick," her father, Paul Creamer, told GolfDigest.com when reached via e-mail in Mexico. "We are encouraged by the results of very extensive testing completed by specialist Dr. Bill Ruderman in Orlando. Paula will continue to be monitored closely by Dr. Ruderman and his staff."
According to Paul Creamer, his daughter's team feels better now that they have a medical home base to monitor her situation. The flare-ups of the intestinal problems have occurred while Creamer has been traveling -- including one in Thailand -- which has made it difficult to get consistent medical care.
Paul Creamer traveled to Mexico with one entire suitcase that was a virtual grocery store for his daughter. It was decided to closely control what she eats in order to rule out as many variables as possible. The Creamers even took along their own bottled water and disinfectant cleansing lotion for hand washing.
"I feel much better," Paula Creamer told GolfDigest.com in an e-mail from Mexico. "I have a great doctor that I know will figure it out. I am going to try my very best this week."
Creamer has been off to a strong start this year despite having lost about nine pounds because of her health issues, which cost her almost a full club on iron shots and about 15 yards off the tee. She finished third in both Thailand and Singapore and has been in the top 20 in four of her five starts.
After Mexico, Creamer, 22, will have a week off since there is no LPGA event and then will travel to Japan to play in a JLPGA major championship. She will return to competition in the United States at the Sybase Classic May 14-17 at Upper Montclair Country Club in New Jersey. That's the tournament she won in 2005 as an 18-year-old when it was held at Wykagyl Country Club in New Rochelle, N.Y., making her the youngest player ever to win a multi-round LPGA tournament and giving her the first of her eight career victories