News
A Really Wild Idea: 12 Picks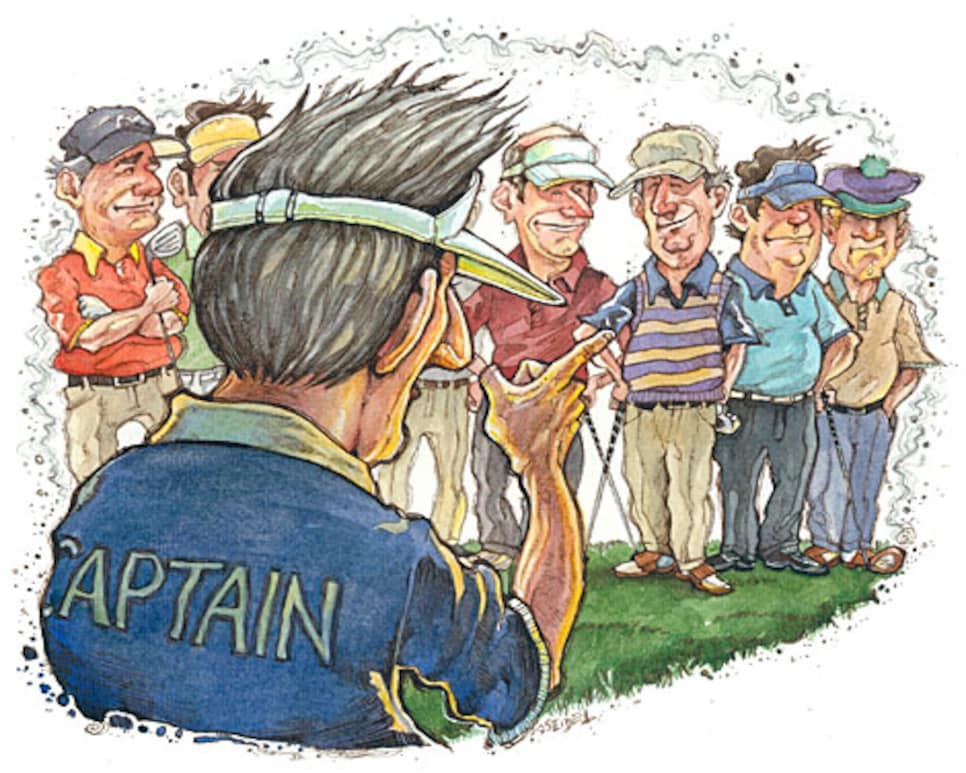 International captain Greg Norman had some people scratching their heads when he selected his slumping countryman, Adam Scott, as one of his two wild-card picks—Japanese teen Ryo Ishikawa was the other—for the upcoming Presidents Cup. How a captain augments his or her team is always a fascinating moment in any golf team competition. As Norman and American captain Fred Couples—who picked Lucas Glover and Hunter Mahan, predictable choices he had telegraphed for a couple of weeks—did their thing, though, it made one long for so much more.
Captains in these events have gained increasingly higher profiles over the last couple of decades, particularly in the super-heated Ryder Cup. They are praised for successes and pilloried for failures, beyond what is probably reasonable or logical, given that there is only so much a person holding a two-way radio instead of swinging a golf club can do. But imagine the intrigue if captains didn't just have a couple of choices but were charged with selecting their entire teams. (Committees, not captains, are responsible for the makeup of squads in the Walker Cup and Curtis Cup.)
The importance of a captain would grow immediately and immensely well before the first shot was struck for flag and country.
It is not as though such a dramatic change would be monkeying around with sacred traditions. The chronology of how the opposing sides in the Ryder Cup have been selected since the first matches in 1927 fills two pages in the PGA of America's media guide. Money earnings and points lists, committees and captains—all have had a bearing on team composition at various times.
For years, winning the PGA Championship secured a spot on the U.S. team, and a British Open victory meant an automatic berth on the GBI side if the champion was from that side of the pond. To play in the 1957 Ryder Cup, American team members had to have competed in the PGA Championship in '56 and '57, and for a long time U.S. golfers had to have served de facto apprenticeships in the PGA in order to be eligible. In 1973, as Colin Jarman writes in his history of the matches, GBI took the top 12 golfers off a points list, but captain Bernard Hunt had the option of replacing three members if they were playing poorly or hurt.
After Corey Pavin was announced as captain of the 2010 U.S. Ryder Cup team, he spoke—and not totally in jest, it seemed—about wanting a dozen captain's choices instead of the four wild-card picks (increased from two in 2006) he will get to make. "I seriously asked for 12," Pavin said, "but they didn't seem like [they thought] that was the best way to go about it."
All captains might not be as ready and willing as Pavin to shape a team in full, but an able skipper ought to be up to the task. If a captain had to select the whole squad—and not just its sweaters—team golf would become a lot more interesting.