News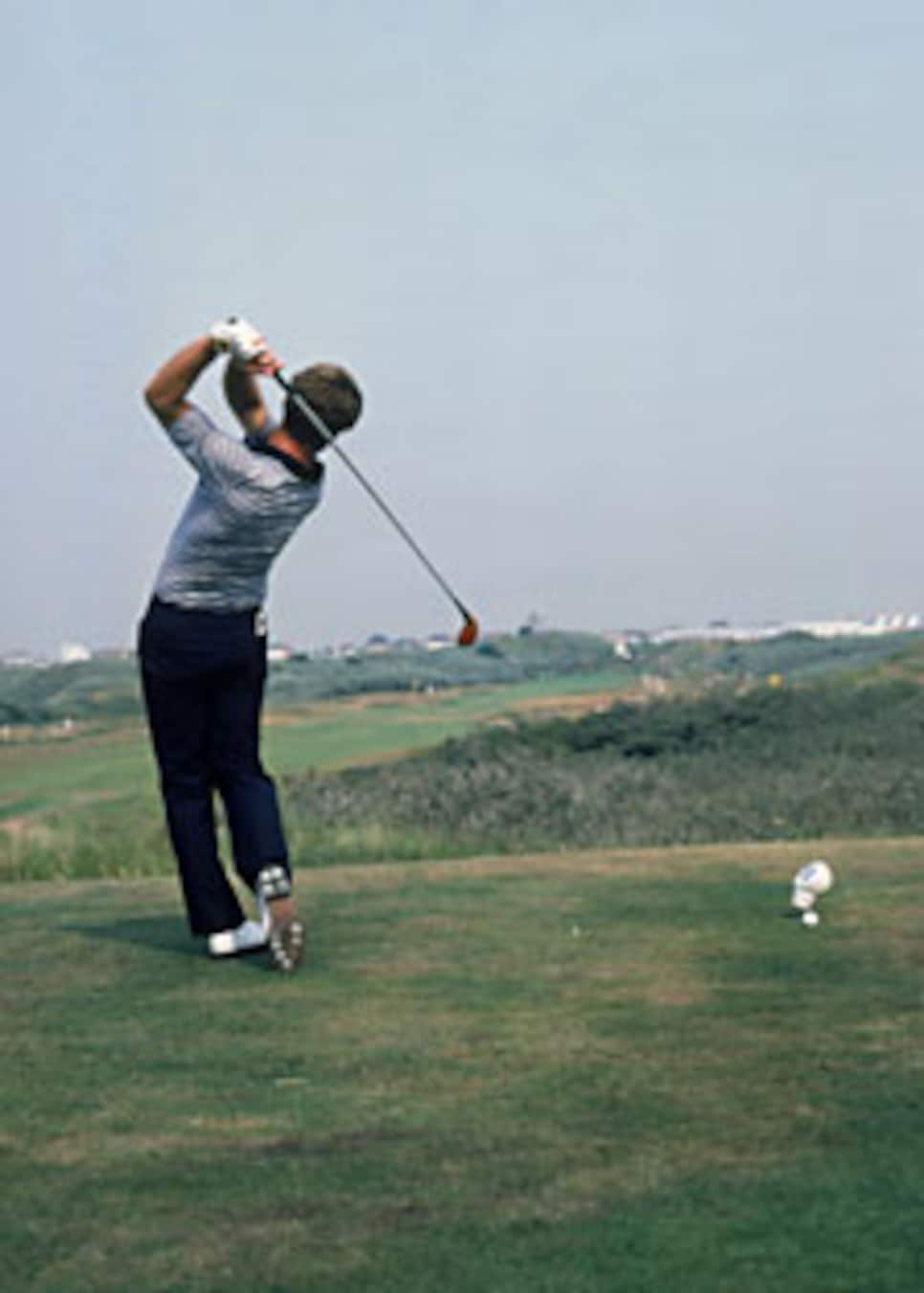 With the help of modern equipment, Tom Watson is able to hit the ball farther at 59 than when he was in the prime of his career.
Yes, the whole Tom Watson story from Turnberry last week was a lovely yarn. Some even called it a fairy tale. And while the 59-year-old, eight-time major winner filled the week with crisply struck shots, nifty bunker escapes and throwback fist pumps, what it was was not a fairy tale.
At least from an equipment perspective.
Watson's whip-crackin' swing may seem to hardly have mellowed with age, but let's not suggest that he's playing exactly the way he did 20 or 30 years ago just because he's getting more Omega 3s in his diet, he's still as crafty as a boomtown gambler and is sporting an artificial hip that's 58 years younger than the rest of his body (but more on that later). No, you're leaving out one key detail. It's not like the man was tearing his way through all the young bucks at the British Open with a persimmon driver and a forged muscle-back 1-iron. Fact is, modern equipment technology played no small part in helping Watson compete with men half his age.
Let's take a look at Watson's bag from 1987, the last year he seriously contended on Sunday in a major (the U.S. Open at Olympic where he lost to Scott Simpson). That year Watson carried a persimmon driver (Ram TW 805) with a True Temper Dynamic Gold X-300 shaft that was 43 inches long. That's a shaft of about 140 grams that played even stiffer than its extra stiff flex would indicate. And the head size was about 150 cubic centimeters. His irons often included a 1-iron and always a 2-iron. Those Golden Ram Tour Grind forged blades also utilized a heavy steel shaft to go with a center of gravity location that was at least four-fifths of an inch up the clubface and just a little toward the heel. And let's not forget about the Golden Ram Tour 100 ball Watson played, a wound, balata ball designed to accentuate spin first, distance second.
Twenty-two years later, Watson's swing might look nearly the same, but his tools look like they come from a different sport. The most obvious change starts with the driver. Watson's 460 cc Adams Speedline model is nearly three times the size of the clubhead he wielded three decades ago. The Aldila VooDoo shaft that Watson was using had all the torsional stability of his old steel model from the 1980s, but weighed only 66 grams or less than half what those old steel shafts he used back in the 1980s. Plus, it was two inches longer (45 inches now vs. 43 inches then). Lighter and longer means more speed for the same amount of effort.
In real terms, it means Watson's driving distance average in 2009 is 17.5 yards greater than it was in 1987. That's right: Two months shy of his 60th birthday, Tom Watson is averaging 287.1 yards off the tee.
In fact, at the British Open, he was hitting it 295, or farther than 138 other competitors that week, including the 36-year-old guy who beat him in the playoff. Now, yes, you can argue that Watson's distance number benefited greatly from his fairways hit number as tee balls are much more likely to bound forward from the rock-hard British Open fairways than they are if they land in the heather and hay. Still, the others in the field knew the benefit of being in the fairway, too. For what it's worth, Watson is hitting 70 percent of the fairways as a 59-year-old, but he was only hitting 65 percent when he was in his mid-30s.
Of course, given that Watson's current driver has a moment of inertia well over twice that of his 1987 driver, those off-center hits that might come more frequently with age most likely will spin less and launch with more speed now. In other words, longer and straighter tee shots thanks to modern technology. Even Watson admits the new technology makes players better than they might really be.
"Has anybody here taken an old persimmon head driver and hit it recently?" Watson asked at Turnberry before the tournament. "I couldn't hit the sweet spot if it saved my butt. No way I could hit the sweet spot. They have that big old thing about like that, and you swing it as hard as you can, and if you mis-hit it off center it still goes out there. It makes you sloppy. The big-headed clubs make you a little sloppy."
Sloppy, maybe, but it got him into a playoff for a major championship he should have been commenting on from the announcer's booth.
A second boon to Watson's game at Turnberry was the hybrid. Instead of a bag that included a 1- and 2-iron, Watson now carries an 18- and 20-degree Adams Idea Pro hybrid. A bigger, forgiving head with a much lower center of gravity (data from Adams engineers suggest the center of gravity on his hybrids is almost 25 percent lower than it was on his old 1-iron), coupled with a lighter, longer shaft means more consistently successful shots. Even Watson's irons in 2009 have moved away from muscleback blades to Adams Idea Pro cavity backs that lower the center of gravity to make it easier to get the ball up in the air.
When Watson won the Open at Turnberry in 1977 in his epic battle with Jack Nicklaus, he closed the day with a 1-iron off the tee and a 7-iron to two feet. Flash forward 32 years and the hole, playing nearly 30 yards longer, was a 20-degree hybrid and an 8-iron for Watson. In retrospect, he could -- and probably should -- have even played it with a 9-iron.
Finally, there's always the golf ball. Watson's solid core Titleist Pro V1x is a far cry from the wound balata ball he played three decades ago. Not only is it longer, it's better in the prototypical British Open conditions, says Watson.
"The ball goes through the wind better, just that, which is a lot," he said last week.
Not to be diminished either is the new piece of internal equipment Watson is sporting. His hip replacement surgery last October surely allowed him to continue to play competitive golf. Watson's hip surgery involved a groundbreaking technique that included the use of a robotically controlled operating table at the Saint John's Hip and Pelvis Institute in Santa Monica, Calif.
So while Watson did nearly everything right at the British Open last week, it was his use of modern technology that may have been just as significant in his near victory.
Of course, there was one club that Watson had in the bag 20 years ago but doesn't carry now that might have come in handy Sunday in Turnberry. A 58-degree wedge, which was his sand wedge back in the day. Watson only carried a 56-degree last week, and a 58-degree might have been the club he needed for that delicate chip shot from behind the 18th green.
But then again, maybe not every shot in golf can be solved by technology.