News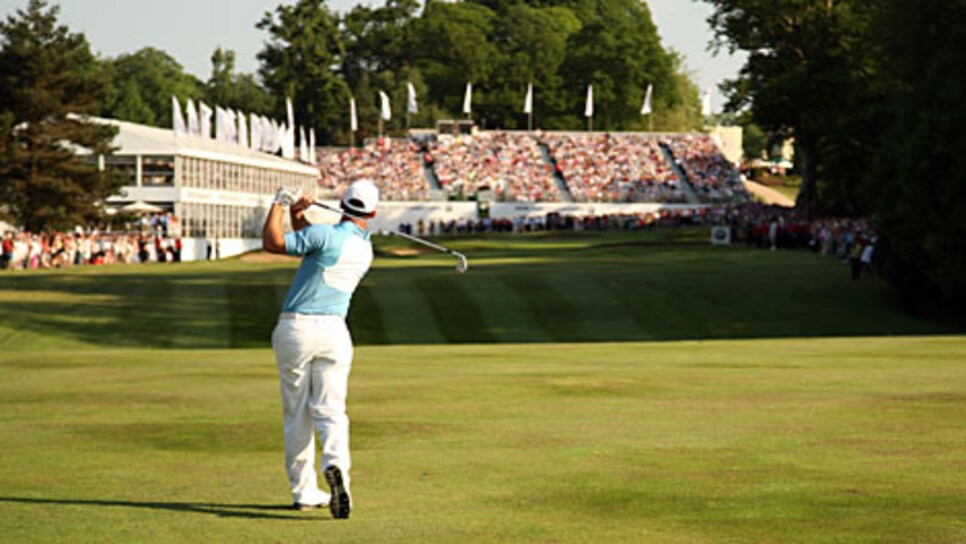 With his win at Wentworth, Paul Casey became the first Englishman in 13 years to move into the top three in the world ranking.
It's been a while since, on the eve of the battle of Trafalgar, Admiral Nelson announced, "England expects that every man shall do his Duty." But dear old Horatio would have been proud of his boys here at Wentworth. In place of the Spanish Armada, home players Paul Casey and Ross Fisher saw off a cosmopolitan bunch of pursuers comprising a Dane, a Welshman, a South African, an Irishman and an American en route to finishing first and second in the European Tour's premier event, the BMW PGA Championship.
To Casey went the ultimate victory and the 750,000 first place check, however. The 32-year old Surrey native -- he's from just down the road from the Burma Road -- shot a final round 68 for a 17-under par aggregate of 271 that was just good enough to see off his younger compatriot by a single shot. Fisher, even more local in that he is a product of Wentworth's junior scholarship program, closed with a sparkling 64 that earned him 500,000. The increasingly prominent Soren Kjeldsen (the Dane) pulled up in third place, four shots behind the winner.
Perhaps even more important than his tenth European Tour victory and moving to the top of the "Race to Dubai," is that Casey, who has accumulated more ranking points than any other player so far in 2009, is now the first Englishman since Nick Faldo back in 1996 to hold down a top-three spot on the world list. Only Tiger Woods and Phil Mickelson are now ahead of the three-time Ryder Cup player.
"The world ranking is a big motivating factor for Paul," points out his long-time coach, Peter Kostis. "As he plays in both the US and Europe it is the most accurate measure of just how well he is doing."
How well is, of course, currently very well, largely the result of a renewed commitment to his short game over the winter months. Always a sound ball striker, Casey -- at Kostis' behest -- spent most of his time on and around the practice green during the off-season.
"Our philosophy was to identify Paul's weaknesses and make them strengths," continues Kostis. "At the end of 2008 those were sand play and putting. Like every golfer, Paul, who has always been a wonderful player tee-to-green, has been prone to spending time on things he already does well rather than those he doesn't. Since he stopped doing quite as much of that and more of the other, he hasn't looked back."
Still, the new and patently in-form champion hardly had things all his own way during a fascinating final round played in front of huge crowds enjoying the UK's warmest day of the year so far. Starting with a bogey at the always-tough opening hole, Casey was only level par for the day at the turn and his overnight three-shot edge had gone.
And it didn't get any easier. Fisher, whose eight-under par effort was in stark contrast to the disastrous and painful final round 84 he posted in 2007 when tied for the 54-hole lead, fought magnificently to the end, his 20-foot putt for eagle on the last green kissing the edge of the hole without dropping. It was that close.
Even then, Casey was forced to rely on his newfound prowess from sand to clinch victory. From 20 yards or so, his spectacular explosion finished no more than four feet from the cup. Thousands of miles away in Dallas -- where he was commentating for CBS at the Byron Nelson Classic -- Kostis was surely nodding his head in approval. And the nasty little left-to-right putt he had left? Dead center.
"I have always wanted to get my name on this trophy because of all the great names on it," said and emotional Casey. "The likes of Nick Faldo and Seve Ballesteros. This is the golf course where I got the bug for the game, so it feels great to win here.
"I have so many people to thank, not least Peter Kostis, who is much more than a coach to me."
As for Fisher, there were many positives to be taken from a performance that is only the latest confirmation that this 28-year old is a more than likely Ryder Cup debutant at Celtic Manor next year.
"I can't be too disappointed," he shrugged. "But hey, I played some great golf out there. 64, what more can I ask for?"
The final word, however, belongs to Kostis. Just in case the new champion is tempted to rest on his laurels, his coach has other things on his mind.
"Maybe now Paul will accept the fact that he is as good as he is," said Kostis. "But he still has some things to prove. He still has to win a major. That is the one empty page on his resume."