News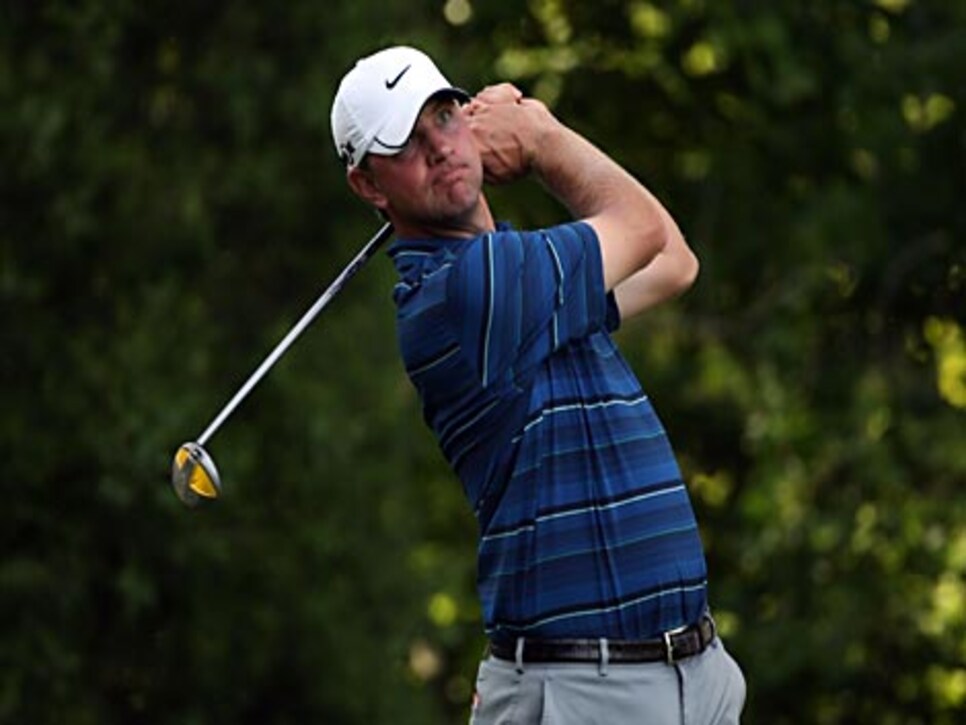 Lucas Glover had five birdies through 13 holes before his second round was halted due to darkness. At 6-under, he leads by one.
FARMINGDALE, N.Y. (AP) -- Tiger Woods couldn't get off the course fast enough.
Mike Weir, Lucas Glover, Ricky Barnes and Phil Mickelson were among those on the right side of the rain at the U.S. Open and thrilled they didn't have to leave until it was too dark to continue.
Sunshine made a cameo Friday at Bethpage Black, enough to dry the fairways and keep the greens soft. It was a perfect combination for scoring at the U.S. Open, and Weir seized on the rare opportunity.
Despite a double bogey on his back nine, the former Masters champion closed with back-to-back birdies for a 6-under 64, giving him a two-shot lead over Peter Hanson of Sweden and the lowest score in the U.S. Open in six years.
Not long after he finished, Weir and the late starters headed back out for the second round.
"It's about as easy as this course will ever play," Weir said between rounds. "Our side definitely had a big advantage. For us to be able to play in nice conditions all day like this is huge."
When a day that lasted just over 13 hours finally ended, Bethpage Black turned red on the leaderboard with 16 players under par. All but two of those players -- Graeme McDowell of Northern Ireland and amateur Drew Weaver -- were on the course.
Glover was atop the leaderboard at 6-under par through 13 holes, one shot ahead of Barnes, and 10 shots clear of Woods, who completed a 74 in the sloppy morning for his worst start in a major in three years.
Glover shot 69 earlier in the day, then played bogey-free until it was too dark to continue. Barnes, who opened with a 67, decided to finish in twilight and nearly three-putted the 18th green.
Weir played the front nine in 2 over to fall two shots behind.
Mickelson, whose popularity in New York shot up even more after disclosing his wife has breast cancer, challenged for the lead until he missed some short putts coming in and settled for a 69. Even after two bogeys on the last four hours, his spirits were high.
"We want to play as much golf as we can," Lefty said.
It sure didn't look that way after he chopped out from the left rough to the right rough on No. 2 and missed a 4-foot putt that led to double bogey, although he rallied with three birdies over a four-hole stretch. Mickelson, a runner-up four times in the U.S. Open, was 1 under through 11 holes.
All of them realized they caught a huge break.
Of the 25 players who shot par or better in the first round, only seven came from the first wave of tee times. The course played almost two strokes harder in the morning -- averaging 74.8 to 72.9 for the afternoon players.
Woods, the defending champion, returned to finish 12 holes Friday morning and slowly worked his way up the leaderboard with two birdies and a good par save that put him even for the tournament heading to the 15th.
Too bad for him he couldn't have stopped there.
He drove into the deep rough on the 15th and saw a chip roll 50 feet down a ridge. Double bogey.
He had mud on the side of his ball and missed the green in the worst spot on the 16th. Bogey.
He drove into a bunker on the 18th. Another bogey.
The damage came to four shots over the last four holes for a 74, Woods' highest start at a major since a 76 at Winged Foot in the 2006 U.S. Open, the only time he has missed a cut in the major as a pro.
He could be in jeopardy at Bethpage Black, where seven years ago he was the only player to finish under par.
The U.S. Open cut is top 60 and ties, plus anyone within 10 shots of the lead. Woods could only hope the leaders didn't get too far away from before he tees off in the second round Saturday, when more rain is expected.
The second round was to resume at 7:30 a.m.
"I was even par with four to go," Woods said. "It's not like I was hitting it all over the place. Hit a lot of good shots. Unfortunately, didn't finish off the round the way I needed to."
He finished the first round in a tie for 81st, stretching his odds of becoming the first back-to-back winner in 20 years. Woods has never won a major when trailing by more than seven shots after the opening round.
David Duval and Todd Hamilton, a pair of slumping British Open champions, were among those at 67. Hamilton stayed at 3 under through 10 holes, while Duval made four bogeys in six holes before getting back to 1 under with a pair of birdies.
Rocco Mediate, who earned celebrity by losing to Woods in a playoff at Torrey Pines last year, continued his U.S. Open joy ride with a 68. He began to stagger late in the evening and was 2 over through 10 holes.
Except for U.S. Open logos on flags and tee markers, it would have been hard to recognize this as the toughest test in golf.
The fairways remained soft enough that tee shots could not roll into deep grass. The greens were like sponges, with so many shots hitting well beyond the hole and spinning back.
As the second round began, Mickelson hit one shot out of six-inch clumps of grass that hit the green and spun six feet back. Duval saved par on the 10th with a wedge that landed 15 feet beyond the hole and spun back to the hole for a tap-in. That type of action hardly ever happens at this major, but crews at Bethpage simply can't get the putting surfaces firm, not with so much rain over the last month.
Weir also has some good karma from sitting in his hotel room all day Thursday during the rainout.
The last washout in the first round of a major was in the 2003 Masters. The rain was supposed to make Augusta National a haven for big hitters that year, yet the Canadian kept it in play and relied on his irons as he went on to win his only major.
And that's what he did Friday in the first round.
"I seemed to have my irons dialed in," Weir said. "And I said, 'Let's just ride this.'"
His signature shot of a career-best round in the U.S. Open came at the par-4 15th, which features a green 40 feet above the fairway. Weir drove into the rough, but he hit a utility club that barely climbed onto the green and stopped 4 feet from the cup.
Ian Poulter was watching from his hotel room after a hard-earned 70 from the morning wave, and he must have been shaking his head as he Twittered, "did anyone see mickelson hit 6 iron on the 3rd hole par 3. yesterday we was hitting 3 iron."
Such is the luck of the draw.
Even so, it might be too early to determine if that continues. Woods wasn't even sure when he would tee off in the second round Saturday, and a storm system was expected around noon packing perhaps another inch of rain that would stop play.
The fear is that if the course dries just a little, it will bring another problem into play: Mud will stick to the ball and really make this a fickle game.