News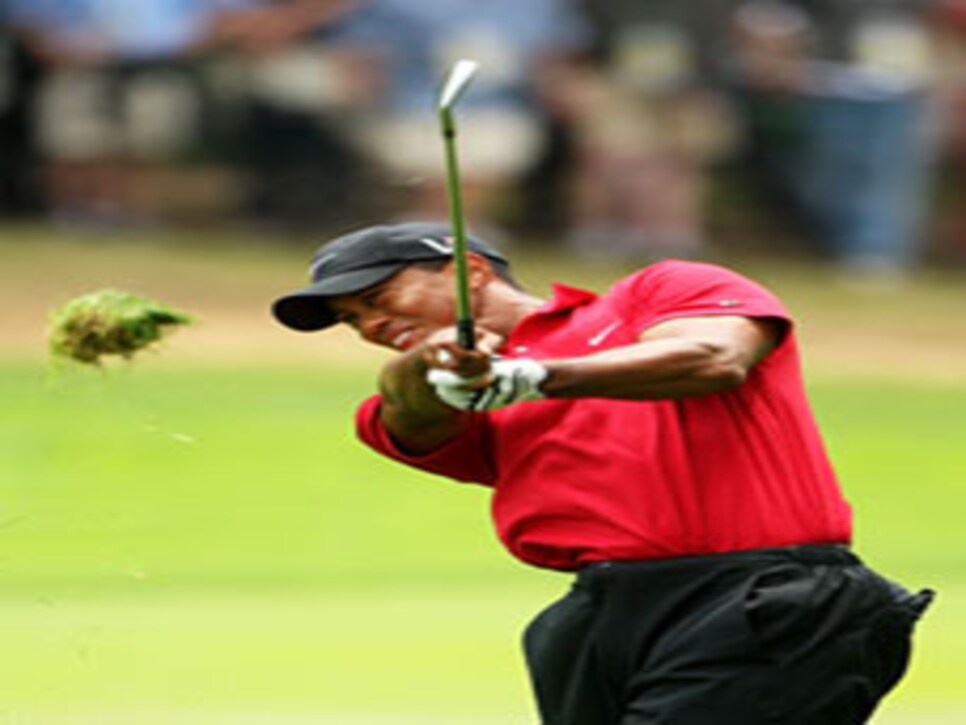 Tiger Woods was never able to gather momentum in his defense at Bethpage Black. But that hardly deterred him.
FARMINGDALE, N.Y. -- I walked every hole with Tiger Woods at Bethpage for my Twitter, "gdtrackstiger" and saw every shot he hit in the mud-fest known as the U.S. Open. My reward was that I witnessed some amazing golf shots, but that's not what I'll remember most. Etched into my memory forever is that the ferocity of Tiger's focus is unsettling, almost frightening. Woods commits to every shot he hits -- absolutely every one -- as if it's the deciding shot of the U.S. Open. That I have seen that same intensity in him for 15 years is truly remarkable.
My experience has been that when Tiger wins a major championship -- something he has accomplished 14 times as a professional -- a sense of inevitability gathers by Friday night. You know he is going to win. That feeling was never in evidence at Bethpage, which makes Woods' T-6 finish in this year's U.S. Open even more remarkable. There must have been a part of Tiger that knew it was just not going to happen this time, but he never played that way.
Any young player searching for the key to success need look no further than this: The most talented player in the history of the game, one of golf's greatest winners ever, is also on the short list of the sport's greatest grinders. Talent is an inborn commodity developed through hard work. Determination is not a physical skill but a spiritual one, and Woods' connection to the spirit of the game of golf is a significant component of what sets him apart from his competition.
The chance to repeat at Bethpage, where he captured major No. 8 at the 2002 U.S. Open, suffered perhaps its most damaging blow on the 15th green of the first round when Woods missed a four-foot putt for bogey. That the putt was followed by two more bogeys coming in, turning a 70 into a 74, was bad enough. But that short miss had greater long-term consequences by making Tiger gun-shy of leaving himself any more four-footers on wet greens made bumpy by footprints.
Woods never got on a roll with his putter at Bethpage, a rare occurrence for him likely caused by both the speed of the greens -- not at usual U.S. Open quickness because of the rain -- and the bumpiness. He putted with a rare tentativeness that indicated he remembered that missed four-footer on No. 15 and wanted to avoid any more of that distance, cozying his birdie putts up to the hole.
Tiger struck the ball extremely well at the Open. He hit 68 percent of the fairways off the tee (compared to 63.6 percent field average) and 67 percent of the greens (with a field average of 58.58 percent). He nearly holed his approach shot to No. 11 in the first round, chipped in from the rough to a short-side pin on No. 17 in the third round and on No. 15 in the final round picked an extremely aggressive line which he followed with a perfect swing and his best drive of the week.
The stop-and-start nature at Bethpage because of the rain made this U.S. Open an even greater test of patience than usual. Get a load of this from the "What day is this anyway?" schedule Woods played at Bethpage:
Thursday: Seven holes of the first round.
Friday: Eleven holes of the first round.
Saturday: All of the second round and one hole of the third round.
Sunday: Seventeen holes of the third round and seven holes of the fourth round.
Monday: Eleven holes of the fourth round.
After the pit Woods dug for himself when he played the final four holes of the first round four over par there was the sense he was a salmon swimming upstream against an overwhelming current. Several times I thought he was going under, but he remained in the fray far longer than most others would have.
Tiger began the final round nine strokes behind leader Ricky Barnes. I thought Woods was finished when he bogeyed No. 1, but then he birdied No. 2. I thought he was finished when he failed to birdie the par-4 fourth hole, but he birdied No. 7. I was convinced it was over when he bogeyed No. 10, but birdies on Nos. 13 and 14 got him into red numbers for the first time in the tournament and with others coughing up strokes he was very much in it.
The second shot on No. 15 at Bethpage is one of the hardest approaches on the planet: Up a hill cover with bunkers and rough to the mostly severely-contoured green on the course and in the final round to a back-right pin.
Tiger's drive was not only long, but also hugged the left side of the fairway, giving him the perfect angle of approach to the difficult pin position. His nicely cut 5-iron hit within a yard of the hole but couldn't hold the green and scooted long into the rough. When he couldn't get up-and-down he fell back to even par and the mathematics of the situation was just about impossible.
His last three holes at Bethpage pretty much summed up his week: Great drives, accurate iron play and makeable birdie putts that refused to find the hole. This week that need parts of two weeks to complete it was just not to be for Tiger.
I'm guessing Woods likely looked out the window of his private jet as it looped over Bethpage on its way back to Orlando and considered how easily he could have won this U.S. Open. I'm also guessing that by the time he landed Tiger was thinking not about Bethpage but about Turnberry and the chance to cut into Jack Nicklaus' lead in major championships.
That's another thing young players can learned from Woods: He puts the past in its place quickly, a disappointing tournament disappears in the rearview mirror as quickly as a shot with unsatisfactory results. The most important shot in golf is the one you are hitting now. That's how Tiger played every shot at Bethpage. And I'm truly glad I got the chance to see everyone of them.