News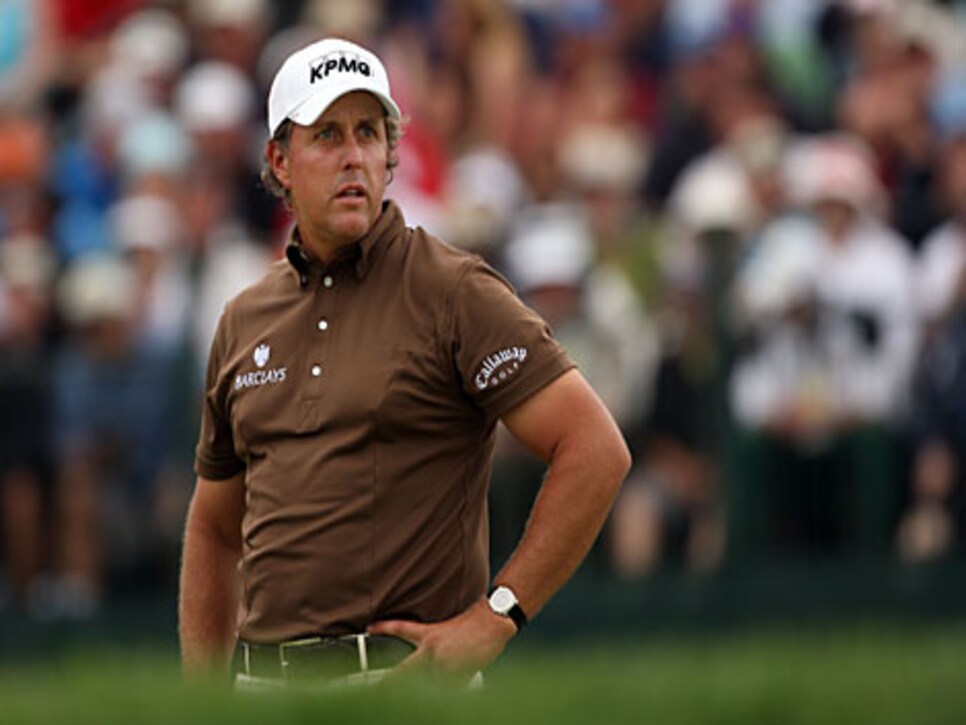 Phil Mickelson's runner-up finish in the U.S. Open was the fifth of his career, but this one came under extraordinary personal circumstances.
FARMINGDALE, N.Y. -- Phil Mickelson stood, hands on hips, turned his back to the 18th green at Bethpage and studied the giant U.S. Open scoreboard. No matter how hard he looked, the numbers just didn't quite add up for him.
Later, there was one silver medal to go around for the three runners-up, so during the presentation ceremony, when Ricky Barnes offered it to Mickelson after asking him what he should do with it, Mickelson shrugged.
"No, I've got four, I'm plenty good."
Second place may really only be the first-loser, as Tiger Woods says, but that's probably a little harsh, especially for a tournament as punishing and unrelenting as the U.S. Open. Either way, when Lucas Glover finally closed out his first major title with a two-putt par on the 72nd hole worth a two-shot victory Monday, the five-day excursion through rain and delays and mud balls and postponements had finally come to an end.
The results were predictable. There was victory -- there always is. And there was disappointment, this time more than enough to spread around the Black Course at Bethpage State Park.
It should be no great surprise that pro golf's biggest events produce its biggest thrills, and also its greatest heartbreaks.
The siding of the old Bethpage clubhouse is composed of weathered wood shake shingles, darkening to stages of black because of age. If you're Glover, you don't even notice, but if you're David Duval, maybe your eyes are drawn toward them. His spikes clicking on the brick path that led to the clubhouse door, Duval wore a blank look on his face, as if he was in shock.
That's what lipping out a par putt on the 71st hole of a major will do to you.
"Extremely disappointed in the outcome," Duval said.
Barnes handled his emotions slightly differently. Sure, his freefall out of the lead had been dizzying, but Barnes kept his funky cap on his head, a crooked smile on his face, and his thoughts in a more positive, upward direction. Maybe it's because he had just earned $569,330 for joining Mickelson and Duval in a tie for second -- or about eight times as much as he had made all year. Or maybe it's because Barnes had low expectations, so what he risked in losing wasn't as high.
But his four bogeys in a row?
"That was pretty sour," he said.
No one's expectation factor exceeds Woods, whose dour mood came close to matching the color of the mud on the hill between the 1st and 18th fairways. The defending champion played 72 holes and was under par for exactly one of them -- his 68th hole, when he birdied the par-three 14th.
It seems wrong to portray someone who's won 14 majors as a loser, but that's the level of disappointment that Woods felt with his one-under 69 that put him into a tie for sixth.
He blew off Jimmy Roberts of NBC, XM Radio, SKY and the Golf Channel, answered eight questions in a brief session with the media, then climbed down from the podium and headed for his car.
He said he was more disappointed than he had been at Augusta, where he rallied on the last day and fell short. Woods started the day eight shots back and ended it four shots behind. Like Mickelson, the numbers didn't add up for him, either.
"That's just what it is," Woods said.
He averaged 30 putts a round and said that just wasn't going to get it done.
"My good ones are not going in and then my bad ones aren't even close."
As for Mickelson, the question of proximity has been a troubling one at the Open. His five runner-ups are the most in the 106-year history of the tournament. Mickelson has been second 22 times on the PGA Tour, but never while under these extraordinary personal circumstances.
He was to fly home to Rancho Santa Fe on Monday night to pick up his wife, Amy, and their three children and then leave immediately for a week's vacation in Hawaii. When they return, Amy will undergo surgery for breast cancer, and shortly after begin a series of six treatments separated by three-week intervals.
Steve Loy, Mickelson's agent, said the disappointment from the Open won't last for the Mickelsons.
"This will be over and in the history books real soon," he said. "They're quite a family."
As he loaded Mickelson's clubs into their courtesy car, caddie Jim Mackay said there was never a question of Mickelson's resolve or concentration all week.
"That guy is so focused, so into it," Mackay said. "I didn't have to say anything. This whole scene played into his hands."
Mickelson was busy signing autographs for his rapt fans an hour after he was through playing, but said he was eager to get on with what lies ahead and taking care of his wife and family.
"Our challenge is yet to come and I'm confident we're going to handle it well," he said.
At Bethpage, the challenges were of an altogether different variety. They were confined to the golf course and the elements, completely in the style of the U.S. Open. This one may have been seen as different, with the poor weather and postponements interrupting its natural rhythm. But even as it climbed into an extra day, the Bethpage Open didn't turn out to be any different at all. The heartbreak still stretched from tee to green.