News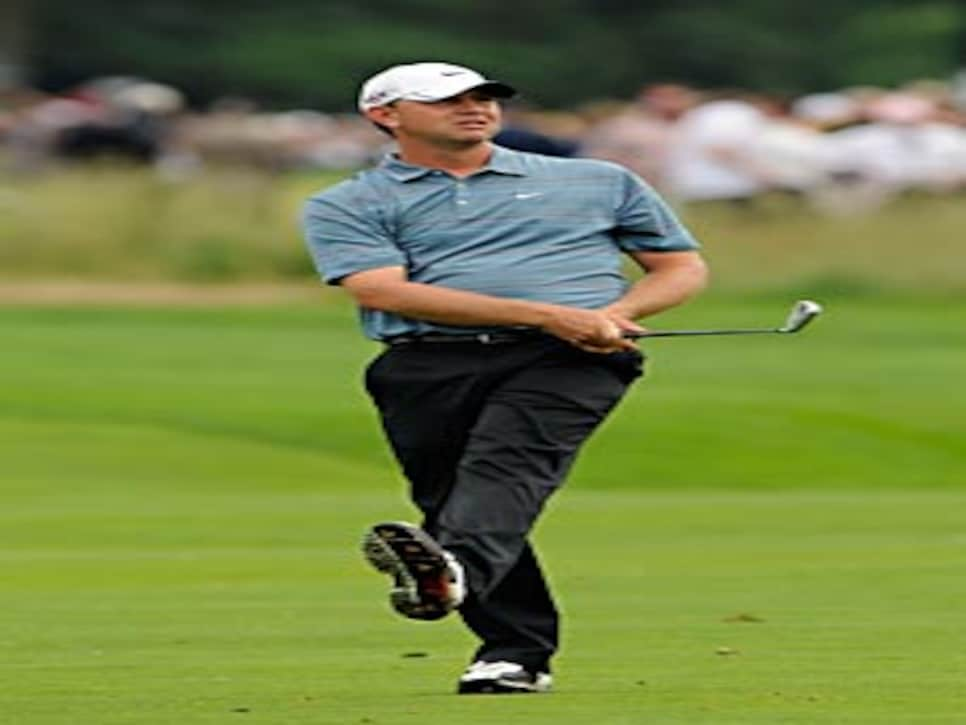 People are learning a lot about Lucas Glover this week.
FARMINGDALE, N.Y. -- No one has put his finger on the essence of the super-soaker known as the U.S. Open as succinctly as did Lucas Glover. "Tomorrow will be a lot like yesterday," Glover deadpanned following one of the fits and starts that has become the Bethpage Black mud-wrestling championship. It wasn't Father's Day, it was Groundhog Day. Stuck in a weather-warp, it's hard to remember what day it is, let alone what round it is. The ground has become so saturated the players dare not spit for fear of causing casual water.
Whenever it was, and the rumor was it was Sunday afternoon, Glover finished his third round exactly where he started it, one shot behind the record-setting 36-hole leader Ricky Barnes. By the time fourth round play was suspended due to darkness, the twosome was tied. While the 29-year-old Glover is one of the rising stars on the PGA Tour, Barnes has struggled since winning the '02 U.S. Amateur. The last time the two contemporaries played together was the last time the Open was at Bethpage seven years ago.
Glover can fool you if you're not listening. The 6-foot-2 former Clemson University All-American lopes down the fairway with a plug of tobacco and a Dixie drawl dripping down his chin. But that's about where the Southern stereotypes end. He's an avid reader, having plowed through four books already this week, a Clive Cussler, two Stuart Woods and The Lost City of Z. "I recommend that one," said Glover. His favorite singer is Frank Sinatra. Favorite group? The Beatles. When he goes duck hunting with his buddies, he doesn't bring a gun. He just likes to hang out with his friends. His former college teammate, Charles Warren, calls him the highest-priced bird dog in history. He barely knows his father and doesn't like to talk about him. One of the main influences in his life was his grandfather, Dick Hendley, who was a 215-pound blocking back for legendary Clemson Coach Frank Howard, was inducted into the Clemson Sports Hall of Fame and played for the Pittsburgh Steelers for one season before coming home to Greenville, S.C., to start an industrial cleaning business that now employs thousands. The other was his long-time teacher, Dick Harmon, who died suddenly in '06, a loss that knocked Glover back on his heels.
As surprising as Glover, himself, can be, it shouldn't be a shock that he's near the top of the leader board. He tied for second in the Quail Hollow Championship and tied for third in the Buick Invitational at Torrey Pines, two of the most demanding venues the PGA Tour plays. He leads the tour in total driving, the statistic combining distance and accuracy. In Sunday's third round, Glover hit 13 of 14 fairways en route to his even-par 70. Through three rounds he'd hit over 80% of the greens in regulation.
Both Glover and Barnes got off to good starts Sunday afternoon but Glover ran into trouble late on the front nine, making a bogey on 6th when he drove it into the fairway bunker for his only missed fairway, a double-bogey on the 7th when a mud ball squirted way left and another bogey on the 8th when his 8-iron tee shot hit the tree to the right of the green on the par three.
"A couple bad decisions off the tees and then a couple of bad swings and you get a couple of bogeys and a double," said Glover. "I drove it great again all day. Just got loose with some iron shots but I was patient. I told ya'll that was the name of the game this week for me and today was good for me in that regard."
After his three-hole stumble, Glover had fallen six shots behind Barnes. "I felt like I had to attack on the back to get back in it, when I had an opportunity with a good angle or a short iron, I went at it," said Glover of his three-under-par 32 coming home. "I had to be a little more aggressive on the back than I wanted to be and that was because of my results on the front."
Though he's won once on the PGA Tour, holing out from a greenside bunker on the 72nd hole to win at Disney, Glover has had some problems closing out tournaments. The most glaring stumble was an 80 in the final round of the Bob Hope Chrysler Classic last year. It's hard to find a good player who hasn't booted away a tournament or two. The great ones learn from it.
"I don't think there's very many people that think I can or will do it anyway," says Glover of his chances on Monday. But, Lucas can fool you.