News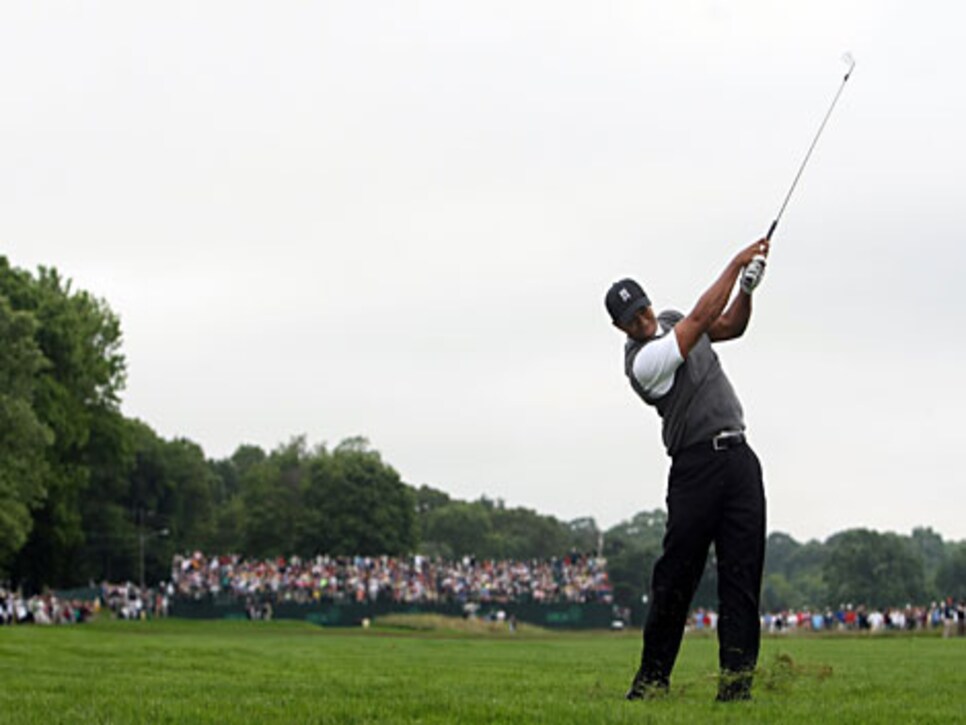 Tiger Woods' first round took roughly 28 hours to complete, and there's no guarantee his second round will be any shorter.
FARMINGDALE, N.Y. -- Here's how to keep track of Tiger Woods' first round at the U.S. Open: Four mud balls, two double bogeys, one three-putt, 74 shots, 28 hours. After ending with his third bogey of the round, Woods answered a few questions in a brief session with the media, and then headed for the driving range.
Woods had only taken a few steps when a fan called out to him.
Uh, Sunday? What happened to Saturday? Oh yeah, there could be a monsoon coming.
So, welcome, Sunday. It's not exactly looking on the bright side, but that's something that is becoming increasingly difficult to do here at the U.S. Open, where Bethpage appears intent on continuing to moonlight as some hotel pool water slide.
If it rains, pours, dumps, saturates and floods on Saturday like it's expected to do, then it's possible that Woods really won't be back to play his second round until Sunday -- which, of course, is when he'd normally be completing his fourth round.
But these are abnormal circumstances. Let's just say, because of all the bad weather, that the timing is way off this week.
Think about it. Woods showed up here last Sunday and might play his second round a week later. Phil Mickelson showed up on Tuesday and probably really didn't have to get here until Friday morning. There was about 13 hours of golf played Friday and they didn't even come close to finishing the second round.
You know what it all means: This is one messed up U.S. Open.
You might have seen the bad weather on the horizon again, but who knew that David Duval, ranked 882nd, would shoot a first-round 67 that put him seven shots better than Woods? Duval, who started his first round at 10:33 a.m. and his second round at 5:03 p.m., said the course wasn't in as bad a shape as it could have been.
But Ian Poulter wasn't so sure.
Poulter said he was standing on the 18th fairway Friday, just trying to make a stance, and water kept oozing up around his spikes, like squeezing water out of a sponge. Poulter, who finished with a 70, said he had a plan how to spend the afternoon. He said he was going to go sit in the dark at the theater and watch "Hangover." Because that's what he's felt like the last three days.
Probably the best advice for the players, the fans, the tournament officials and for NBC is to be flexible. And if anyone insists he has a sure-fire blueprint for the schedule for the rest of the tournament, tell him to go jump in the mud.
There's no shortage of that around here. The scenarios are endless, all of them depending on how much rain falls and how many thunderstorms light up the sky. The second round may be completed Saturday. If so, they'll try to cram the remaining 36 holes into Sunday. A playoff would be Monday, as usual. If the second round isn't completed until Sunday, they could try to fill the rest of the day with as much of the third round as possible.
Maybe none of this is applicable. Maybe regulation play is extended into Monday. And what if there is a playoff then? Everyone, say hello to Tuesday. But what if it rains even more, which is what's predicted? There's always Wednesday. Pretty soon, we're going to be bumping into the British Open.
All we know for sure is that the USGA insists on 72 holes to decide the national championship, but we're not so convinced the khaki and jacket set is in charge. Who's running this U.S. Open, the USGA or Doppler?
More mud balls are in the forecast, at least according to the players, once the rain starts to fall again. Assuming it stops sometime, possibly in the next week or two, they might even get this U.S. Open finished. Maybe we'll even see Tiger before Sunday.