News
Goydos And Marino Share Lead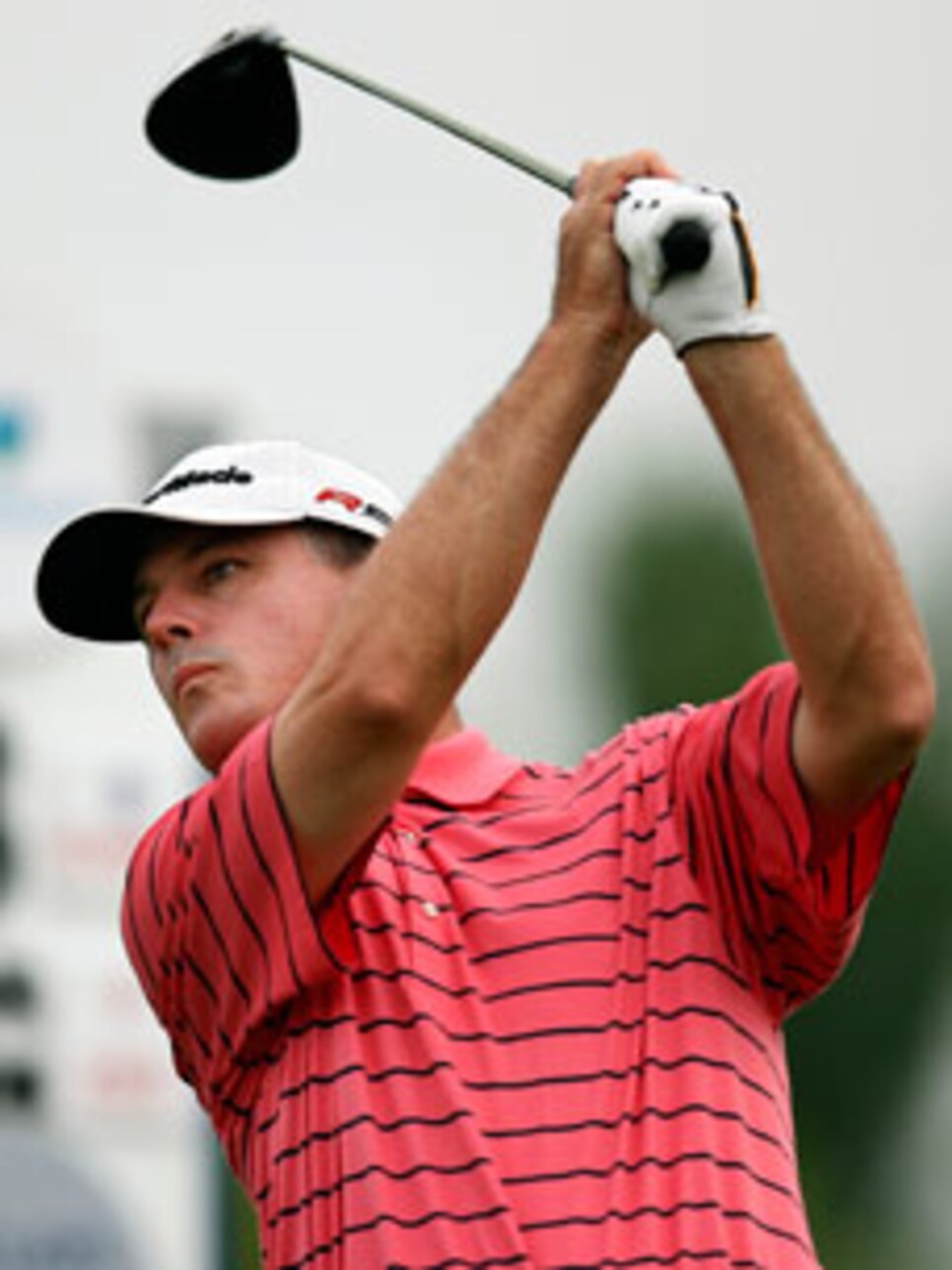 Goydos' putting has been the key to his success at Liberty National. He is T-5 in putts per round and second in putts per GIR.
JERSEY CITY, N.J. (AP) -- Steve Marino ran off three straight birdies late in the third round Saturday for a 3-under 68 to catch Paul Goydos for a share of the lead at The Barclays and give himself another shot at his first PGA Tour victory.
On a Liberty National course shortened by 355 yards -- Tiger Woods said it was like playing the "ladies tees" -- a bunch of other players felt the same way about their chances.
Despite missing six putts inside 12 feet -- one of them for eagle -- Woods made two big pars on the back nine and shot a 67 that left him five shots out of the lead going into the final round.
Goydos made his move early with three straight birdies that put him atop the leaderboard throughout most of the day. On holes where everyone was picking up birdies, however, Goydos settled for pars and shot a 68.
"If you told me on Thursday I would have to play and start Sunday tied for the lead, I wouldn't play," Goydos said.
Goydos and Marino were at 9-under 204, two shots clear of 24-year-old rookie Webb Simpson (72) and Fredrik Jacobson (68). Steve Stricker had a 68 and was three shots behind at 207.
The Barclays is the only PGA Tour event Woods has played at least three times without finishing in the top 10. He was among 11 players separated by five shots going into the final round.
Marino lost in a playoff at Colonial this year, and he shared the 36-hole lead with Tom Watson at the British Open. He figures that being in the mix for a title can only serve him well, and Marino should find out how much on Sunday.
"I felt like I was ready to win back then, too," Marino said. "It just didn't turn out that way. I just feel like I'm playing real well right now, and I'm going to do the best I can. I think if I play well, I'll have a good chance to win the golf tournament."
There is plenty of other inexperience with him.
Simpson, who was in Q-school eight months ago, is trying to become the first rookie to win on the PGA Tour this year. He did well to stay in contention after badly pulling his tee shot into the water on the par-3 11th and taking triple bogey.
Jacobson has never won a PGA Tour event in his six years as a full member.
Woods, however, also has company. After getting up-and-down from 190 yards for par on the 13th, and making a 12-foot par putt on his final hole, he was at 4-under 209 along with Padraig Harrington and Zach Johnson.
Liberty National, described throughout the week as long and hard, received a new identity in the third round.
"They are playing the ladies' tees most of the day," Woods said.
The tees were moved forward so far that the course was only 7,064 yards. The two biggest changes presented the biggest problems for Woods as he tried to get closer to the leaders.
The par-5 13th was only 509 yards (54 yards shorter), and Woods had to hit 3-wood off the tee to keep it short of the water. From a slightly downhill lie, he hit his 3-iron fat and held out his hand for another ball as his shot was descending into the water. Woods remarkably escaped with a par when he hit 5-iron to 7 feet and made the putt.
Then came the 18th hole, where the tee was moved forward 55 yards. It was an awkward distance for Woods, who put it into the bunker on the right and took out the top of the tee marker in frustration. He flung his club after blasting out of the sand and into the rough, then made a 12-foot putt to save par, and possibly save his chances.
"As of right now, I'm still in the ball game," Woods said.
His fear was that with the course playing short, the players ahead of him also would pick up birdies and separate themselves even more. That didn't happen. The players who made the biggest move along the back nine were trying to catch Goydos.
Marino did just that. He ran off three straight birdies starting with the par-3 14th, hitting his tee shot to 2 feet of the front pin. Then came an approach to 10 feet on the 15th, and a wedge to 6 feet on the 16th.
He is not concerned with who's behind him -- Woods' name was mentioned -- and neither is Goydos.
The greater mystery is how the PGA Tour will set up the golf course. The tees have been moved around quite a bit this week, and with rain in the forecast, this was as short as it has played. That likely helped Goydos, among the shortest hitters.
"You have to be careful to take what this golf course gives you each day," Goydos said. "And the way they have kind of moved the tees around on different holes, we are going to have take that as it comes tomorrow. I don't know what to expect tomorrow. We may play the tips for all I know. That would change everything, play the tips. Wouldn't need irons."