News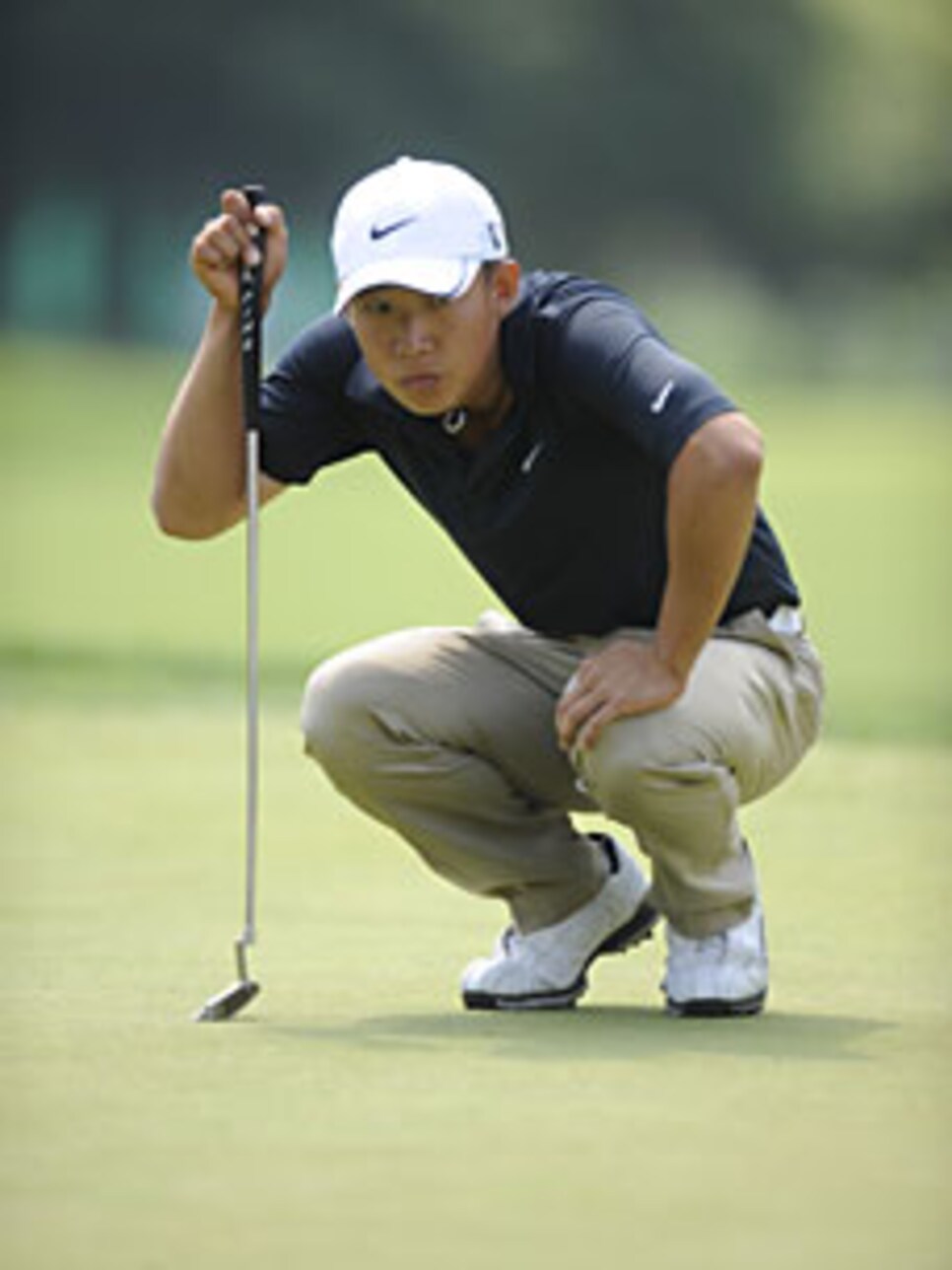 Anthony Kim has struggled to follow up on his success from a season ago.
BETHESDA, Md. (AP) - Anthony Kim is regaining a lot of his strength and a little of his swagger. He can only hope his record start Thursday at the AT&T National will allow him to get rid of some frustration built up from a year of not winning.
Kim ran off eight birdies over his final 13 holes and set the course record at Congressional with an 8-under 62, giving him a two-shot lead over tournament host Tiger Woods and two others.
The 24-year-old Kim has not won since his victory in the AT&T National last year, slowed by an assortment of injuries that caused his game to slip just as he was being anointed the next great American player.
It was the best round of his PGA Tour career, although Kim walked off the par-5 ninth green slightly perturbed after narrowly missing a 10-foot birdie putt. Apparently, eight birdies wasn't enough.
"You don't have many opportunities to bust a 61," Kim said.
But it was enough to hold off Woods, who missed his tournament last year after having season-ending knee surgery. Woods played in the afternoon with deceptive wind swirling from trees lining the fairways. He missed only two fairways and three greens, and made enough putts for a 64, his lowest round since the 2007 Tour Championship.
"Today was nice to get back inside the ropes and get out there and try to catch AK," Woods said. "He lit it up this morning."
Bryce Molder, who can qualify for the British Open with a strong week at Congressional, hit a 3-wood to 4 feet on the par-3 second hole and escaped trouble a few times on the back nine to join a group at 64 that also included D.A. Points.
Former PGA champion Steve Elkington was another shot back on a day of exceptional scoring in relatively soft conditions from overnight rain in the Washington area.
"You can be so aggressive out there," Woods said. "You can fire at a lot of flags. The fairways got wide because it's not going to run out. If you get aggressive and get it going, you can post a number out there."
Three dozen players shots in the 60s, including Jim Furyk in the group at 66 and U.S. Open champion Lucas Glover at 69. Nearly half the 120-man field was at par or better.
As a tournament host, Woods took some solace that 3-under 67 was still good enough to be in the top 10. As a player, he saw Kim at 62 before he teed off and realized he had better stay as close as he could.
"This is the day to pull it off," he said, "because the greens are so soft."
Kim extended his bogey-free streak at Congressional to 40 holes, dating to the third round a year ago. He missed only one green, coming up just short on the 18th and chipping to about 3 feet. The longest par putt he faced all day was from 4 feet.
"Whenever you can make a bunch of birdies and not bogeys to follow it up, it's going to be a good day," Kim said. "And fortunately, I kept the ball in play for most of the day and finally got some putts to fall this year."
Even though it's the first week of July, it already feels like a long year to Kim.
He has not finished in the top 10 since his runner-up finish in the season-opening tournament at Kapalua, as he traveled the world while coping with injuries, the latest to his left thumb. He had to regrip the club on his backswing, making him tentative.
But as the strength returned, Kim has been able to set the club properly and swing more explosively through the ball.
As he worked his way along a rail to sign autographs, Fred Funk looked over at Kim and asked him what he shot. Without looking up, Kim casually told him he had a 62.
Sixty-what?" Funk said, not believing what he heard. "Where did you cut over?"
There were no shortcuts for Kim, and only limited theatrics. Only two of his birdie putts were tap-in range, as Kim played to spots on the green instead of getting locked in on the flag when it didn't make sense.
Not only is Kim feeling healthy, he is getting stronger. Over the last two months, he has been working intensively with Darby Rich, whom he met at Oklahoma and who recently worked with Blake Griffin as the Sooners' basketball trainer.
"He's really focused, almost obsessed," Rich said of Kim's recent devotion to fitness and diet. "The last couple of days, I feel like I've had to tell him to back off. He's really driven to get back to where he was."