News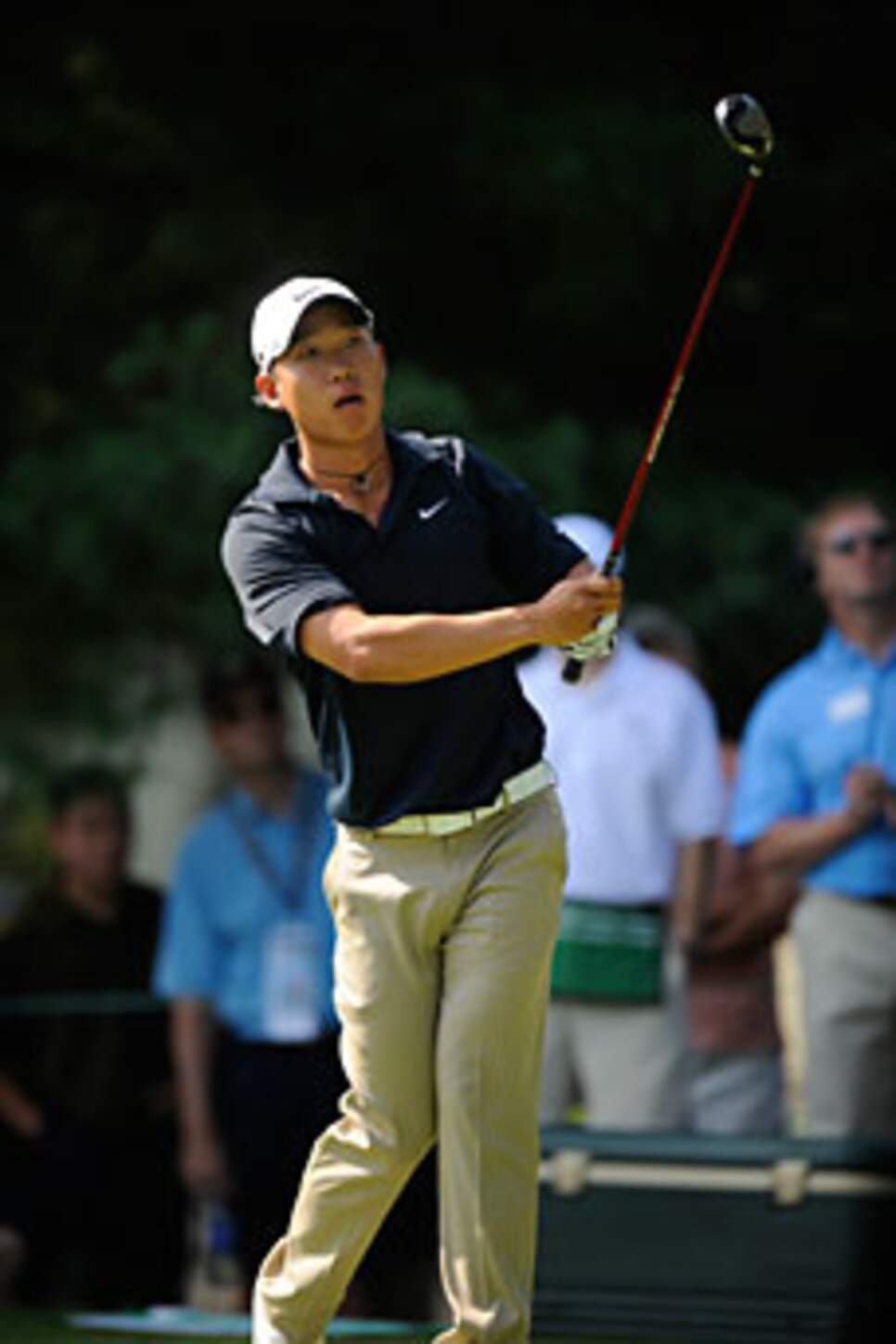 Anthony Kim's ample potential was on display again in defense of his title at Congressional.
BETHESDA, Md. -- Anthony Kim said he was hungry. Five minutes later, he mentioned it again. So not long after his course-record 62 Thursday to take a two-shot lead in the first round of the AT&T National, Kim hopped into the middle seat of a cart and held on as it zoomed down a cart path.
He was making a bee-line toward the players' dining room at Congressional Country Club. As it turns out, Kim is doing everything in a hurry these days, including how quickly he gets the ball into the hole. After a brief detour, Kim looks like he may once again be on the fast track to superstardom, and at the very same place he announced his arrival into the Big Time a year ago.
No one has ever gone as low in a tournament at Congressional as Kim did on opening day, which must be interpreted as a good sign for someone who has been consistently inconsistent so far this year.
At least Kim has something fresh in his memory files now.
"My goals are to win major golf tournaments and be prepared to play in those," said Kim, who is ranked 15 in the world. "Right now I'm going about it the right way."
The right way for Kim has been to get himself into shape. At 24, Kim has finally shed some of the boyish pudginess left over from his younger days. He hasn't done it alone, but with the help of Darby Rich, his physical trainer.
Rich, the strength and conditioning coach for the University of Oklahoma basketball team, is a former college basketball player, a tri-captain on the Alabama basketball team along with Latrell Sprewell and Robert Horry. It's Rich who gets the credit for turning the Sooners' Blake Griffin into the physical presence that led to his choice as the No. 1 draft pick in the NBA.
Kim, who went to Oklahoma, is Rich's new project and it seems like a good fit.
If there has been a knock on Kim, it's that he doesn't work hard enough. But the new trim Kim can change all that, which means someone is going to have to find a new topic on which to critique Kim.
It was on this same Congressional layout where Kim probably established himself in his breakout season a year ago. He won by two shots, following up his victory at Quail Hollow and sending a message that he was a major-caliber player who thrived on demanding courses.
Later on, he reached another level, thrashing Sergio Garcia in the Ryder Cup singles and moving up to No. 6 in the rankings.
But it didn't last for Kim. He opened 2009 with a tie for second at Kapalua, but withdrew from the Hope with a shoulder injury. Since then, Kim's results have been largely disappointing, except for the occasional flashes of brilliance he's been known to produce. That would include the 11 birdies he made in his second-round 65 at the Masters.
His tie for 20th that week had been his best result in a stroke play event since Kapalua -- until his recent tie for 16th at the U.S. Open and tie for 11th at Hartford.
There's one more plus. Kim sounds as if he's reaching a new maturity. When asked about the greatest thing that's happened to him this year, Kim said: "I made it to my 24th birthday."
On Thursday, he made it around the course in no time at all. He hit 17 of 18 greens, 10 of 14 fairways and needed just 27 putts for his 8-under 62, his career low on the PGA Tour. And that's after starting with five straight pars.
There are plenty who are expecting big things from Kim -- including Tiger Woods, who mentioned Kim's name first Tuesday when asked about his strongest challengers among the younger players.
Kim said he's healthy again, that a thumb injury that affected how he gripped the club is much improved, and so is his attitude. It hasn't been that way all year, Kim admitted, due to his struggles on the course so far.
"It's still hard," he said. "Just because I shot 62 doesn't take away that bitter taste in my mouth when I'm not contending for tournaments.
"It's awful when you come out here and finish 20th and 30th and 50th. I mean I've been lucky to finish 50th a couple times this year. I'm finally getting to the point where I feel like I'm going to be able to win every time I tee it up. It's not going to take anything crazy, it's just going to take solid golf."
He sounded optimistic. He sounded enthusiastic. He sounded hungry.