News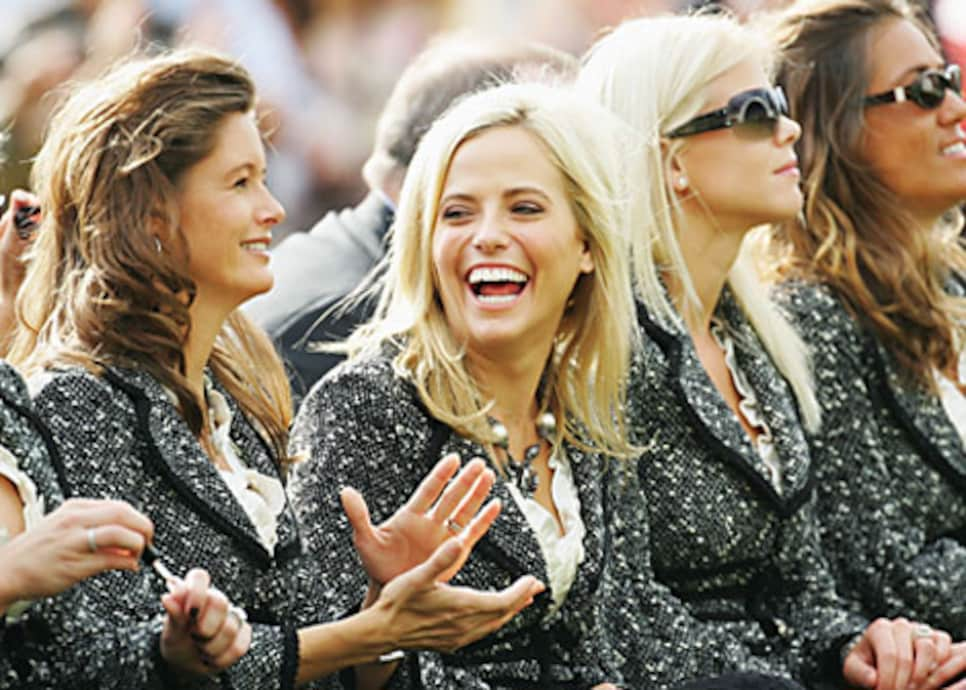 Always seen with a smile on her face, Amy Mickelson will likely need to stay positive in the weeks to come.
The last tournament that Amy Mickelson saw was two weeks ago at the Players Championship, where she helped throw a birthday party for husband Phil Mickelson's caddie, complete with a Spiderman ice cream birthday cake, enough kids to fill the hotel swimming pool and enough noise to wake up the neighbors.
"I thought they might have to call the police on us," Amy said with a smile.
Let's hope she's at another tournament very soon, and smiling the very same way.
News that she has been diagnosed with breast cancer and will undergo major surgery in as soon as two weeks is a shocking reminder that cancer doesn't care who it interferes with, not even someone as full of joy and good will and apparent winning health as Amy.
There's no official pecking order in the collection of personalities that comprise Team Mickelson, but it's safe to assume that Amy is right there beside Phil at the top. That is precisely the impression they give, Amy greeting Phil with a hug and a kiss after he completes his round, walking hand-in-hand together into the clubhouse, linking arms as often as they can. Mickelson counts on his swing coach, Butch Harmon; his caddie, Jim Mackay; his agent, Steve Loy; his publicist, T.R. Reinman; and his short game coach, Dave Pelz, but there is no one more important in his life than his wife.
Terry Jastrow, who along with his wife, actress Anne Archer, has known Phil and Amy since they first met and attended their wedding in Hawaii in 1996. Jastrow said Amy's graciousness knows no bounds.
"We all see her as Phil's No. 1 partner and No. 1 fan," Jastrow said. "Upbeat, cheerful, bright, optimistic. She is truly his soul mate and truly brings him peace and perspective."
Rob Mangini, one of Mickelson's closest friends since college, said Mickelson sent him a text message Tuesday night telling him of Amy's cancer. There is no way to describe the closeness of the Mickelsons, Mangini said.
"For Phil to suspend his schedule indefinitely, it doesn't surprise me at all.
"She's like a sister to me for the last 15 years. She's as solid as they come. I know she'll have a lot of good people pulling for her. This is real-life stuff."
The bond between Amy and Phil was probably forged the moment Phil saw her for the first time, when he was a senior at Arizona State in 1992, and they lived in the same apartment complex. Amy was wearing a sweatshirt, shorts and a baseball cap and Mickelson was smitten. He said he wasn't looking for a soul mate, but ... "I knew right away that this girl was something special," he wrote in a passage from his book One Magical Sunday.
Amy, who was once a cheerleader for the Phoenix Suns, never seems to have to work very hard to keep up her appearances as her husband's most visible cheerleader. At Sawgrass, Amy walked nine holes each day and was proud she had accomplished her mission in blue flip-flops. Amy enlisted a group of her friends to follow Mickelson at Torrey Pines in February and they all looked identical, in black knee-length boots, blue jeans, black jackets with furry collars, blonde hair and designer sunglasses. She called it her "posse."
You can be sure that Amy's posse is gathering momentum right now when she needs it the most. They know that despite Amy's small frame, shy smile and carefree disposition, she's one tough customer. That might be what pulled her through an extremely difficult childbirth, when Evan was born in 2003.
Evan was stillborn and went seven minutes without breathing. The birth was so difficult, doctors believed there was scar tissue and the baby might have caused a tear in her uterus. Amy bled profusely. A specialist was paged and began working with Amy. Evan had begun breathing, but Amy was in trouble.
Mickelson recalled the scene in his book. He paced the hallways of the hospital and at one point, stopped and heard two nurses whispering around the corner, unaware that he could hear the conversation.
"'It's just so sad, isn't it,' one of them said, 'that those three little children are going to grow up without their mother.' I went over and sat down outside Amy's room and just prayed . . . The next hour was the longest, most agonizing of hour of my life …
"Finally, at long last, the doctor came out of the operating room and said: 'She's stable now. I think I saved her.' I couldn't believe it. I've never had such a feeling of relief and gratitude."
If Amy has been at her husband's side at great triumphs, she's also been there at the defeats, such as the one at Winged Foot in the 2006 U.S. Open. Mickelson lost with a double bogey on the 72nd hole, after hitting his tee shot off a hospitality tent, his second shot off a tree and his third shot into a bunker.
Afterwards, a disconsolate Mickelson signed his scorecard in a portable trailer, but Amy was right there with him, full of good cheer, her arms around his neck.
Amy has been there for Mickelson, and now it's Phil's turn, again, to be the one giving the support. No one can speculate how his wife's illness will affect Mickelson's play when he does come back, but that doesn't seem too important right now. The wife in Team Mickelson is at risk and that's all that matters.