News
An To Face Martin In Final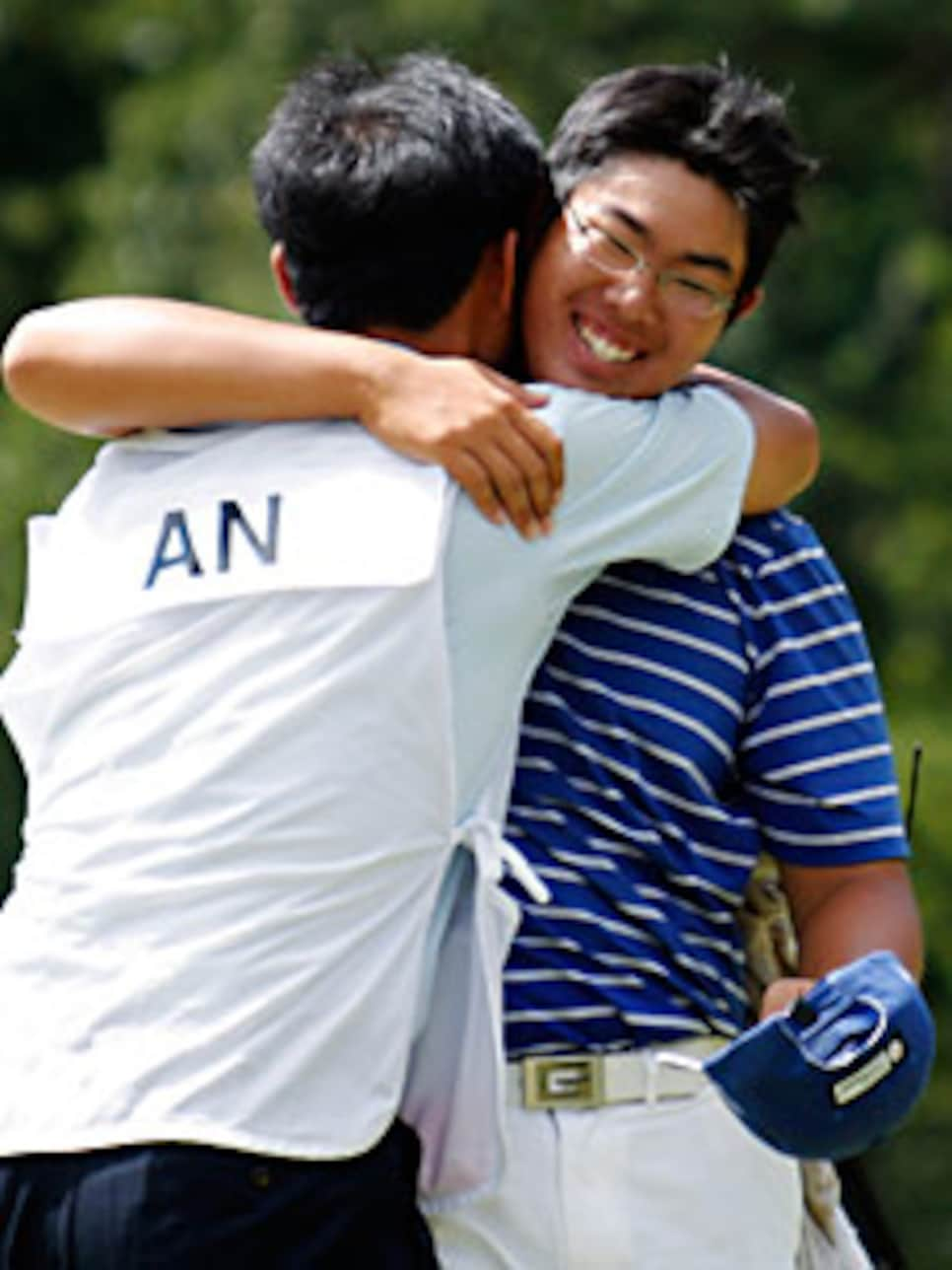 An has qualified for the U.S. Amateur twice, but this is the first time he reached the match play portion of the tournament.
TULSA, Okla. (AP) -- With each passing day, Byeong-Hun An is making his resume look more impressive.
After playing 125 holes of golf in the past six days, the 17-year-old South Korean needs only one more win to add a line as the youngest champion in the history of the U.S. Amateur.
"Age doesn't matter," An said Saturday after beating Fresno State sophomore Bhavik Patel 3 and 2 in the semifinals. "If you look at the PGA Tour, Tiger Woods is around his 30s. Rory McIlroy is like 20 or 21. Kenny Perry is around his 40s, I think. I don't think it matters."
An, the son of Olympic medal winners in table tennis, said the only difference is that young players can make a splash with big wins and make people think, "He has a title, he's a good player, he's so young."
Danny Lee was 18 years, one month when he won last year's U.S. Amateur to break Tiger Woods' record as the youngest champion by just under seven months. An, who will turn 18 on Sept. 17, could break Lee's mark by a month and a half.
"It's a big title for me," An said. "People will remember -- until someone breaks it next."
While he hasn't yet become the event's 109th winner, he likely has already earned something special: U.S. Amateur finalists have traditionally earned invitations to play in the Masters the following year.
An has surprised even himself with the roll he's on this week at Southern Hills Country Club, the site of the 2007 PGA Championship. In his second time qualifying for the U.S. Amateur, he made the match play portion for the first time and has reeled off five straight victories to reach Sunday's 36-hole final against fourth-seeded Ben Martin of Clemson.
An said he has won only one tournament since he started playing at age 6 -- the Nike Golf Junior at Marshallia Ranch in California back in 2006.
"I've got a lot of second-place and third-place trophies, but I don't have a lot of first-place trophies," said An, a senior at Bradenton (Fla.) Preparatory Academy who has verbally committed to play at California next year.
But after closing out his round Saturday by winning the last four holes, he had some business to tend to before his tee time the next morning.
"I only brought like five (sets of) clothes. Now I have to go buy one for tomorrow," An said. "I never think about getting into the finals. My goal was to get into the first round. That was my goal."
An exhausted his last outfit, a royal blue polo shirt and a pair of white shorts, during a roller coaster match with Patel that came to a sudden conclusion. An found himself 1 up instead of 1 down after Patel had par putts lip out at Nos. 2 and 3, and the match stayed close until Patel got aggressive midway through the back nine.
An hit a lob wedge from 96 yards to set up a 2-foot birdie putt at No. 13 and even the match. Patel made bogeys at Nos. 14-15 and then a double-bogey at No. 16, and blamed his troubles on trying to do too much off the tee.
"You need to be in the fairway and hit the green and make par," said Patel, who had five bogeys and two doubles to go with one birdie. "I just wanted to get a little closer to the greens and have a shorter shot, and out here you can't do that."
The other semifinal had the opposite story, as Martin was in control from the start. Texas senior Charlie Holland bogeyed four of the first six holes as Martin claimed a 4-up lead on his way to a 5-and-4 victory. Holland was all but sunk when he missed a 3-footer to halve the ninth hole and instead fell 5 down.
"It just wasn't my day," Holland said as he hopped onto a cart to head back to the clubhouse after Martin closed it out with an up-and-down from a greenside bunker at No. 14.
Martin, a 22-year-old who will be a fifth-year senior at Clemson this year, said he didn't allow Holland's struggles to change his game plan.
"I try to just play my game," said Martin, who had two birdies and two bogeys. "Pars are great out here. But, you know, if they're in a little bit of trouble, you definitely play a little more conservative. ... (I'm) trying to think of any holes out there where I did that today. I can't think of one."