News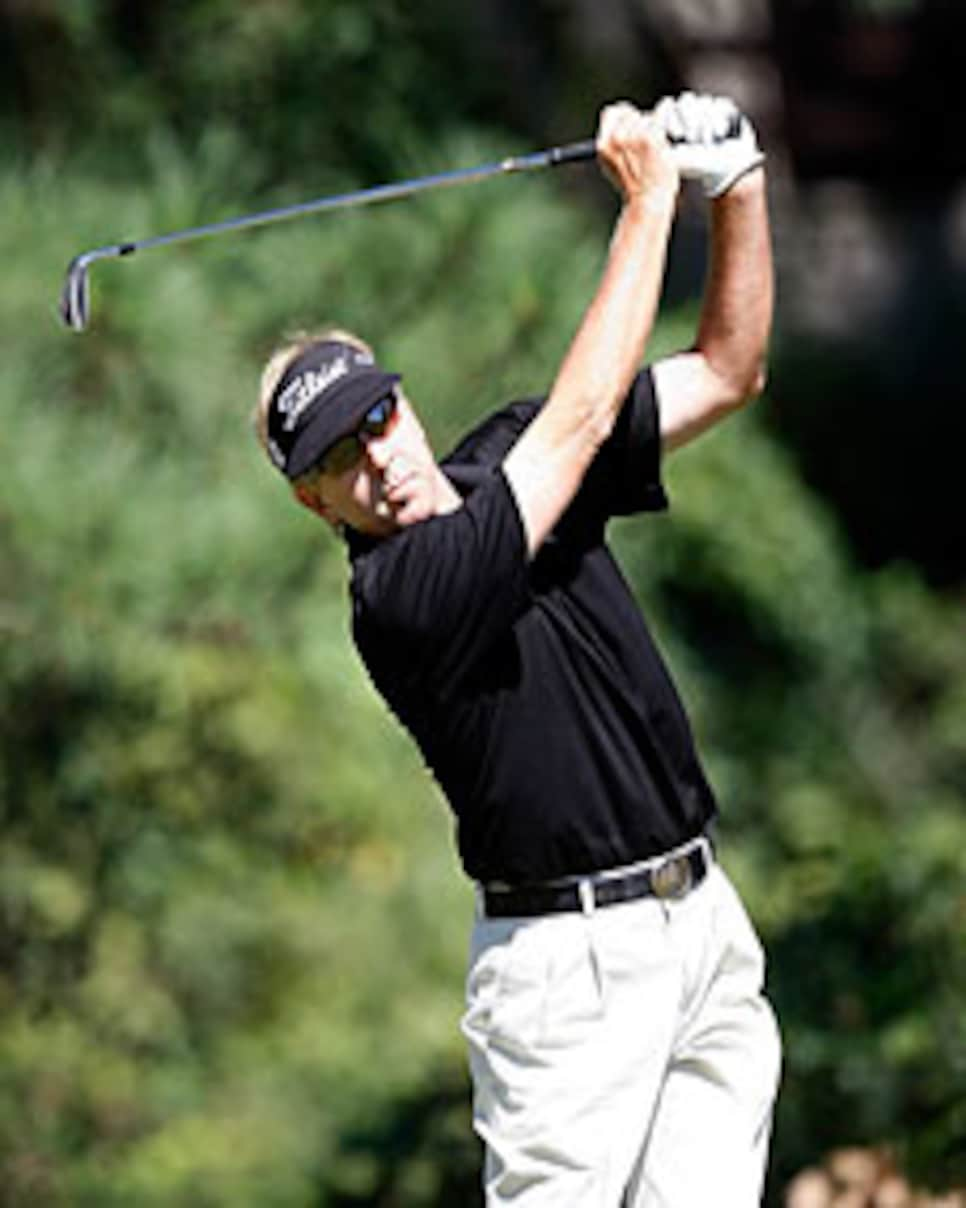 Dan Forsman will carry a one-stroke lead into Sunday.
THE WOODLANDS, Texas (AP) -- Dan Forsman remained in position for his second Champions Tour victory of the year, shooting a 1-under 71 on Saturday to take a one-stroke lead in the Administaff Small Business Classic.
Forsman had a 9-under 135 total on The Woodlands Country Club's Tournament Course. Jay Haas (66), Gene Jones (67) and Mark Wiebe (69) were tied for second, and Tom Watson (68), Bob Tway (70) and John Cook (72) followed at 7 under.
Forsman, who had six straight birdies in his opening 64, started steady Saturday, birdieing Nos. 4, 6 and 9 to reach 11 under and pull three shots ahead. With the wind swirling and greens drying, he faltered on the back nine with three bogeys and only one birdie.
"I'm a little disappointed by the way things came apart on the back nine, but I feel good about what I've done," Forsman said. "It's different from the lead than it is coming from the pack."
A five-time winner on the PGA Tour, Forsman acknowledged being nervous and humming songs to himself on the last several holes, trying to relax.
"It's a great opportunity," he said. "It shouldn't feel like this weight is on your back. But it comes with leading the golf tournament."
Forsman is in his first full year on the Champions Tour and won his first title in March in his 12th start, but this is the first time he has taken the lead into the final round. He has already earned more than $1 million and has 18 top-25 finishes in 20 starts, including seven top-10s.
Haas, six shots back after the first round, had a bogey-free 6-under 66 - the day's low round. He has won his last two events on the tour, the Greater Hickory Classic and Senior Players Championship.
"Today I gave myself more chances," Haas said. "My irons were closer to the hole and I got off to a really good start ... It made it a little more comfortable to play."
Jones started the day five shots back. He was 3 under for the day after six holes, including a 22-footer for birdie at No. 3, then birdied Nos. 11 and 12.
"Those are the kind of birdies you don't forget," he said about a 50-footer at 11 and a chip-in from 10 yards off the green at 12.
He finished with six pars.
Jones has been close several times this year, with three runner-up finishes, the most recent a month ago at Pebble Beach. In 20 starts, he has seven top-10s and 15 top- 25s, pocketing more than $1 million. Last year, his first on the circuit, he finished second in the season-long Charles Schwab Cup race, but his first victory has remained elusive.
"Winning is a matter of doing exactly what I did today, making a 50-footer, chip one in," Jones said. "That's what it's all about.
"To win out here against these guys ... winning would mean the world to me, but you can't go out there with that attitude. You've got to go into it as another round of golf and let the chips fall where they may."
For years, the course was the home of the PGA Tour's Houston Open. The last time Forsman held a tournament lead going into the final round was at The Woodlands in 1998. He tied for sixth.