The Loop
Why Less Is More For The Presidents Cup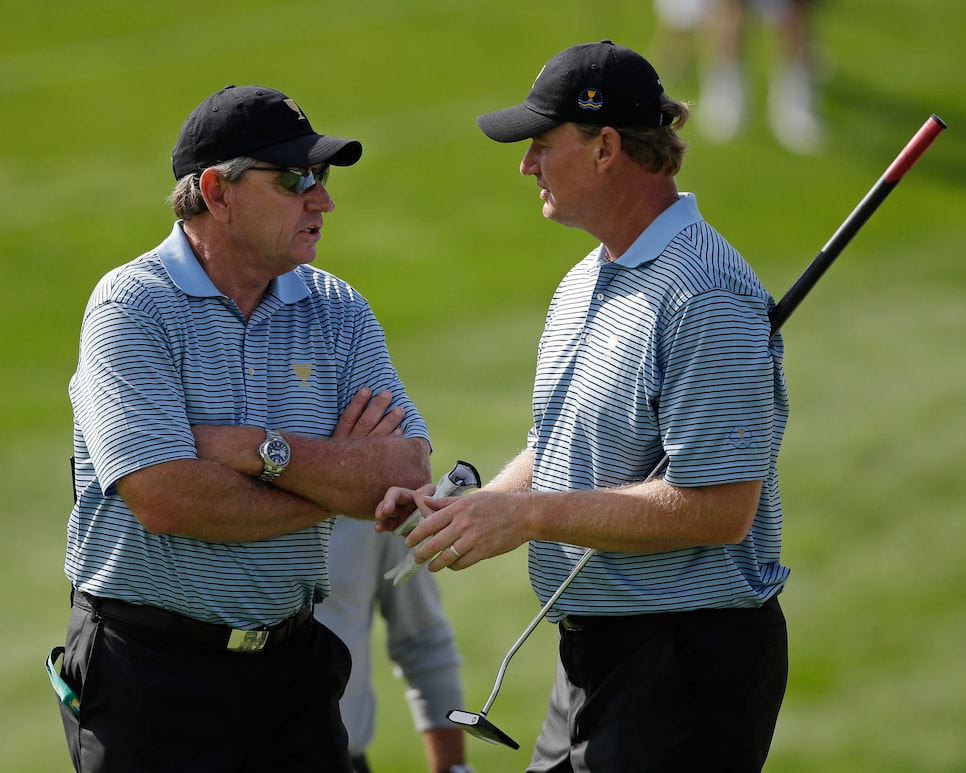 Nick Price had a plan to make the Presidents Cup relevant -- and more meaningful to his players -- and PGA Tour commissioner Tim Finchem ultimately listened.
The International captain had been lobbying Finchem for change since his captaincy in 2013 at Muirfield Village. A three-point U.S. win, void of drama, ran Team USA's record in the biennial contest to 8-1-1, convincing the Zimbabwean Hall of Famer that change was needed.
"It's not about winning or losing," Price told me after he and seven of his players met with Finchem at the WGC-Bridgestone Invitational. "It's trying to fix the Presidents Cup, which I think is not working."
While Price didn't get everything he was looking for, his persistence made a strong enough case for an adjustment to the 21-year-old event's four-day schedule. Price emphasized that the International team's relative lack of depth was a liability in a format in which everyone on the 12-man teams played the first two days and in at least one session Saturday before Sunday singles. On that basis, Finchem reduced the overall matches from 34 to 30, dropping one match from every session except Sunday singles.
"This is a step in the right direction for the Presidents Cup," said Price, who was hoping to get to 28 matches, the same number as in the Ryder Cup, in which some players sit out in every session except singles. "It could get better, honestly I think it could."
U.S. captain Jay Haas told me via text he was "less than thrilled with Tim's decision." Haas contended that in spite of the record, some of the U.S. victories should have been considered upsets based on past International teams being stocked with Hall of Famers such as Price, Ernie Els, Vijay Singh, two-time U.S. Open champ Retief Goosen and Masters winners Mike Weir, Angel Cabrera and Adam Scott. Price never argued the two teams weren't evenly matched at the top of the lineup, but was adamant the U.S. has always had an advantage at the bottom.
In retrospect, Price believes Finchem was swayed by the impassioned words of International assistant captain Tony Johnstone, who flatly stated that the International players were losing enthusiasm for playing in the event.
"[Johnstone] summed it up best," Price said. "He said the Presidents Cup should be a pinnacle, and that's not the case. That's not the burning ambition. Every International player should strive to be on a Presidents Cup team. [But] this is not something they look forward to."
Reducing the number of matches isn't the monumental change the Ryder Cup underwent in 1979, after Jack Nicklaus proposed Great Britain & Ireland be joined by continental Europe. Since then the matches, which had been heavily lopsided toward the U.S., have been 10-7-1 in favor of Europe and filled with thrilling finishes.
"It was only the right thing to do from the beginning," said Price of the match reduction. "It hasn't been much fun."
This year's Presidents Cup in South Korea is five weeks away, and there has been barely a ripple of interest stateside. Maybe it's a little late to be changing the format, but a close competition (especially without Tiger Woods to help attract interest) will be essential to attract a respectable TV audience -- much less the interest of the players.