The Loop
Golf World editor Jaime Diaz honored at Memorial Tournament
Joining legends like Grantland Rice and Dan Jenkins, Golf World Editor-in-Chief Jaime Diaz received the 2014 Memorial Golf Journalism Award from Jack Nicklaus on Wednesday.
"Jaime and I have worked together many times over the years," Nicklaus said in his address to a large crowd gathered on Muirfield Village's driving range to honor Diaz and Annika Sorenstam. "The respect I have for Jaime transcends his ability as a writer. He has always been someone I trust and I think he has the best interests of the game in mind."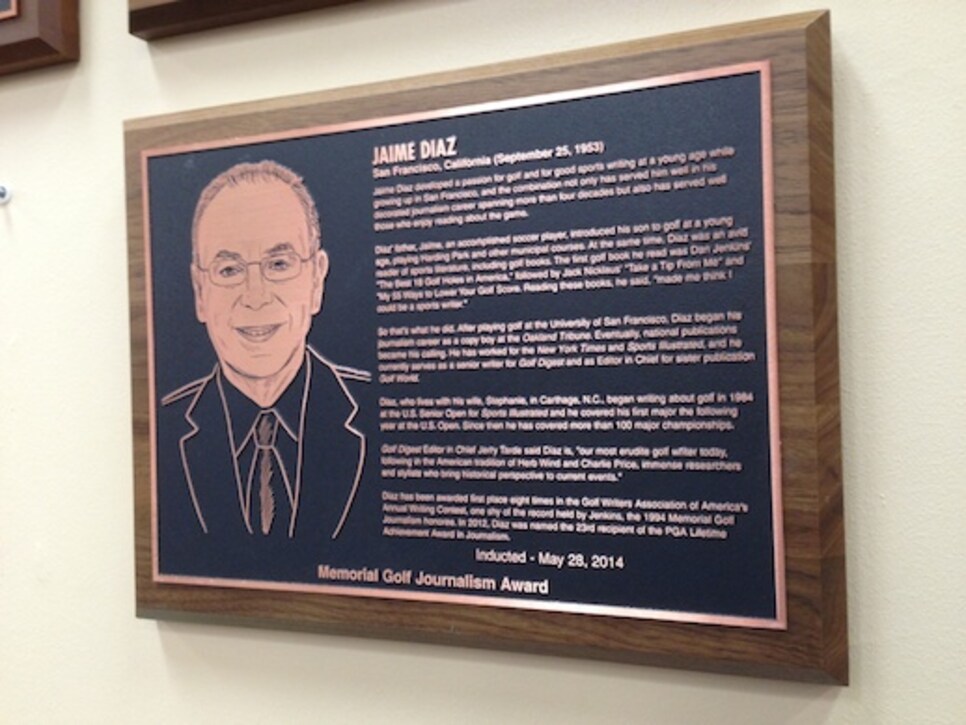 Given annually to a media member who "served their profession with conspicuous honor," Diaz was the 47th recipient and devoted his speech to the role Nicklaus has had in making a sportswriter's job more meaningful.
"The truth is I've learned more about golf from Jack than from anyone else," Diaz said in his speech, noting Nicklaus's books as vital to his understanding of the game. "But it was face to face, after I became a golf writer, that I learned the most from Jack. One of Jack's most important but too-rarely acknowledged contributions to the game has been the consideration and time and thoughtfulness he showed to the golf writers.
"A Nicklaus interview, especially the scrum that followed the main press conference when a few writers who greedily wanted more would gather around him, was - and is - stimulating, challenging, warm, great fun. It speaks volumes that Dave Anderson, the Pulitzer Prize winning columnist at the New York Times, who over six decades interviewed every major athlete, always said that the best interview subject in all of sports was Jack Nicklaus."