News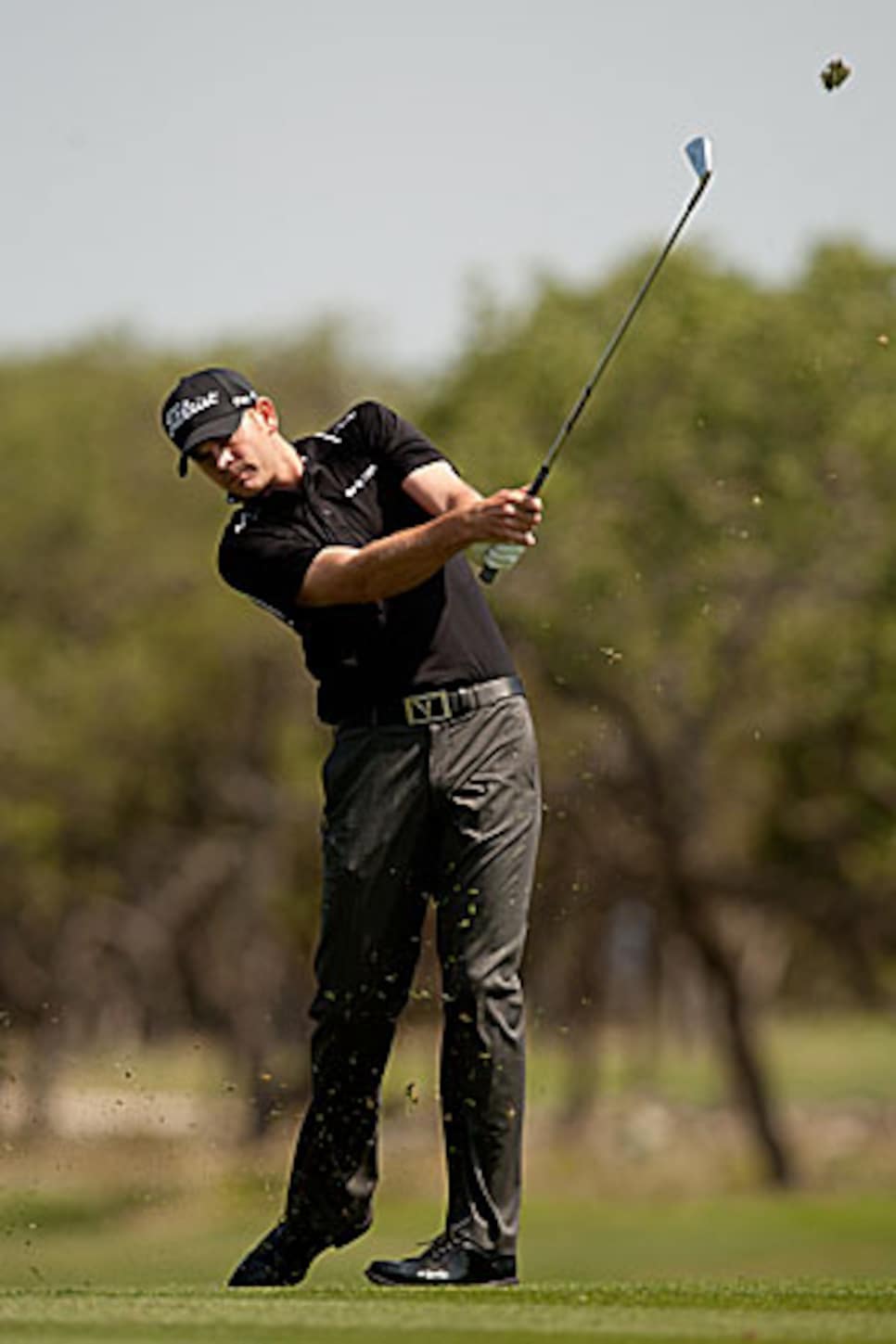 Steele closed with 12 straight pars.
SAN ANTONIO (AP) -- Rookie Brendan Steele shot a 1-under 71 on Sunday, overcoming relentless wind and fellow first-year PGA Tour player Kevin Chappell to win the Texas Open by a stroke.
The leader by one heading into the final round, the 28-year-old Steele stayed steady throughout the day, and finished at 8-under. He gave a small fist pump, then thrust his arm downward and smiled broadly to celebrate his first Tour victory after holing out on 18.
"I was a lot more calm today," Steele said. "When you've got the one shot lead it's not even your tournament. There's so many guys that could still win with a good round, without you even doing anything wrong, that I didn't feel as much pressure."
The tournament featured the Tour's highest scoring average, 73.665, so far this year and Steele's 280 overall was the highest winning score at the Texas Open since a 283 won the 1934 edition.
Steele birdied the par-5 second hole, dropping his approach from a bunker to within 10 feet of the pin, then bogeyed the par-4 No. 5, leaving a 12-foot putt from the fringe short. But Steele put his tee shot within three feet of the hole on par-3 No. 7 to move back to 8 under.
That's where he finished. Steele, whose previous best-finish was tied for 17th at the Farmers Insurance Open in San Diego in January, could have padded his lead on No. 9 but left a 17-foot putt short. He then missed a couple of other makable birdie putts on the back nine, including one that was 6-inches off on the par-3 16th.
Instead, he settled for 12 straight pars and it was enough to hold off Chappell, who had two birdies on the front nine, then put his second shot to within seven feet on par-4 No. 10 to grab a share of the lead.
Chappell, 24, then stayed tied with Steele through seven holes, but hit his 2nd shot on the par-4 17th well right of the hole and then couldn't make a 10-foot put to save par.
"I'll be honest, I think I just fell asleep," said Chappell, who led UCLA to a national championship in 2008. "I felt the wind was dead into me ... I should have known it was a little left to right."
It was the first time since the 2006 Phoenix Open that two Tour rookies finished 1-2 at a tournament. Another rookie, Charl Schwartzel, won last week at the Masters, making this the first time rookies have won back-to-back on Tour since 2002.
Winds that were a factor all week, pushing drives into the woods and knocking down approach shots, continued to blow strong at 20 mph Sunday -- with gusts exceeding 30 mph. But they came in from the south and generally yielded higher scores than those from the north earlier in the tournament.
Tying Chappell for second was Charley Hoffman, 34, who began the day three strokes behind Steele at 3-under, but found the hole from the fairway 52 feet away for an eagle on the par-5 No. 8. He followed that with a birdie on 464-yard No. 9 -- where Kevin Na had the worst par-4 hole in the PGA Tour record books during Thursday's opening round, shooting a 16 with a nightmarish sequence of shots.
Hoffman just missed a 10-footer to save par on No. 14, but his birdie on 18 moved him back to 7 under and assured him a tie for second.
Nashville-native Brandt Snedeker, 30, had two birdies on the front nine but missed an 8-foot putt on the par-4 11th to slide back to 6 under for the tournament, good enough to finish alone in forth.
Cameron Tringale, who began the day a stroke off the lead, is in his second year on Tour but is 5 years younger than Steele at 23. He had three bogeys on the back nine to offset a pair of birdies and finished tied for fifth at five under.
Also tied for fifth was Pat Perez (71), and Fredrik Jacobson, who finished second at the 2010 Texas Open and had four birdies and a bogey on Sunday.
Players in their 20s have won three of the last four PGA Tour events and four of the last six. A player in his 30s has not won since Rory Sabbatini at the Honda Classic, a span of seven events. Asked about a leaderboard so full of relative unknowns, Steele shrugged.
"The guys who are household names now weren't household names when they started," said the Idyllwind, Calif., native. "You've got to make yourself a household name and you've got to start somewhere."
Steele won last year's Nationwide Tour Championship in South Carolina to earn his Tour card but had never led any round during his previous 11 starts on Tour. But the glare from at least moderate fame is not new to his family -- Steele's uncle Anthony Geary plays Luke on the ABC soap opera General Hospital.
In perhaps a rookie mistake, Steele cut his finger on the Texas Open glass and stone trophy while posing with it for pictures after his win. At a tournament whose slogan is "Unappologetically Texan," he also took home a pair of boots which he struggled to pull on.
"Do I get a horse too," he asked jokingly.