News
USGA Announces New Rules Decisions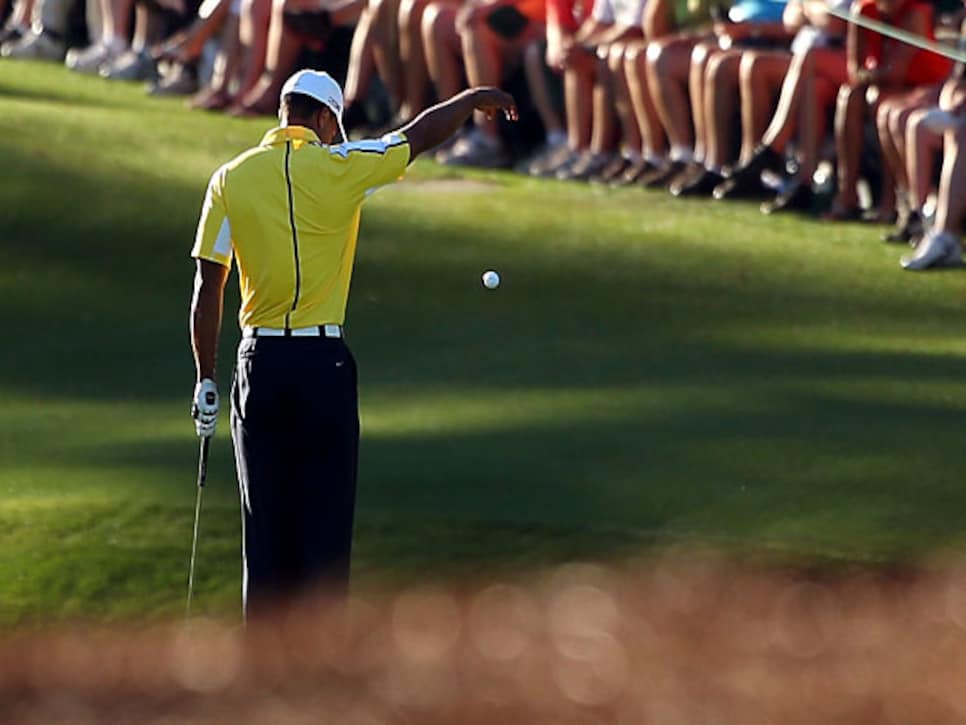 Tiger Woods' drop on the 15th hole in the first round of the 2013 Masters set off a controversy.
Starting in January, a ball will be deemed to have moved only if that movement was reasonably discernable to the naked eye at the time of the incident, the USGA and R&A announced on Tuesday. This new mandate, one of 87 changes made to the Decisions on the Rules of Golf that will be in effect for the 2014-2015 cycle, states that golfers will not be penalized for accidentally moving the ball when the fact that the ball had come to rest in a new position could not have been reasonably seen without the use of things such as high-definition cameras and digital-recording devices.
This new decision (18/4) was announced less than three months after Tiger Woods was assessed a two-stroke penalty at the BMW Championship for accidentally moving his golf ball. The penalty was caught on video by a camera crew from PGA Tour Entertainment. Woods said he didn't think it moved, and it wasn't clear that it had until a replay of the video was reviewed. But Thomas Pagel, the USGA's senior director of the Rules of Golf, says that incident was not the catalyst for the new decision. In fact, the USGA and R&A have been in discussions about it since 2011.
"This is a small step in the continued review [of enhanced technological evidence]," Pagel says. "It's the belief of the governing bodies that all evidence should be considered, but getting the rules right is what's important."
Zach Johnson, a 10-time winner on the PGA Tour, says there's probably no perfect way to monitor these situations, but having to address the use of high-definition video and slow-motion replays in reporting rules violations is "just the world we live in."
"I don't know if the naked eye can pick up on every little detail," Johnson says. "But if I unwillingly moved my ball, I'm going to want to know about it regardless of how it's caught. I can't in good conscience sign a scorecard that's not accurate."
Other noteworthy decisions:
Players can now access weather reports during a round with their smartphones. Previously this was considered a violation of Rule 14-3, because it might influence play. Pagel says the new decision (14-3/18) not only recognizes the proliferation of smartphone use on golf courses, but also was put into place to help golfers stay alert to threatening weather.
New illustrations have been added to the Decisions book to show examples of when a golf ball is considered embedded (25-2/0.5). Adding the drawings helps golfers understand that, in order to take relief without penalty, the ball has to be embedded in soil anywhere on the course other than the teeing ground and putting green of the hole being played or any hazard on the course. It's not embedded if it's simply sitting in a grass impression and soil is not visible.
Golfers can go forward approximately 50 yards without forfeiting their option to return to the spot where they last played and hit a provisional ball (Decision 27-2a/1.5). Pagel says this improves the clarity of the rule and also could help pace of play.