News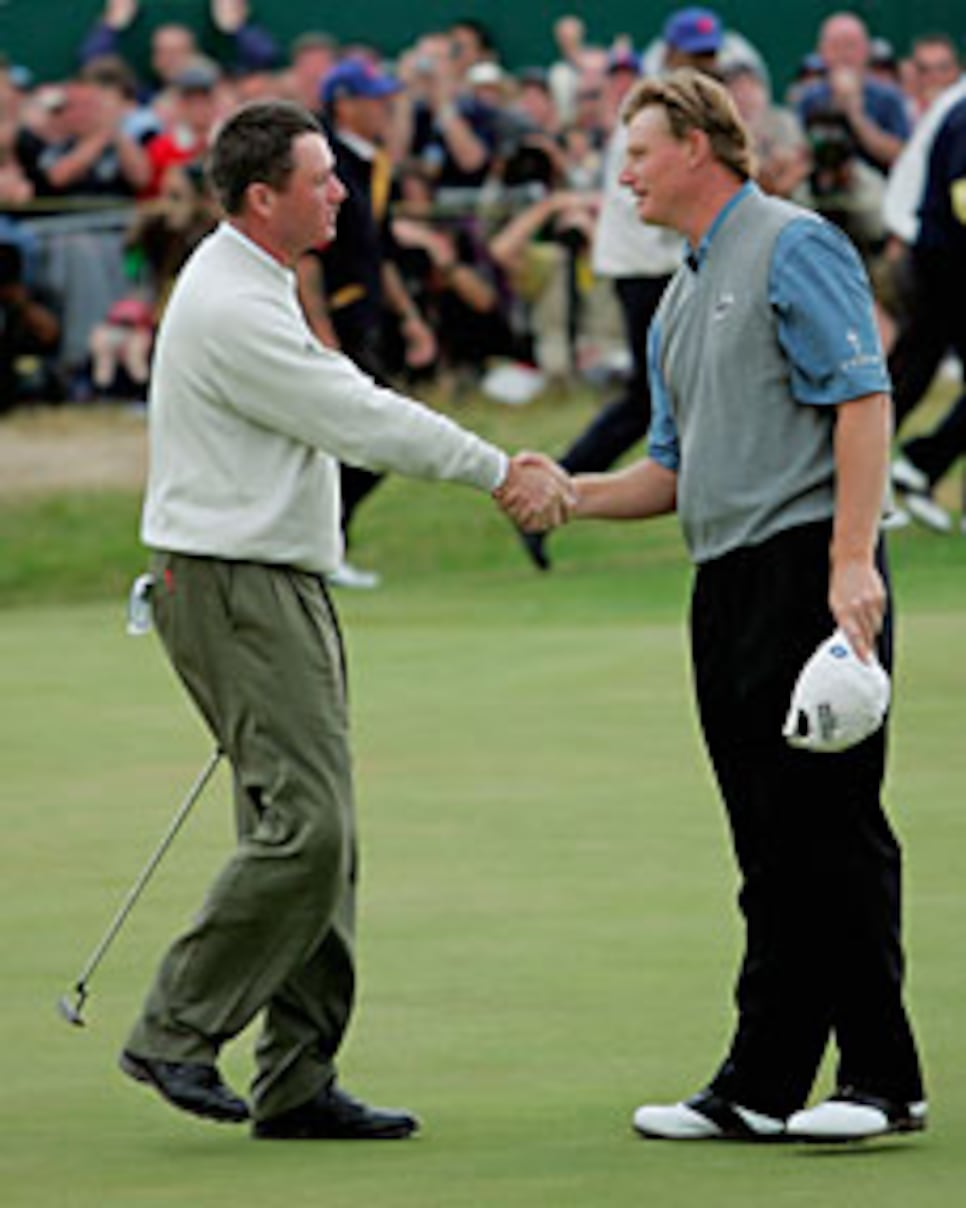 Todd Hamilton's playoff win over Ernie Els at Royal Troon was one of golf's biggest head-to-head upsets.
Five years later, the clubs from that day sit in the basement of Todd Hamilton's home in Westlake, Texas, but the words still linger in his head. They are the words that followed a four-hole playoff win over Ernie Els in the 2004 British Open, words a veteran who had spent most of his adult life playing golf abroad never thought he'd hear -- or at least not to describe him.
"Champion golfer of the year."
"Pretty neat," Hamilton said. "I don't know how telling it was, though, because obviously I wasn't the best golfer in the field. But I think, just for bragging rights, I can always go back to my buddies and say, 'Hey, in 2004, I was the champion golfer of the year.'''
Hamilton's moment in the sun at Royal Troon seemed to come out of nowhere, which is almost exactly where Hamilton himself had come. He was a grinder, playing professionally in Asia for 15 years and won 11 times on the Japan Tour. But Hamilton wanted to change the geography. He experienced eight trips to the PGA Tour Qualifying School without success until finally earning his card on his ninth trip in 2003.
Hamilton kick-started his rookie year of 2004 by winning the Honda, but he really made his leap into notoriety at Troon. Since then, Hamilton has not won, not even once, but he's still feeling the effects of Troon.
"Five years have passed, it seems like longer, to be honest," Hamilton said. "I haven't really played like I thought since that happened. There's been signs of it recently, but I can't explain that week. I had no idea."
Local bookmakers listed Hamilton at 500-1 before the tournament, but on the strength of his win earlier that season, Hamilton was ranked 56th when he arrived at Troon and quickly found himself in contention. After 54 holes, Hamilton was the leader, by one shot over Els and two shots over Phil Mickelson and Retief Goosen. He was standing up to some of the biggest names in the game, but Hamilton felt strangely relaxed.
"I can remember the first hole being a little nervous, but not overly, because I was enjoying the moment," he said. "I was fortunate that the first hole, I hit 4-iron off the tee. If you're nervous, hitting a 4-iron as compared to driver is a lot better. Hit iron off the second tee. Once those two got over with, I was ready.
"I wasn't overpowered by the moment. My career I had over in Japan, I won 11 times and I won two times on the Asian Tour, so I just tried to tell myself that it wasn't any different. The golf ball doesn't know that there's 50,000 people out there compared to 10,000. The golf ball doesn't know that if you win the British Open, the trophy you get means a lot more than the trophy I got for winning the Thailand Open or something like that. I just kept telling myself that.
"I always believed that if you could win any golf tournament, whether it be a junior tournament, college tournament or Hooters Tour, it breeds winning."
Paired with Els on the last day, Hamilton led by one at the 72nd hole, but pushed his tee shot into the rough, hit his second shot across the fairway, chipped on and two-putted for bogey. He shot 69. Els, who had birdied the 16th and 17th, shot 68. Els could have won it with a birdie putt at the 18th, but missed a 12-footer.
The playoff that followed would be four holes, but before it could begin, Hamilton left to sign his scorecard. On the way, he came across David Yates, his former coach at Oklahoma.
"He says, 'Man, great job, congratulations,'" Hamilton said. "I know he didn't mean it this way, but it came off to me like he didn't think I could do it. I looked at him like 'You don't think I can win this, do you?'"
Yates, now an agent at Gaylord Sports, doesn't remember it that way.
"Naw, I talked to him like a coach would, 'Go get 'em, you can do this,'" Yates said. "Was I surprised that he won? Probably not any more than he was."
And Hamilton did win. Through three holes of the playoff, Hamilton had a one-shot lead. The next and final last playoff hole was the 18th, and Hamilton was on the verge of making a bogey, just like he had done the last time he played it in regulation. He was 30 yards short of the green, 50 yards away from the hole.
That's when he pulled out his hybrid club and hit a bump and run onto the green, the ball stopping two feet from the hole. Els stood over another 12-footer he needed to make for birdie to stay alive. He missed and Hamilton tapped in. To this day, the hybrid club that won the championship occupies a prominent place of honor in his basement.
Some believe Els hasn't been the same since, although he's won twice after his disappointment at Troon. Hamilton has been blanked. He said he's feeling better about his game, even though he missed the cut at the AT&T National his last time out. Now 43, Hamilton may not be a factor at Turnberry, but then again, he wasn't supposed to be a factor at Troon, either.
"He probably didn't sustain at the level he thought he would," Yates said. "In his mind, he's underachieved, but he's won a major. He's had a very successful career, whether he ever wins again or not."
Hamilton's career began innocently enough, back home in Oquawka, Ill., a town of about 1,500 people. His father, Kent, introduced him to the game by digging holes in the backyard, sticking coffee cans in the holes and then using coat hangers for flagsticks. Hamilton started playing at Hend-Co Hills Golf Club, a muny in Biggsville, which was then a nine-hole course.
Twice the Class A state high school champion, Hamilton went to Oklahoma on a golf scholarship and became an All-American. He turned pro in 1997, but after struggling to earn his PGA Tour card, Hamilton learned how to play the pro game and how to win in Asia.
Those kind of experiences are what Hamilton says helped him years later at Troon.
"Sure, you've got to have that first win, but once you do that . . . and if you're not so caught up in the moment and you can look back on [being in the hunt] so when it happens again, it definitely helps you. In Japan, they didn't want me to win. So that probably helped."
Hamilton said he didn't reap a lot of financial benefits from Troon, although his equipment deal was redone. As for inside, Hamilton said he didn't feel any different, although others said they noticed some changes.
"A buddy of mine told me, 'You know, you won that tournament, seemed like you got two inches taller, you got 5-10 more IQ points higher, you got a little better looking and everybody wants a piece of you.' I giggled, but he was right.
"I still see it, with the British Open flags, they're trying to get all the guys that they can to sign. I don't think winning at Troon changed me as a person. I've got some friends who wouldn't let that happen."
Fred Couples said Hamilton is still Hamilton.
"The same guy telling the same jokes," Couples said.
Hamilton is known as one of the top storytellers among his peers. Next time you see him, ask him about the two guys walking their dogs. Ask him about the monkey that understands English. You can even ask him about Troon, but everybody probably knows that one. That was no joke.