News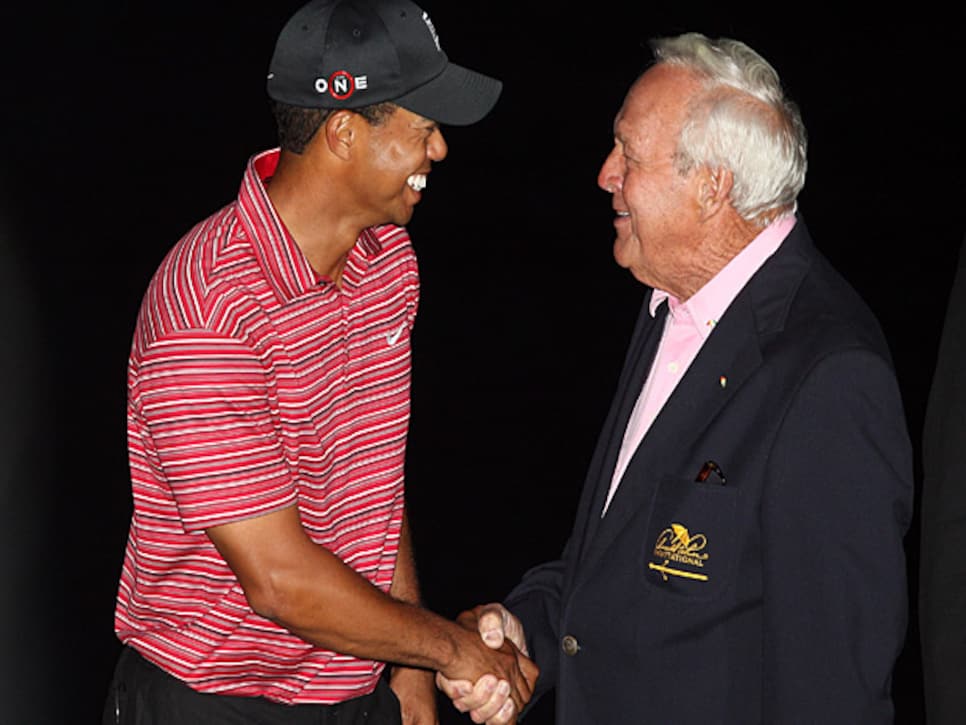 Woods has won the King's event a record seven times.
ORLANDO, Fla. -- There could perhaps be no more fitting place for Tiger Woods to reclaim the No. 1 spot in the Official World Golf Ranking than the Arnold Palmer Invitational. This is sort of where it all began, and where it all ended.
Orlando, of course, used to be Tiger's hometown. He moved here in 1996, right after turning pro. And Isleworth in nearby Windermere is where one of the most shocking downfalls in the history of sports began in the wee hours of Nov. 27, 2009, when Woods' car found a fire hydrant in his gated community.
Scandal ensued, followed by injuries, distractions, a swing change and a tumble down the World Ranking to as low as No. 52. Not since Oct. 30, 2010 has Woods held the top spot. That could change this week, but only if he wins.
Tiger went from the BMW Championship on Sept. 13, 2009, until last year's Arnold Palmer Invitational without a PGA Tour victory. And when he won here in 2012, it was his seventh victory at the Bay Hill event, tying Torrey Pines, Doral and Firestone as the courses on which he has the most victories.
Beginning with that victory here, the resurgent Woods, currently No. 2 to Rory McIlroy, has won five of his 22 PGA Tour starts and, with 76 tour victories, is within seven of passing Sam Snead's all-time record.
The big numbers, of course, are these: 18, 14 and five. The record for professional major championships is 18 by Jack Nicklaus; Tiger has 14 and it has been nearly five years -- since the 2008 U.S. Open -- that he last hoisted a major trophy.
But this seems to be a week of new beginnings for Woods. There is more than a small bit of irony that he chooses a week in which he is competing in town where his marriage fell apart to go public with his new romantic involvement.
"This season has been great so far and I'm happy with my wins at Torrey and Doral," Woods wrote on his Facebook page. "Something nice that's happened off the course was meeting Lindsey Vonn. Lindsey and I have been friends for some time, but over the last few months we have become very close and are now dating. We thank you for your support and for respecting our privacy. We want to continue our relationship, privately, as an ordinary couple and continue to compete as athletes."
The announcement that he is dating Vonn, a world-class skier, came complete with well-thought out photos of the couple. And it creates the added irony that both he and the man he is chasing in the World Ranking, McIlroy, are dating stars in other sports, Rory's flame being former No. 1 tennis player Caroline Wozniacki.
Rory is not here this week to hold off Woods. He plays next week at the Shell Houston Open in his final tune-up for the Masters. But most of the other big names are on hand in an event that usually has one of the strongest field outside the major championships.
Nine of the top 15 in the OWGR are here, and 34 of the top 50, as are seven of the top 10 and 24 of the top 30 in the FedEx Cup standings. That includes Phil Mickelson and Brandt Snedeker, who is making a return from a rib injury and has not played since winning the AT&T National Pro-Am.
But all eyes are going to be on Woods. Since 2000, Tiger has won the Bay Hill event seven times in 12 tries. The oddity, however, is that it seems to be win-or-no-count here for Woods. The five times he failed to take home the trophy he did not finished inside the top 20.
That's also sort of the way Woods has performed this season. He began with a missed cut in Abu Dhabi, won the Farmers Insurance Open, went out in the first round of the Accenture Match Play and was T-37 in the Honda Classic before winning the WGC-Cadillac Championship.
What is indisputably true is that Woods is hitting the ball consistently better now than he has since before the car crash. The Sean Foley swing changes seems to have been fully integrated into his psyche. No longer does he revert to the old swing under pressure, which is what most players do.
While he is still only No. 127 on tour in driving accuracy and No. 59 in greens in regulation, his misses are much better. When he is off, he is not off by as much as he has been for the last three years, bringing to mind the Nick Faldo observation: "Golf is not about the quality of your good shots; It is about the quality of your bad shots."
But, most importantly, Woods has his Great Eraser back in the bag -- a putter that wipes out his mistakes. After struggling on the greens since shortly before Y.E. Yang played the role of Buster Douglas in the 2009 PGA Championship, Woods, while not yet back to being automatic, has become reliable.
He is sixth in the crucial strokes gained/putting stat which has helped him lead the tour with a scoring average of 68.480. His all-around ranking for all stats is No. 2.
Maybe Woods is not the dominant player he once was -- he stumbled to the finish line at both Torrey Pines and Doral -- but he is still good enough to be the best in the world.
Maybe he is no longer playing on that greatest-ever level, but he is still the guy who once was that guy. And Bay Hill seems to be one of those places that brings out the best in him. Perhaps it will be where he returns to No. 1.