News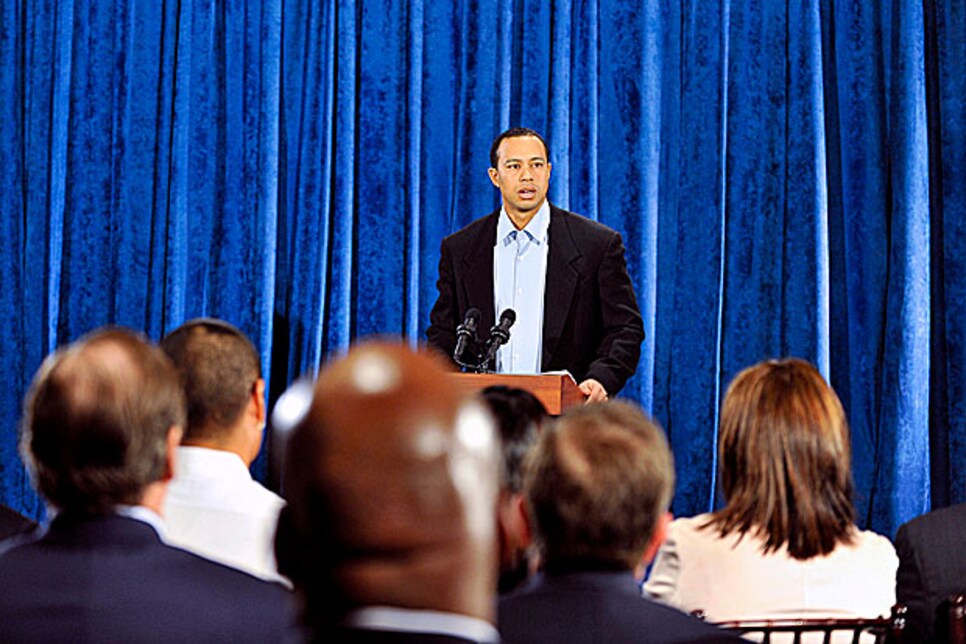 A surreal day was highlighted by Tiger Woods' address to friends and associates.
PONTE VEDRA BEACH, Fla. -- Spots were difficult to find Friday in the self-park lot at the Sawgrass Marriott, a slab of cement overrun by nearly a dozen TV trucks and satellite dishes. The broadcast crews were there to cover the first words delivered in person by Tiger Woods since a Nov. 27 car crash set off a series of unflattering revelations about his personal life. Typical of Tiger, he returned to the public about as far from the public as he could get. Atypically, he laid bare more of his inner self than any of us are used to seeing.
Ensconced safely inside the TPC Sawgrass clubhouse, with only invited friends and sponsors on hand, along with the three media members who ignored a boycott by the Golf Writers Association of America that protested the restrictions placed on journalists, Woods offered up an apology for previously admitted infidelities and gave no indication when he will return to competition. It was, on balance, a performance -- and that is the only word to describe a reading of words devoid of interaction with others -- that raised more questions than it answered. But the questions that were answered were done so in an extremely constructive way.
Woods said he was sorry, he said that he has already done 45 days of therapy and is returning for more, and he said that he wants to play golf again but that he has no idea when that will be. Placed in the most positive light, this was not so much the end of nearly three months of isolation for Woods but rather the beginning of what apparently will be a lengthy road to recovery.
"As Elin pointed out to me," Woods said, "my real apology to her will not come in the form of words; it will come from my behavior over time." In truth, that is also the only way he will win back his fans. Yes, winning golf tournaments will help, but those who have made him a role model will be looking for much more than that. They will be looking for signs he is behaving not so much in a moral way -- that can have many definitions -- but in an honest way.
PGA Tour commissioner Tim Finchem, in remarks made to the media members who watched Woods' remarks on a TV screen in a ballroom at the Sawgrass Marriott, about a mile from the TPC Sawgrass clubhouse, specifically noted Woods' apology to parents. "He is a hero, but he is also a human being," Finchem said. He also said he felt it was appropriate that Woods not take any questions from the media. "He will reenter that arena eventually, and questions can be asked," Finchem said of Woods' interaction with the media. "My point was in terms of right now, in terms of where his head is at, I thought he did a good job of describing that aptly at this point."
What Woods said and the way he delivered his words will likely not change the minds of those who have already formed a negative opinion about him. Those who do not like him will say the event was too staged and will say the attempt to control the media was too typical of his at times imperious behavior.
But those who still want to believe in him will find hope when Woods uttered the words: "I want to say to each of you simply and directly, I am deeply sorry for my irresponsible and selfish behavior I engaged in." Later he said: "It's hard to admit that I need help, but I do."
His wife, Elin, was not in the room but she was very much on his mind. It seemed clear from his words that he wants to save his marriage. It also seemed clear that he does not know how this part of the story is going to end. Uncertainty also surrounds his professional future. "I do plan to return to golf one day," he said. "I just don't know when that day will be. I don't rule out that it will be this year. When I do return, I need to make my behavior more respectful of the game."
That last line, most interestingly, seems to be a response to those who have criticized his swearing and club throwing on the golf course, a point most recently brought up in a negative way by Tom Watson.
Woods showed signs of anger on three occasions as he read his remarks: When he refuted reports that Elin had ever hit him; when he criticized the media that has followed his children to school and other places; and when he denied ever using performance-enhancing drugs. He indicated there was a part of himself he had lost that he wants to rediscover.
"People probably don't realize it, but I was raised a Buddhist," he said, "and I actively practiced my faith from childhood until I drifted away from it in recent years." He said his religion teaches him to "stop following every impulse and to learn restraint. Obviously, I lost track of what I was taught." But he will not get by on faith alone. "Starting tomorrow," he said, " I will leave for more treatment and more therapy."
Before dawn, TV crews with well-coiffed talking heads wrapped in top coats against the morning chill engaged in dueling reports beneath make-shift floodlights. A media room was set up in the Sawgrass Marriott and shortly after 6 a.m., a weary-looking PGA Tour staffer was behind a check-in table looking very much like someone who wanted very much to be on the other side of this event. It was the beginning of a long, strange day, one of the more bizarre days this game has known.
But this oddest of days in which a couple hundred media watched on TV as one of the world's most famous personalities spoke only a mile away was not so much a bookend to the long day's journey into night that started on Thanksgiving Day, but rather a parenthesis -- an opened-ended partial enclosure still to be defined much further down the road.
When the words on the written page had come to an end, Woods stepped out from behind the podium were he spoke, leaned forward and engaged his mother Kultida in a hug that seemed like it would never end. It was difficult not to flash back to the similar tearful hug he shared with his father Earl to the side of the 18th green at Augusta National after winning the 1997 Masters by 12 strokes at age 21.
That moment at Augusta cried out as the beginning of something special, and it was. Those who witnessed Woods' remarks on Friday can only hope that the hug he shared on this day -- this time with mom nearly four years after the passing of pops -- also bears the full fruit of promise. This time Tiger Woods has a chance to become much more than a great golfer. He has a chance to become a good person.