News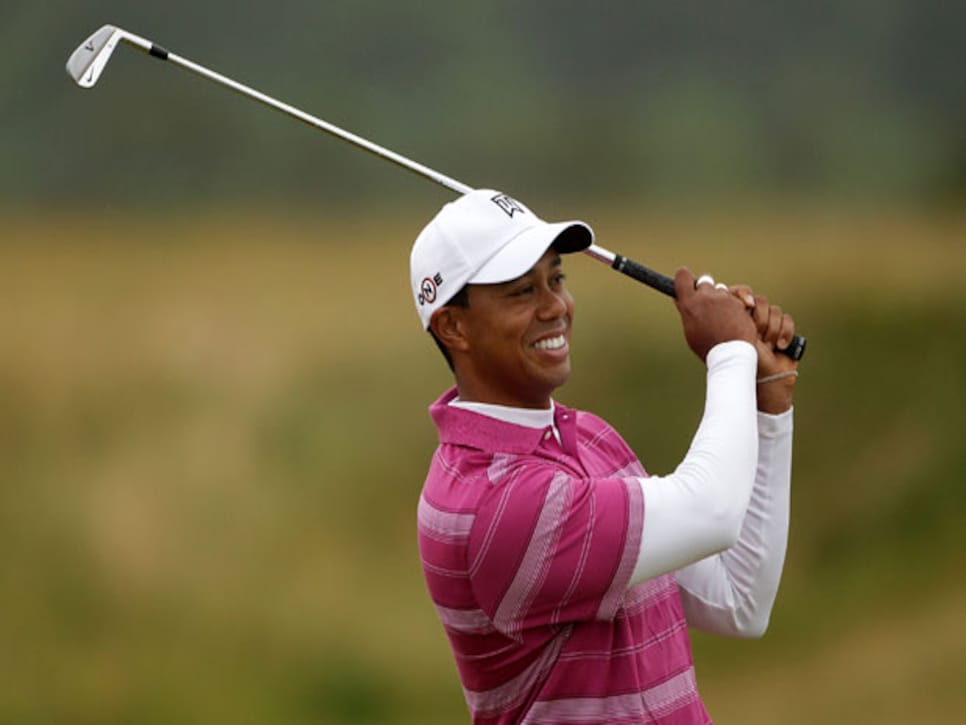 Woods put himself in contention with his 67 but struggled again to close out his round.
ST. ANDREWS, Scotland -- There are not going to be many days when the Old Course plays this easy. John Daly shot 66, for Pete's sake. In fact, I think even Pete was under par, whoever that is. So the 67 posted by Tiger Woods needs to be taken with a few grains of North Sea salt. Really, after the first round of the British Open, Woods trails the infamous Marcel Siem by a stroke.
St. Andrews, when the weather is benign, is a golf course to be had. And while there was a lot in this round with which Woods should find satisfaction, it was nothing more than that -- satisfactory. He let the Old Course get away on a day when Rory McIlroy schooled it to the tune of 63 strokes -- nine under par.
The pure numbers say that Woods missed only two fairways and just one green on Thursday. But those two fairway misses were when he was trying to close out the round -- Nos. 16 and 17 -- as was the missed green -- No. 17. And while his putting was steady, Woods did miss five times from 10 feet and in, including a three-footer on No. 17.
"I left a couple of putts short right in the heart of the hole and missed that short one on 17," Woods said. "The course could have been had today. We had absolutely no wind whatsoever, and that's not something you get very often on a links course."
While Woods was getting off to a slow start -- playing the first six holes in one-under par, including a three-putt par on the par-5 fifth hole -- he was watching the scoreboard turn into a sea of red numbers. That's when he kicked into a gear he has visited a precious few times this year.
Birdies on No. 7 and 9 had him out in 33 and then three birdies in a row beginning on No. 12 got Woods to six-under par. It appeared he might challenge McIlroy for the lead. Speaking of the slow start, Woods reached into his literary grab bag and pulled out a new phrase. "It was a matter of letting the round mature," he said, sounding like he was appraising a wine.
Then, a problem he has had all year returned to him: Closing out rounds. Remember the first round of the U.S. Open at Pebble Beach? Woods stepped on the 16th tee one over par and it seemed likely he would finish par-par with a birdie on the par-5 18th to get to even. Instead, he played the last three holes two-over par and turned a 71 into a 74.
It wasn't as bad this time, but then again the Old Course wasn't playing as difficult as Pebble Beach. Woods' first missed fairway came on No. 16, one of the five holes on which he used driver -- to the left rough. The best he could do with his second shot was put it closer to the No. 2 hole positions on the double green with the 16th cup 90- feet away. It was a great two-putt, lagging to 18 inches.
Then Woods missed wide left on No. 17 -- this time with a 3-wood -- and played a really fine shot from the wispy rough to the valley in front of the green and used putter to roll the ball within three feet. When he missed the putt, he ended a bid to do something he has yet to do in 2010 -- play a bogey-free round.
The way he pulled his hat low over his eyes after the ball slipped past the hole -- and rolled to a spot father from the cup than from which it started -- suggested he had seen that miss too many times this year. Yes, the putter is new but some of the misses Thursday looked familiar.
On No. 18, Woods drove to the front edge of the green on the 357-yard hole. He rolled his 60-footer to six feet and missed again. Woods body language clearly registered disappointment again, as well it should have, just as it indicated a tentative approach through much of the round.
Even when Woods was on his roll -- five birdies from No. 7 through No. 14 -- he reacted with displeasure to shots more often than he did satisfaction. On several shots, one hand fell from the club during the follow through. Twice he banged the ground hard.
On none of those occasions was the result of the shot as poor as his reaction indicated, demonstrating how high Woods sets the bar for himself. Or perhaps it was because his game is still a work in progress. Or perhaps it was because he knew that even though he was going low, this was a day on which others were going even lower.
With an early tee time on Thursday and an afternoon time on Friday, Woods was able to avoid the rain that rolled in late in the first round and has a chance to play Friday after the bad weather clears out. "The weather was supposed to come in at 11 o'clock and it didn't come," he said. "As of right now, we are on the good side of the draw."
This has not been an easy week for Woods. The British media has looked for hidden meaning in every nuance by Woods or his caddie Steve Williams. When Williams told a reporter Woods has not putted well this year, one tabloid acted like the looper was passing state secrets.
Woods was probably happy to see McIlroy on top of the leader board. Perhaps the 21-year-old from Northern Ireland would give the tabs something else to write about.
Mostly, Woods was controlled after his round, dismissing many questions with stock phrases like, "I putted pretty good today," or the ever-popular, "It's getting better every week," not to mention the always reliable, "We got a long way to go."
But the one cliché that was indisputably true was his assessment that, "I'm in good shape." Even though this was a day on which he could have done better, Woods did one thing necessary to win a major: He didn't play his way out of it early.
Certainly, it is an indication of how Woods game has improved that a 67 left an unsatisfying taste in his mouth. And who would have thought we'd ever end a Tiger Woods story with this thought: Now we will see how his game holds up as the pressure of the British Open builds.