News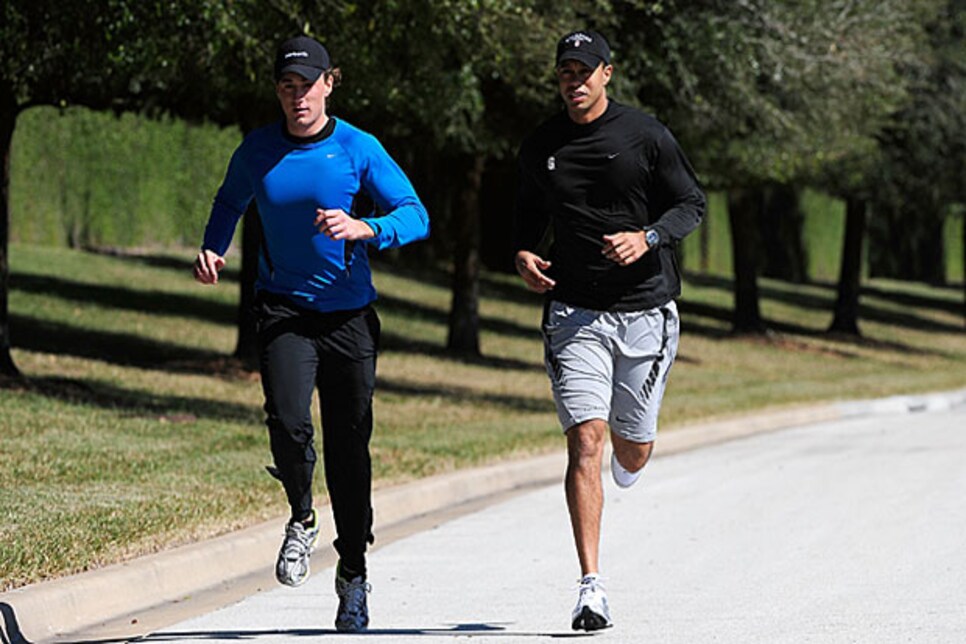 While Tiger Woods was back home training, his fellow players were wondering if he was sending a message to former sponsor Accenture.
MARANA, Ariz. -- Curiosity permeated the still desert air Wednesday afternoon at Ritz Carlton Golf Club as news of the reemergence of Tiger Woods to a public forum spread throughout the 64-man field at the Accenture Match Play Championship.
There was curiosity about what the No. 1 player in the world might say when he delivers his premeditated remarks to "a small group of friends, colleagues and close associates," at the TPC Sawgrass clubhouse at PGA Tour headquarters at 11 a.m. EST Friday.
And there was curiosity about the timing of the media event, coming in the midst of one of the biggest non-major tournaments of the season, a World Golf Championship event, not to mention a tournament sponsored by Accenture, which was among the companies that dropped Woods as a spokesman after his post-Thanksgiving auto accident ignited a tabloid firestorm about his questionable off-course behavior.
Though few players would speak on the record about it, those approached for comment by Golf World were universally dubious of Woods' decision to choose a tournament day to make his first public appearance. Not many were amused that "Golf's Global Summit," which these World Golf Championships are billed as, were being pre-empted by golf's global icon.
"That was the first thing we all thought of, like he is sticking it to Accenture -- and that the PGA Tour is part of it all," one player said in the locker room, shaking his head. "It's like Tim (Finchem, the tour commissioner) has lost his head. He wants Tiger back in the worst way, and so he lets this go on. I mean, we all want to see Tiger back, but this doesn't look good."
Strong sentiments, for sure. Some players weren't afraid to echo them in more diplomatic terms.
"The timing of it is not the best," Sergio Garcia said, "but he has to do what's best for him, I guess."
Added Rory McIlroy: "He's got to come out at some point. I suppose he might want to get something back against the sponsor that dropped him."
"It's just went on for so long, I think," McIlroy added. "I'm sick of hearing about it. And I'm just looking forward to when he's getting back on the golf course."
Finchem, meeting briefly with reporters in the media center, didn't think Woods was overshadowing Accenture or the $8.5 million event it is sponsoring and that Woods has won three times.
"I don't think so. You know, we have tournaments every week," Finchem said while surrounded by about 20 members of the media, when asked if the WGC event was being undermined. "I think it's going to be a story in and of itself. And a lot of people are going to be watching golf this week to see what the world of golf says about it, my guess is, so that will be a good thing."
Asked why Woods couldn't have chosen a Monday for his public statement, Finchem replied, "You'd have to ask the Woods camp about the schedule. We were asked to make the facility available and to help with the logistics. That's what we're doing."
Regardless of the message Woods delivers, his peers were at least heartened by the news that he was going to perhaps show some contrition for his admitted "transgressions" and give some indication when he might return to competitive golf.
"Anything that starts the healing process is a good thing," England's Paul Casey said.
"It's encouraging that he's coming back to at least be seen by the public, and the rest of us, too, I consider myself the public when we're talking about this matter. So it's good that we're going to see Tiger Woods," said British Open champion Stewart Cink. "I think it's coincidental that he would pick the Friday of Accenture to announce. It's probably got more to do with his schedule than anything else. It will be good to see Tiger's face again, and see that he's actually out there somewhere."
Added David Toms, who like Cink has played in the Ryder Cup and Presidents Cup with Woods: "We're all going to be interested in what Tiger has to say. It's a huge topic in the locker room, around the lunch tables, everywhere we go. We all want to know as players what he's going to do. We hope that he's OK and that he comes back soon."
Two-time Accenture Match Play winner Geoff Ogilvy, the defending champion this week, also admitted he is intrigued by what Woods might say. "Maybe we can put the whole tournament on hold for 10 minutes to watch (on TV)," he said with a laugh.
He was clearly joking. But in the next breath, Ogilvy turned serious and was forthright in openly wondering why the whole affair was being so meticulously orchestrated.
"The only thing I will say about it is that I would like to see him answer some questions," Ogilvy said. "If he answers some questions, then that would make it real because he wouldn't be working off a script. But it's a start. And he's got to start somewhere."