News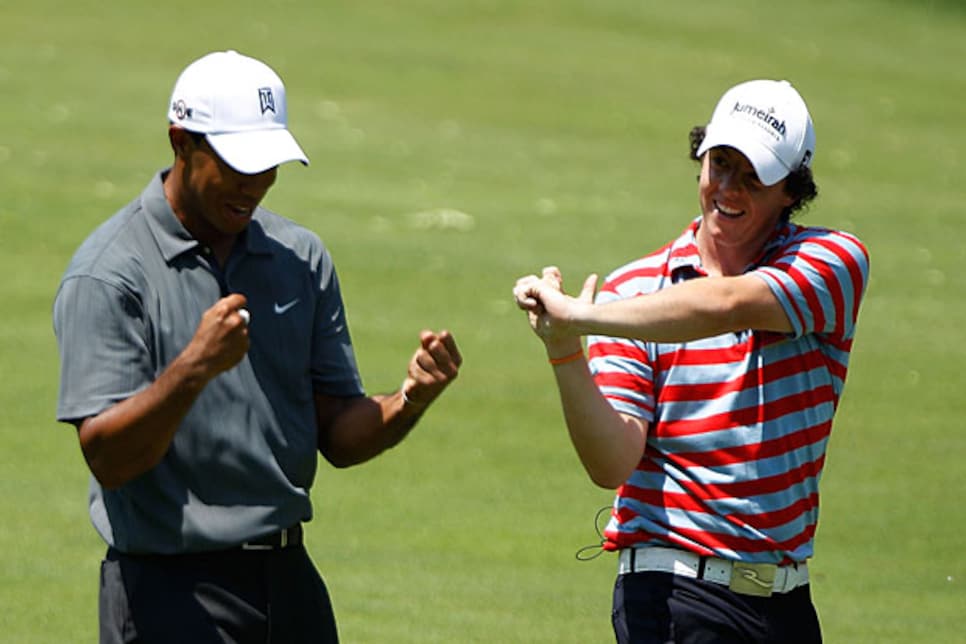 Tiger Woods and Rory McIlroy played a practice round together at Muirfield Village on Wednesday.
DUBLIN, Ohio -- With three major championships in a 10-week span approaching fast and just nine full competitive rounds of golf under his belt, Tiger Woods might be inclined to borrow a line from Tom Hanks' cowboy character, Woody, in the movie, "Toy Story."
Not only is he lacking reps, but there's a plethora of other problems to confront, not the least of which is a neck injury that forced him to withdraw from the Players and which he is still rehabilitating. Days after the Players, Woods lost the services of swing coach Hank Haney, who delivered his resignation via text message at a time when his golf swing seems to be deteriorating. And, of course, there is still the lingering controversy surrounding his personal life, which ignited a media firestorm, initiated a trip to rehab for sex addiction, and by all indications, might inexorably lead to divorce from his wife, Elin.
As Woody told Buzz Lightyear, "It's a perfect time to panic."
But Woods seemed composed Wednesday as he talked about his preparation for the U.S. Open, which begins June 17 at Pebble Beach GL, the site where 10 years ago he won by a record 15 strokes. That has to be source of comfort.
And so, too, is his return to competition at Muirfield Village GC for the 35th Memorial Tournament. Woods is the defending champion of the event hosted by Jack Nicklaus, and he is the tournament's only four-time winner.
"I've always liked this golf course. I played here in the (U.S.) Amateur, and I absolutely loved it then and loved it as a pro," Woods said. "It's nice to come back to a golf course when obviously I haven't played a whole lot this year, but it's nice to come back to a venue where I have played well.
"Maybe this time I'll get four rounds in and get ready for the Open."
Woods, who tees off at 12:44 p.m. EDT Thursday with Steve Stricker and Jason Bohn, has never missed the cut in his 11 appearances at Muirfield Village, but he arrives for his title defense having withdrawn from the final round of the Players on May 9 the week after missing the cut badly at the Quail Hollow Championship with a second-round 79, his worst score as a pro in a regular tour event.
He said his neck, which he is treating with ice and an exercise regimen, is "still not where I want it to be, but the inflammation has calmed down." He has been practicing hard the last week, and he played 54 holes Sunday with Arjun Atwal at his home course at Isleworth CC.
"In carts. In shorts. And fast," Woods said of the all-day marathon.
Perhaps more challenging is forging ahead without Haney, his swing coach of the last six-plus years. Woods said he had no plans to hire another swing coach. He couldn't fault Haney for deciding to step aside.
"There's a lot going on, as we all have seen," Woods said of his life off the golf course. "I totally understand it."
Woods competed Wednesday afternoon in the Memorial Skins Game, and won the most skins among his five-man group, taking six, with a birdie and eagle on the first two holes. Just after he teed off, Woods' agent, Mark Steinberg, was seen at a table in the clubhouse talking with noted swing instructor David Leadbetter.
"Good reporter's instincts, but, no, there's nothing to say about it," said Leadbetter, who does have some instruction history with Woods, however brief. At the behest of Woods' father, Earl, Leadbetter had one two-hour instruction session with Woods at Bay Hill Club in Orlando when Tiger was a teenager. "I think right now the best thing for Tiger to do is work by himself for a while. He's a student of the game; he understands the golf swing. I think he'd be better off just figuring out himself where he wants to go with his game."
Where he wants to go is forward and to prepare for the U.S. Open and notch his 15th major victory. He needs four more majors to tie Nicklaus' record of 18 grand slam titles, and given his performance at Pebble 10 years ago, he has to still be considered a favorite, regardless of the shape of his game or his health.
Nicklaus believes Woods still has a good chance of catching him. "Do I still think Tiger will break my record? Yeah, I think he probably will," he said. "He is a very dedicated, hard-working golfer. But then again, I've always said you have to do it. It's not just a gimme. You've got to go do it. We'll watch."
Woods agrees. He's got to go out and prove his game is on the mend.
"I've hit the ball much better (but) it's like anything, though. It's great to hit it at home, but I need to bring it out here," he said. "Ultimately, once you bring it out here, you've got to bring it to a major championship. Once you do that, you've got to bring it to the major championship on a Sunday on the back nine. There's steps to it.
"It's that process that I need to get back to," Woods added, "and I've just got to be more patient with myself on that because I haven't played. It's going to take a little time, and hopefully that time will be short, not something that takes me six more months from now."
OK, so no panic. But urgency? Oh yes.