News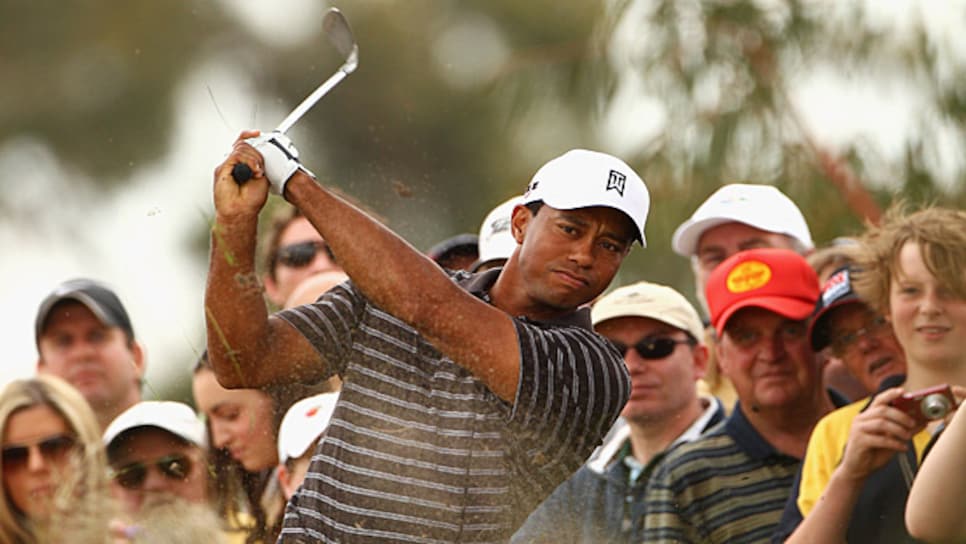 Woods, seen here hitting a shot lefthanded, insists he has made progress in his swing changes under the tutelage of Sean Foley.
MELBOURNE, Australia -- The sight of him stepping off the private jet here still made the television news. But, this time around, he wasn't the lead item at the top of the show.
When he arrived back at the downtown Crown Towers Hotel on the South bank of the Yarra River, there was a crowd waiting to greet him. But it was smaller than last year. As is his room. When, one day later, he teed off in the Australian Masters pro-am at Victoria Golf Club, he attracted the largest gallery by far. But it wasn't as big or as noisy as that which followed him in 2009
When he appeared for a pre-tournament press conference he was introduced by a relatively anonymous talking head from the state of Victoria's tourism department. Last year the state premier, John Brumby, did the honors.
, man and golfer, in the 12 months since he last won a tournament, not much of it for the better, despite the ongoing efforts at all-round improvement he claims to be making. Number one has become number two. Mrs. Woods is back to being Ms. Nordegren. And his coach is now a diminutive Canadian rather than a lanky Chicagoan
. Swing change No. 4 is already underway.
One thing remains unaltered, however. A Tiger Woods press conference is still an object lesson in the dark arts of obfuscation, avoidance of real issues, downright shiftiness and, most of all, the answering of questions the subject would prefer to have been asked rather than those actually posed.
Which is not to say that Tiger didn't try at all during the 20-minutes or so he spent in front of the gathered media. He did make an effort, a little bit more than normal, if truth be told. But still, much of what went on was little more than an insult to the collective intelligence of those with posteriors in the cheap seats. It was also utterly predictable.
One late-arriving journalist, who missed the Tiger show by a good two hours, was asked to speculate on the content of the world number-two's oratory. He came up with the following:
Give the man a gold star for six-out-of-six.
On the other side of the cynicism border, Tiger did divulge one or two nuggets of information regarding his ongoing swing change under the tutelage of Sean Foley. He even admitted to "waffling back and forth" before committing to the Foley way "between the (US)PGA and the Barclays" last August. And things, if Tiger is to be believed, are on the up.
"I get in streaks on the golf course," he said. "I can go four, five, six seven holes where I don't miss a shot. Then I play a couple of straggly holes. Then I get on a roll again for two or three holes. And the streaks are happening more and more often. I've gone from hitting one good shot every four or five holes -- not very good -- to where it is nine holes at a time. I want to get it going for a full round and eventually for 72 holes. So I am building and very pleased with the progress I've made so far with Sean."
There was but one brief mention of Woods' notorious personal life. Asked what sort of reaction he has had from fans this year -- any spectators making inappropriate comments here will be ejected -- he took the opportunity to launch into another glowing tribute to all things Australian. "Every time I come down here the fans have been incredible," he gushed. "Last year it was just buzzing. It was really fun to play in that sort of atmosphere. I don't expect anything different at all this week."
That view puts him in a minority of one. Like it or not -- and he clearly doesn't -- Tiger's world has a very different look about it these days. Ask anyone -- except him, of course.