Speed Training
5 golf training programs for more clubhead speed
*All products featured on Golf Digest are independently selected by our editors. However, when you buy something through our retail links, we may earn an affiliate commission.*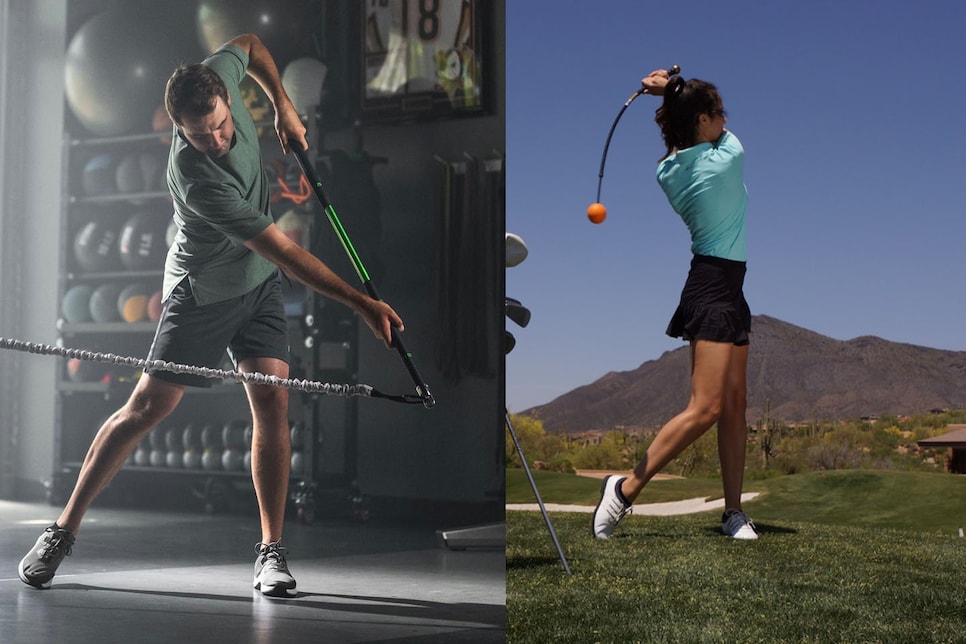 The Tiger Effect. We know all about his impact on the PGA TOUR, from TV ratings to prize money, as well as overall interest in the game. But we've also seen Tiger's effect on the sport in myriad other ways, both at the professional level and amateur ranks. Golf fitness was largely an oxymoron pre-Tiger. But, these days, tour pros do golf-specific workouts all the time: before rounds, post-rounds, at home during off-weeks, and in the off-season. Even weekend warriors are getting in on the act. And, why not? Being in better shape, or even maintaining one's physical condition, can help you feel healthier, prevent injuries and, ultimately, play more and better golf.
RELATED: Best Training Aids for Golf
In the past couple of years, several programs have taken flight for golfers of all ages and abilities to increase their strength and flexibility. The best part might be that players can do golf-specific, speed-training programs from home with a minimal amount of equipment. There's no need to go to the gym. Figuratively speaking, some programs bring the personal trainer to you.
The payoffs are obvious but you have to be willing to put in the time. Speed-training programs typically recommend three-times-per-week workouts. Which speed-training options are best? Here are five of our favorites. Let's go to work.



GolfForever Swing Trainer
Users start the program with a 10-minute self-assessment test to determine flexibility and strength. Next, they'll receive targeted routines based on fitness level, goals, needs and available equipment (i.e., Swing Trainer, resistance bands, etc.). The step-by-step, personalized workout program refers the user to the next video based on the most-recently completed routine.
The instructor-led videos can be accessed by phone or tablet through the GolfForever app or streamed to a smart TV. With more than 100 speed-training videos, and a full library that exceeds 1,000 videos (i.e., injury-prevention protocols, strength workouts, pre-round warmups), even those who are relatively inexperienced with golf fitness can improve mobility, balance and speed.
Using the 44.5-inch Swing Trainer in tandem with resistance cords (included) takes the program to the next level. Typical warmup routines are 10 to 15 minutes while strength building or injury-prevention workouts are 20 to 25 minutes. Each video has a timer on the screen to count down the session. None other than Scottie Scheffler, formerly the world's No. 1-ranked player and PGA TOUR Player of the Year, credits the Swing Trainer with much of his success in 2022.
The GolfForever app offers a 30-day free trial. After that, the subscription price is $24.99/month or $200/year.


The original Orange Whip has been one of the more popular swing aids for years. When it comes to speed training, though, the lighter, shorter Orange Whip LightSpeed is the way to go. At 43-inches long, the 1.25-pound club has an ultra-flexible shaft and counterweight to help players improve their movements and coordination while learning to generate more speed.
Although players train a minimum of three times per week with the LightSpeed, there's no set program length. Instead, there are 29 speed-training videos (among more than 100 swing workout videos) at orangewhipgolf.com. Users can get started at any point. An instructor leads them through the session by demonstrating proper movements while mixing in swing instruction. The typical "speed" segment is seven to 10 minutes. During each one-minute exercise, the users will do as many reps as they're capable of. They can also add resistance bands (sold separately) to step up training.
Golfers who purchase the LightSpeed receive 30 days of free access to the video library, which includes swing-centric and total-body training videos. After the trial period, players can sign up for a membership subscription ($20/month; $45/quarter; $120/year) on the Orange Whip website.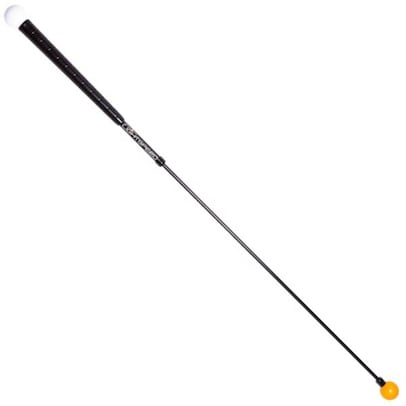 Orange Whip Lightspeed Golf Swing Trainer
$99
|
Dick's Sporting Goods
Rypstick Golf Ryp Training Package
An Editors' Choice winner in 2021, the Rypstick is back and better than ever. The ultra-versatile "club" can be set to eight distinct weights ranging from 270 (zero cartridges) to 360 grams (for 110-plus mph swingers), including options with the 60-gram counterweight in the grip cap.
The RypRadar, a radar device that tracks swing speed, is a critical addition to the training protocol in 2022. Players instantly know their speed since the unit takes readings without hitting a ball.
The speed-training program has four levels, beginning with the easiest (Level 1). The company recommends three-times per week training for four weeks at each level. A typical session is 10 to 20 minutes. Free training protocols for the four-month program can be found at rypstick.com.
The Rypstick comes in four lengths: Men's (45"), Ladies/Seniors (44"), Juniors (41"), or Indoor/Kids (38"). One note: You'll save a few bucks when purchasing the Ryp Training Package (includes Rypstick and RypRadar) as opposed to buying each product individually.
Mathew Fitzpatrick, the 2022 U.S. Open champion, has been using The Stack since 2020. "I'll be honest, it's worked wonders," he said.
Can't argue with the results.
The brainchild of Dr. Sasho MacKenzie, a leading authority in sports biomechanics, the Stack consists of a single "club" with five removable weight discs. To begin, simply download The Stack App (available on iOS only). The Stack system, which includes a speed-measurement radar device (sold separately), will collect baseline data on how your swing generates clubhead speed.
From there, the user receives customized, six-to-ten-week programs (18 to 24 sessions) based on artificial intelligence (A.I.) algorithms. During each session, the App shows how to configure the weights—there are more than 30 mass combinations—based on the user's current strength and speed, prompts them for their speed after each swing (data gets entered automatically with voice-entry technology) and counts down rest time between reps. It'll even "cheer" when you achieve a personal best.
The club is available at thestacksystem.com in two lengths: 41.5" (for adults) or 38.5" (juniors).


The SuperSpeed Overspeed program has one of the longest tenures among speed-training programs. It's proven effective for pros and amateurs alike. Simply stated, overspeed training gets the body and muscles moving much faster than normal by using lighter clubs than a regular driver.
The men's training system includes three 45-inch training clubs that are 20-percent lighter than a driver, 10-percent lighter, and 5-percent heavier. The company recommends a speed-tracking device (sold separately) for real-time swing speed results.
The SuperSpeed Overspeed protocol consists of five training levels within three "cycles." Drills are available for free at train.superspeed.com. During a session, players make three swings (both right- and left-handed) with the lightest stick, followed by the medium one and finish with the heaviest one. Based on the level, players will make 39 to 57 swings per session. Expect to train three times per week for 10 to 12 weeks per cycle, not including "maintenance" weeks.