News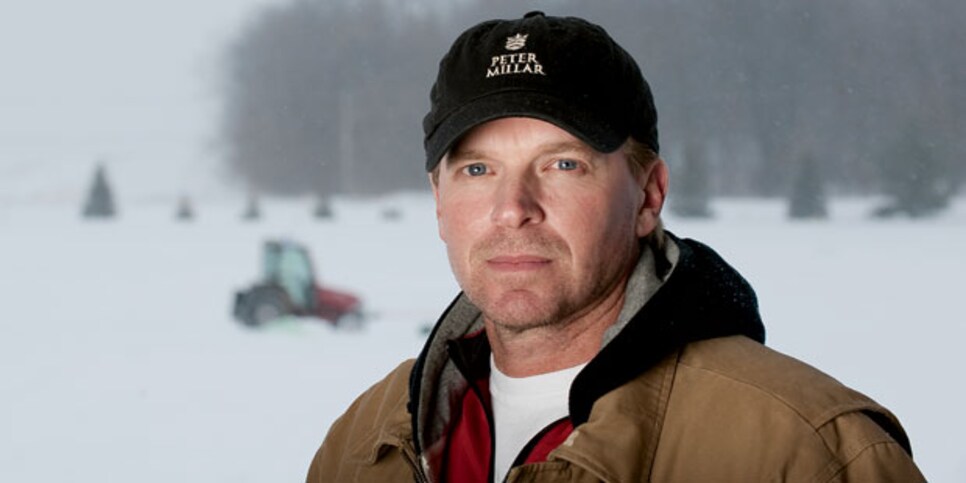 Cherokee CC is familiar territory to Stricker, who revamped his game with hard work in 2005.
A man can find sanctuary in the most curious place, somewhere contrary to convention and maybe even to common sense but wholly compatible with his instincts. He finds it where no one else possibly could, where no one would even think to look, and with it he also finds himself. If he is left alone.
In the months following a dispiriting 2005 season on the PGA Tour, his third in a row that seemed to reinforce the idea that whatever skills he possessed were inadequate for world-class golf, Steve Stricker retreated into the bosom of a typical Wisconsin winter to reassemble his game. He took his faulty swing, his flagging confidence and his heap of broken images to a makeshift indoor practice facility and began the long process of becoming the kind of player he finally realized he wanted to become.
He would smack yellow range balls from the open side of a mobile home into a snow-covered field, hoping the answers that Ben Hogan so desperately sought in the dirt might reveal themselves from an AstroTurf mat. He gauged his resolve not by the number of balls that burrowed into the frozen canvas near flags perched atop small mounds of green-painted snow, but by the hours that unknowingly flitted by. He wrapped himself in a cocoon, mending, evolving and transforming. And then the player who had plummeted to 337th in the World Ranking, who seemed too nice to beat hungrier and longer-hitting foes, who was tormented by his desire to stay home with his family, spread his wings and took flight.
"That's the time I remember best, at the end of '05, when I knew I needed to do something or move on," says Stricker, who turns 43 Feb. 23. "That's when I had more of a purpose than at any time in my career."
Dressed in blue jeans, brown boots and jacket and black Peter Millar cap, Stricker is standing in one of the covered hitting bays at Cherokee CC in Madison, Wis., as he says this. A gas-fueled heater overhead is barely holding its own against the arctic gusts and snow blowing in, but Stricker doesn't seem to notice. A native of nearby Edgerton, Stricker is acclimated to such environs. Plus, he is still basking in the warmth of his two-stroke victory two days earlier at the Northern Trust Open, which elevated him past Phil Mickelson to No. 2 in the World Ranking -- or "No. 1 active" notes his father-in-law and mentor Dennis Tiziani, considering Tiger Woods is on hiatus.
The win is Stricker's eighth since he joined the tour in 1994, but his fifth since he emerged from his own personal wilderness and fourth in his last 14 starts.
Implausible though it is, you have to talk to Stricker and see first-hand the frozen landscape that would feel purgatorial to the rest of the sun-worshipping golfing fraternity to comprehend his rise from mediocrity to this latent meteoric ascent. And even then it still seems inconceivable.
"It's all kind of surreal," says Stricker, who augmented his reputation last fall when he partnered with Woods to produce a 4-0 record in Team USA's victory in the Presidents Cup at Harding Park. "After every tournament [my wife] Nicki and I will sit down and talk about what's happened. We're like, 'Can you believe it, that I won again?' That's our feeling, that it still is unbelievable. I'm shocked by what's happened the last year or so. I don't know if that's a good thing or a bad thing, but it keeps me grounded."
Staying grounded is probably the least challenging aspect of being Steven Charles Stricker, who grew up in a modest middle-class home with two working parents. His father, Bob, ran his own electrical business; his mother, Carolyn, was a secretary. There wasn't a lot of money, but Steve and his older brother, Scott, were given plenty of lessons about comportment and respect for others. Bob was a fine amateur golfer, and he introduced the game to both boys. Steve started at age 7, and he took to it quickly. He played mostly at Towne CC, which at the time was a nine-hole public facility with no driving range. To practice, he'd lug his bag to Edgerton Racetrack Park and hit balls between the baseball fields. He became good enough to draw the attention of the University of Wisconsin golf coach.
That would be Tiziani, who could only offer Stricker a partial scholarship, while Big Ten rival Illinois had a full ride waiting. Stricker would win three conference titles at Illinois and was an All-American in 1988-89. It says a lot about both men that Stricker would enlist the help of Tiziani as an instructor while still at Illinois, and that Tiziani would consent. But, then, Tiziani, who played the tour in the early 1970s before settling in at Cherokee CC, had long ago gotten the sense that Stricker, a pure feel player with rudimentary swing fundamentals, was already a complete person with the potential to become a complete golfer.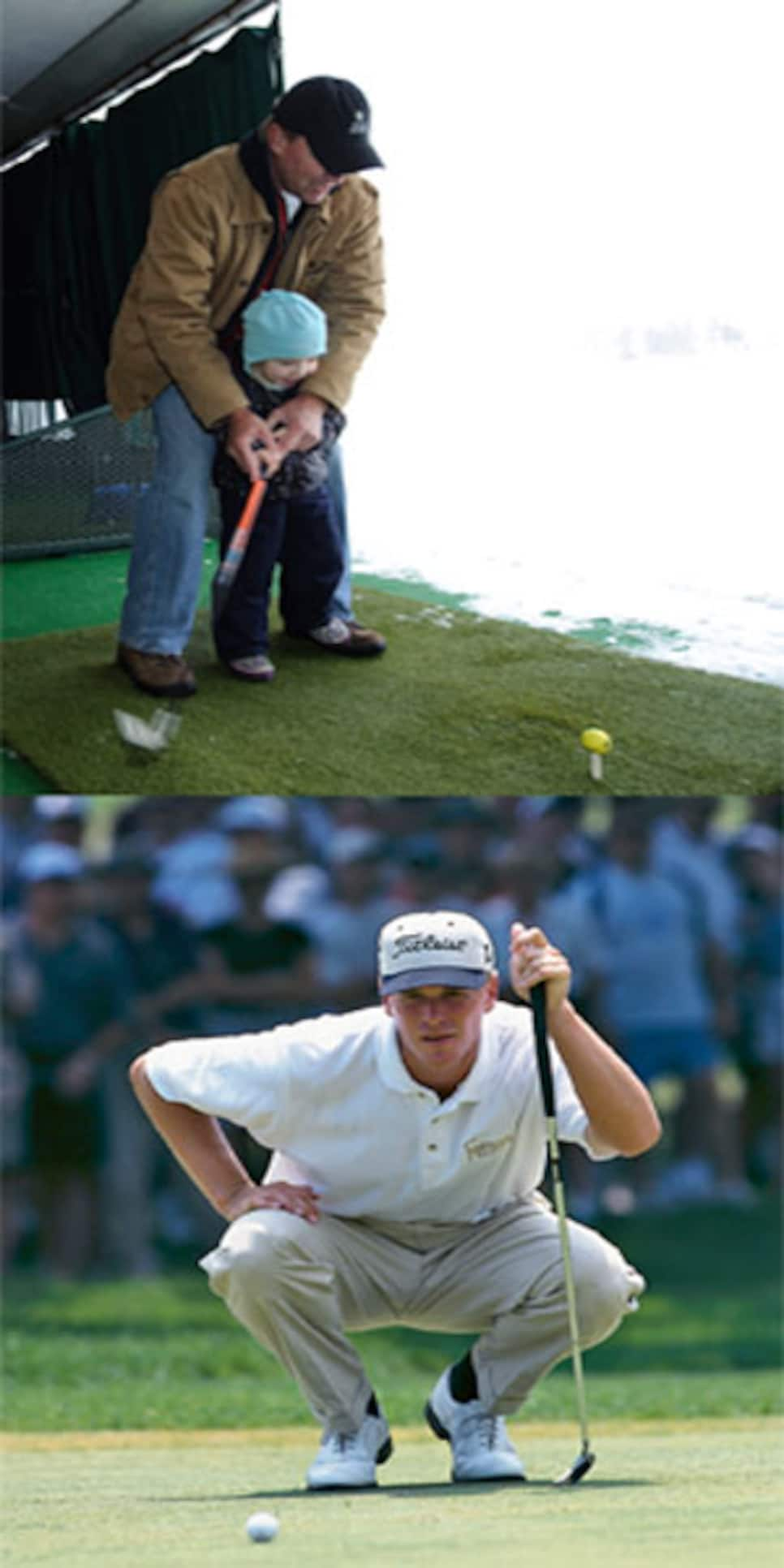 Isabella some help on the range. (Bottom)Winning
the 1996 Motorola Western Open at age 29.
"Steve is the real deal. The underpinning of all that has happened to him is himself and who he has decided to be. He is his own person," Tiziani says while sipping coffee in the lounge at Cherokee, where he became the principal owner in 2001. If this is Stricker's home course, you wouldn't know it. There is not a picture of him to be found in the clubhouse. "He wouldn't want that. It's just not him."
The depth of Tiziani's trust in Stricker was evident after one of their practice sessions in the summer of '88. They pulled up to the swimming pool on the other side of the clubhouse, and Tiziani introduced his daughter, Nicki. Steve was intrigued, but not as much as Nicki was. While Steve was trying to play it cool, Nicki stepped up to the tee and called him first. As their relationship grew, so did her family's apprehension.
"They were afraid I was going to screw it up," Nicki says with a laugh.
Steve proposed on her birthday, and they married in 1993. This past December Steve gave Nicki a more opulent ring to reaffirm his devotion to her in the wake of the news about Woods and his unbecoming off-course behavior. Nicki caddied for Steve until their first daughter, Bobbi, was born in '98. Another daughter, Isabella, was born in '06. Nicki knows enough about the tour and its potential pitfalls. "I wanted to show her where my head and my heart were," Steve says. She knows. "He continues to fight these battles inside himself. He wants to be home with us," Nicki says. "If all the tournaments were in Madison, that would be perfect. I know it matters to him, to be the best he can. But it doesn't define him. Trophies tarnish. The tour moves on. It's more the person and man he is that's important."
Getting a bead on Stricker isn't complicated. He's quiet and reserved and unfailingly polite. He'll admit he wasn't the most motivated, but he steered clear of mischief. Asked to provide an interesting anecdote about Stricker, fellow American Jim Furyk chuckles.
"He's too quiet for anyone to have any good stories," says Furyk. "Not that he isn't witty, but he's one of those guys who just cruises along and isn't going to draw any attention to himself."
Except with his performances, built on the foundation of fundamentals and one of the game's best short games. "If you could take just 75 percent of his putting, I mean, I could have retired by now," says Boo Weekley, like Furyk, a teammate on the '08 Ryder Cup squad that won at Valhalla.
Jealousy is part of human nature, but Furyk indicates that golfers aren't always inclined to go green when it comes to certain peers. "There's a reason the top players aren't all that popular. Guys get tired of getting beat all the time. But Steve's the kind of guy that you pull for and you're happy for. There's probably not a player out here who watched him win [at Riviera] who didn't say, 'Good for him.' "
All this winning comes at a price, and Stricker pays with tears, for which he is slightly embarrassed. Genuine and emotional, he cries after each triumph. But what no one realizes is that the weeping illuminates how difficult the process of winning a tournament is for him.
Crowds make him nervous. The idea of speaking in front of a group of people is terrifying. At Illinois he took a course called Stage Fright Speech Communication to fulfill a requirement for his undergraduate work in sports management. Couple this fear with having to suppress his emotions over the course of a pressure-filled round, and catharsis is inevitable. Truly, he is best letting his clubs do the talking.
"I put a lot of energy into composing myself on the golf course," he admits. "But when the tournament is over, after I've bottled myself up for so long, I just can't help it. It's so hard to win even one golf tournament, and I am continually amazed it keeps happening."
Stricker's musical tastes are confined to country. His favorite song, one with which he identifies, is "Lucky Man," by Montgomery Gentry.
Luck had little to do with Stricker's early successes. In his first college event he finished third. He won the Victoria Open, his first Canadian Tour event in 1990. He was T-2 in his second tour start, the '94 Northern Telecom Open. He won twice in '96 and his arc seemed on a perpetual ascension. Then he "hit the skidders," as he called his '97 season after changing equipment. (That experience affects him still; he has been playing the same Titleist irons for four years.)
He accomplished plenty despite never fully grasping swing mechanics, which is remarkable given his personality. Stricker can be, well, meticulous. "Process oriented, very precise … about everything," Tiziani says, rolling his eyes and chuckling. "Just watch him put on shoes and socks. Or when he clears the driveway after a snowfall."
In 2005, Stricker applied some of this fastidiousness to his game after his third straight season outside the top 150 in earnings. He drew within himself, made harsh self-assessments. His rhythm was awful because he was playing with so much apprehension. He was moving his grip around as a way of ensuring he would hit away from trouble, which meant seldom keeping it in play. "I was playing scared, and I lost confidence," he says.
The flaws weren't substantial in number, but they were deep seated. He incorporated the Medicus device into his practice regimen to improve his rhythm. He turned to a more neutral grip for consistency. With Tiziani's help, he sharpened his swing plane. By looking into a mirror behind him, Stricker ingrained the club position at the apex of his backswing. "If the club is in the right position, it will release all by itself, but you better know what the hell you're doing," Tiziani says. "Steve is a feel player, but he is a process person, and we had to bridge that gap. But once he got it, he really became a different player."
As he toiled, the hours melted away, even when the snow didn't. Thirty minutes would turn into three hours. An avid hunter, Stricker used his time in the trailer the same as he did in a deer stand, mulling things over, taking measure of himself in increments only he could discern. Even today, with more than $25 million in career earnings and his confidence soaring, he still retreats to the mats as much for solace as for sharpening his skills.
"He tells me all the time he doesn't know where the time goes," Nicki says. "It's like he gets in his own little bubble there, and he needs that."
He opened 2006 at the AT&T Pebble Beach Pro-Am and placed a heartening T-14. Three starts later he finished third at the Shell Houston Open, and he was on the way to 34th on the money list. His peers voted him the first of his two straight comeback player of the year honors. He won the Barclays in 2007 and made the Ryder Cup team in 2008.
But all of that was a prelude to 2009, in which he won three times and enjoyed a star turn beside Woods in the Presidents Cup. There were interludes when it was obvious Stricker was doing much of the heavy lifting, auguring yet another breakthrough.
"There was a time when I tried to measure my game to his," Stricker says. "Tiger does phenomenal things. I realized that I just need to do my little things as well as I can and not worry about what he does. I appreciate his game, but I'm no longer in awe of it."
What awes him is how fortunate he has become, how he realized you can't catch clouds with a butterfly net but that trying might just elevate you into rare air, where you are more at peace. "I think I grew so much as a player and as a person during those three bad years. It's funny how that works, but it was best for me," Stricker says. "I can't see anything worse than what I saw then, so I'm not worried if I struggle a bit now. I wouldn't say I'm content; I still have things I want to do. But I'm not really a prisoner to the outcome anymore. It's all on my terms."
That makes him one lucky man.