News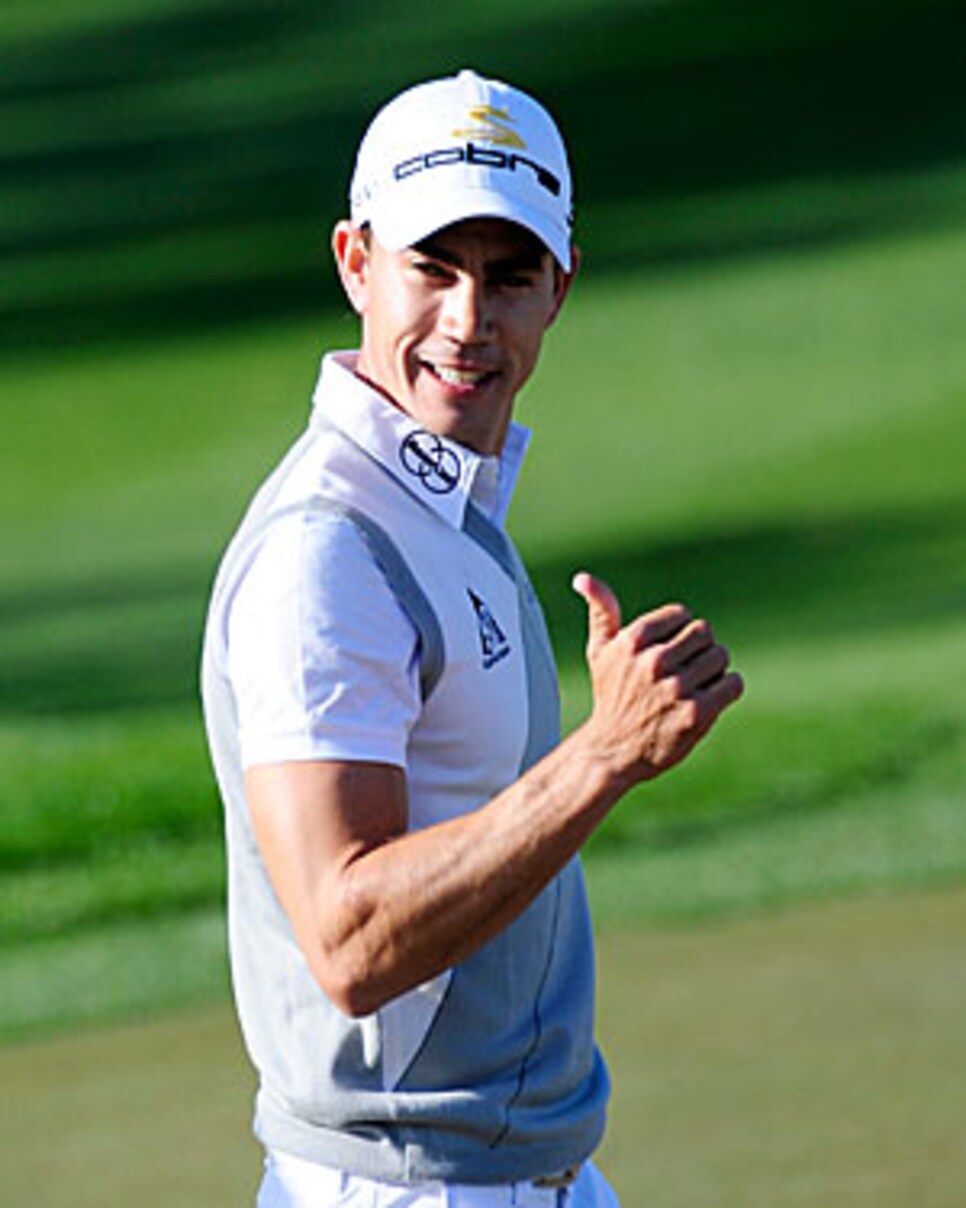 As Camilo Villegas was cruising to a win at the Honda Classic, the Nationwide Tour's Pacific Rubiales Bogota Open in his native Colombia enjoyed an encouraging debut.
The diplomatic row that surfaced between Venezuela and Colombia last week can't be traced to Venezuelan president Hugo Chavez' aversion to the "bourgeois sport" of golf, as he describes it, though he might have found reason to further assail the game.
The good news from Colombia was the boost that golf's profile received there. The bad news involved a Spanish judge's allegation that Chavez's government was collaborating on an effort to assassinate Colombian president Alvaro Uribe, contributing to a growing rift between the countries.
It brings to mind a fascinating column written by Richard N. Haass and published in Newsweek last September, in which Haass identified a trend toward better relations between countries that embrace golf.
"Large numbers of golf courses reflect the emergence of a domestic middle class, the traditional foundation of democracy," Haass, the president of the Council on Foreign Relations, wrote. "And they suggest a society where citizens not only enjoy leisure time but take basic security for granted."
Colombia isn't there yet, but the runaway victory by Colombia's Camilo Villegas in the Honda Classic on Sunday in concert with the success of the Nationwide Tour's Pacific Rubiales Bogota Open in Colombia last week will help nudge it along.
Nationwide Tour president Bill Calfee, in fact, sounded euphoric in an interview on Colombia News TV and hinted at a return next year and in the years to come.
"Well, I'll tell you what," Calfee said, "we are overwhelmed. It's been just unbelievable. The golf course is in great condition, it's firm, it's fast, it's challenging. Players love it. The hospitality has been incredible. The country's beautiful. It's beyond our wildest expectations."
Calfee even acknowledged his attempt to learn a modicum of Colombian Spanish. "I need to learn it because I think we're going to be back for a long time," he said.
The Colombian Golf Federation counts 49 certified courses in the country, 26 of them in Bogota. It's still considered a sport for the wealthy in Colombia, though Villegas' success and Olympic golf coming to South America in 2016 are expected to enhance appeal across the class spectrum there.
Too bad that Chavez isn't on board with the globalization of the game. Venezuela and Colombia could share something other than a border, while, if Haass is correct, helping to erase the divisions the border represents.
That was the headline from Gawker, regarding John Daly having thrown a fit on Twitter over Garry Smits' Florida Times-Union story that detailed the contents of Daly's PGA Tour disciplinary file.
Daly even posted Smits' cell phone number and urged his followers to phone him. How did this work out for Daly? The Gawker headline has your answer.
The story did serve to reopen the debate in some quarters over whether the PGA Tour should announce disciplinary actions, including fines and suspensions, as other professional sports do. Tour policy is to not reveal them, a mystery for which no reasonable explanation has ever been advanced.
Embarrassment, it seems, would serve as a deterrent -- albeit not for Daly, for whom aberrant behavior has been a very public way of life without curtailing his proclivity for misconduct.
The PGA Tour should go even further than going public with its disciplinary actions. Each week it should post the names of players put on the clock and who receive slow-play warnings. Embarrass them enough and maybe we'll see the kind of progress that imposing meager fines on millionaires fails to deliver.
THERE'S A REASON HE MOVED TO MONACO
Denmark "has the highest personal income tax rate [world wide] at 62.3 percent," KPMG United Kingdom noted in this report from last August.
Monaco has no personal income tax.
Some time ago, Denmark native Soren Hansen opted to call Monaco home, for apparent reasons. Yet now he is on the verge of being tried in absentia for tax fraud in Denmark, for failing to pay about $1.75 million in income tax, the Copenhagan Post reported last week. If found guilty, he faces a fine of $1.8 million and jail time, the story said.
Hansen, who tied for third in the European Tour's Maybank Malaysian Open on Sunday, has argued that he had informed Danish authorities of the fact that he now lives in Monaco, as required by its laws. He also no longer lives 180 days or more in Denmark, the benchmark for tax liability there.
Hansen is 45th on the World Ranking and entered in the WGC-CA Championship this week at Doral in Miami.
FOWLER'S LAYUP: ANOTHER OPINION
Rickie Fowler's passion for motocross doesn't suggest a man who is timid or even cautious, yet he generated a great deal of debate and criticism for heeding his own caution signs on the par-5 15th hole of the Waste Management Phoenix Open a week ago, when he chose to lay up rather than going for the green in two. He trailed by a shot at the time and eventually lost by a shot.
Bob Tway, now a Champions Tour player, probably knows Fowler and his game better than anyone on the PGA Tour by virtue of his son Kevin, who roomed with Fowler at Oklahoma State. Tway has a different take.
"I played a lot of golf with Rickie," Tway said. "The thing that frustrates me, when he lays up on 15, everybody gets on him. That's the dumbest thing I've ever heard. Actually the kid is so aggressive, that for him to not go is pretty much not the norm.
"You look at his statistics. He is such a great wedge player. If you see his interview, if he misses it right or left he didn't think he had a chance to get up and down. You just do what you feel is right. If it's the last hole it might be a totally different thing, but he has three birdie holes coming in -- 16, 17 and 18 are all playing easy."
OH, NOH! ANOTHER TEEN SENSATION
Seung-Yul Noh of South Korea won the Maybank Malaysian Open, beating K.J. Choi by a stroke. Noh is 18 years, nine months, or only a few months older than Danny Lee was when he won the Johnnie Walker Classic a year ago to become the youngest winner in European Tour history.
KEN GREEN'S COMEBACK TRAIL
The season opener on the Sunbelt Senior Tour was dubbed Ken Green's Comeback Trail, in deference to Ken Green, who began his competitive comeback at this tournament bearing his name.
Green shot an 80 in a first round plagued by wind gusts up to 40 miles per hour at the Breakers in West Palm Beach, Fla., then was forced to withdraw.
"It really stunk," Green told the Connecticut Post. "I knew I wasn't close to being ready. This weather was just impossible for me. The cold, it fires (pain) off the leg and my ankle was bad. It was just bad luck. It wasn't a disaster. I shot 80. I grinded it out and tried my best, but it was just brutal out there."
Green, who had the lower part of his right leg amputated in the aftermath of a tragic RV accident last June, is attempting a return to the Champions Tour.
LPGA rookie Amanda Blumenherst, who played four years of college golf at Duke, did not win the Australian Ladies Masters last week, though she held the first-round lead and a share of the second-round lead. But what she said in the midst of her quest is worth recalling and should serve as a lesson to those in a hurry to turn pro.
"Amateur golf has prepared me well for this next step," she said, "so I really do feel every time I tee up that there's a chance I can win."
Alexis Thompson, are you listening?
Steve Pate was the least likely winner of the week, his victory in the Nationwide Tour's Bogota Open his first since he won the CVS Charity Classic on the PGA Tour in 1998. Pate, 48, is a two-time Ryder Cup player who hasn't played particularly well on any tour since 2000, the last year he earned a full exemption for the following season ... The Champions Tour ATM remains open for Fred Couples, who won the Toshiba Classic on Sunday, his second victory in three senior starts this year (he finished second in his other start), jumping his earnings to $691,000 ... Ai Miyazato, who won the first two tournaments on the LPGA schedule, finished seventh in the Daikin Orchid Ladies, the season opener on the Japanese LPGA ... PGA Tour rookie Billy Horschel was scheduled to undergo surgery on his wrist in New York on Monday. It's expected to keep him out the rest of the year ... The most impressive performance of the week? The T6 in the Honda Classic by Michael Connell, whose biography is so thin that he had no World Ranking points entering the tournament. Connell, 34, earned $194,600 ($35,000 more than he previously had earned on the PGA Tour and Nationwide Tour) and now turns up 840th on the World Ranking ... Paula Creamer has a stretched ligament in her left thumb, which leads to hyperextension of her MCP (metacarpophalangeal) joint. She is working with an occupational therapist and does not know when she can return, according to Twitter.
From Troy Merritt: "Also got drug tested after the round - don't they realize I'm 6'0" 150 lbs.?"
PGA Tour: WGC-CA Championship at TPC Blue Monster at Doral in Miami. Defending champion Phil Mickelson. Puerto Rico Open at Trump International Golf Club in Rio Grande, Puerto Rico. Defending champion Michael Bradley.
The best field of the year, in the de facto official start of the run-up to the Masters, will assemble at Doral. Forty-eight of the top 50 in the World Ranking are entered; only Tiger Woods and Ryo Ishikawa will be missing, Woods because of his extended leave and Ishikawa because he has returned to Tokyo for his high school graduation.
"Colin Montgomerie once had the same problem but cured it by holing nothing." -- Derek McGovern in the Daily Mirror on Rory McIlroy's revelation that his back bothers him only when he bends to retrieve the ball from the hole.
Word that Tiger Woods has returned home and has been practicing on the range at Isleworth marks this as good a time as any to revisit those who vocally targeted Tiger Woods and his No. 1 world ranking in recent years. Their collective record isn't necessarily good.
Ian Poulter said this in January of 2008: "I know I haven't played to my full potential and when that happens, it will be just me and Tiger." He was ranked 22nd in the world then. He's now ranked No. 5, having climbed principally on the strength of victories in two prominent tournaments (the Barclays Singapore Open and the WGC-Accenture Match Play Championship) in the last four months.
Anthony Kim, before he ever had an impact in professional golf, often said his intention was to become the No. 1 player in the world. He's now ranked 26th, down 20 places from his career high, and he hasn't won a PGA Tour event since July of 2008.
Australian Jason Day said this in November of 2007: "I want to chase Tiger and my goal is to become the number one golfer in the world...If I work hard on what I need to, I'm sure I can take him down." Day is ranked 228th and has not won on the PGA Tour.
New Zealand's Danny Lee, the youngest U.S. Amateur champion in history, said this: "All I want to do is just break what he's done and be the next Tiger Woods." Lee failed to get through the first stage of PGA Tour qualifying and is playing on the European Tour. He's ranked 131st.
Conclusion: Lofty goals are admirable, but they're better left unsaid. Woods hasn't played for more than two months. In 2008, he missed half a year. Still, no one has come menacingly close to displacing him as No. 1 on the World Ranking, and the window of opportunity might be closing soon.