News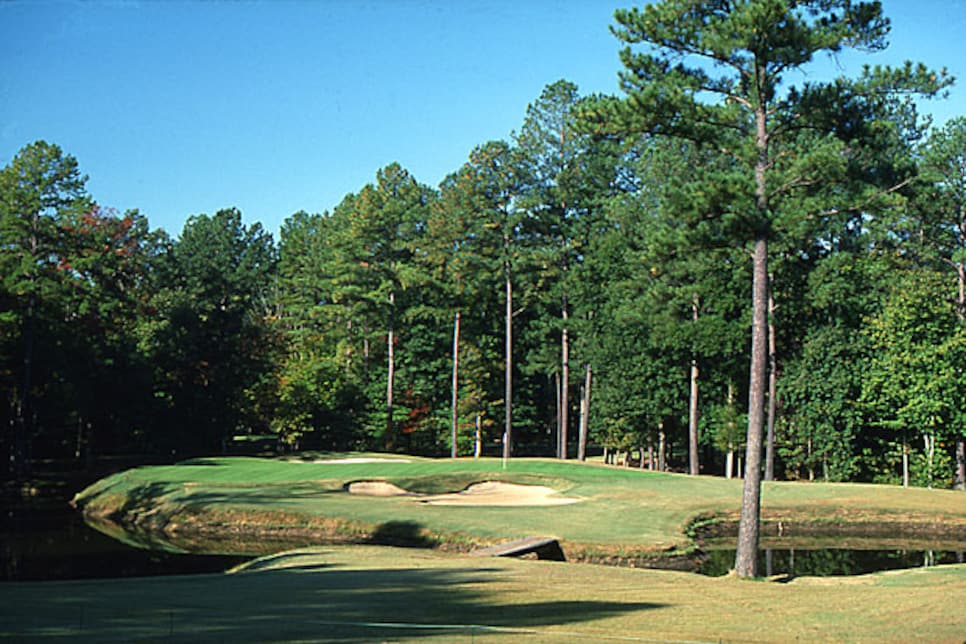 Shoal Creek in Birmingham, Ala., was the subject of controversy 20 years ago.
It was the second round of the Masters in 1995 and Earl Woods was expertly balanced on his shooting stick, watching son Tiger
compete at Augusta National for the first time, when an Augusta member approached.
"Were you at Shoal Creek for the college tournament?" the man asked Earl, alluding to the Jerry Pate Invitational that Tiger, a Stanford freshman, had won the previous fall.
"No, I wasn't," Earl replied.
"Your son played beautifully," the man said. "By the way, I'm Hall Thompson. I'm the founder of Shoal Creek."
Earl said nothing, his silence deafening.
Later, I asked Earl about the incident. "Shoal Creek will forever be tarnished," he said.
Thompson, who at 87 died last week, largely will be remembered for a moment of stark honesty that exposed an ugly side of golf, that even as late as 1990 there were private clubs that discriminated on the basis of race. In the run-up to the '90 PGA Championship there, Thompson told Joan Mazzolini of the Birmingham Post-Herald, in response to a question about its lack of a single black member, "We don't discriminate in every other area except the blacks." Why blacks? "That's just not done in Birmingham, Alabama," Thompson replied.
The backlash was swift and justified, but it also jumpstarted a conversation about golf and race that helped topple barriers to membership at clubs across the country. Thompson's role in dragging the game into the 20th century just in time for the 21st was unwitting, but golf needed a wakeup call and he had provided one.
, a Birmingham native. And the Champions Tour has scheduled an event there in 2011.
It's worth recalling that Thompson apologized profusely and sought to make amends on behalf of the club. Shoal Creek has been forgiven, and in the wake of his death, Thompson deserves the same courtesy.
The valedictorian was Jamie Lovemark, 22, who finished first on the Nationwide Tour money list to earn PGA Tour membership for 2011 and seems poised to join the pantheon of emerging young stars.
Lovemark, who tied for seventh in the Nationwide Tour Championship on Sunday, was the Western Amateur champion at 17 and won the NCAA individual champion as a freshman at USC. At 19 and still an amateur, he finished second in a Nationwide Tour event. Last year, in his fourth start as a professional, he lost in a playoff at the PGA Tour's Frys.com Open.
Though he won only once on the Nationwide Tour this year, he finished in the top 25 in half his 22 starts and was in top 10 in nine of them.
The winner of the Nationwide Tour Championship, meanwhile, was Brendan Steele, who started the week 30th on the money list and finished sixth to earn PGA Tour membership. Steele has never played in a PGA Tour event and heretofore was better known as the nephew of Tony Geary, a long-time soap star, playing Luke (of Luke and Laura fame) on "General Hospital."
Other notable graduates to the PGA Tour:
Keegan Bradley, nephew of LPGA Hall of Famer Pat Bradley.
Colt Knost, a former U.S. Amateur and U.S. Amateur Public Links champion.
Justin Hicks, who at 36, will be a PGA Tour rookie in 2011.
Daniel Summerhays, nephew of Champions Tour player Bruce Summerhays.
Among those who missed earning their cards were PGA Tour veterans Brandt Jobe (30th on the money list), Jason Gore (40th) and Steve Pate (48th).
ROCK, PAPER, SCISSORS, SPLASH
We can't verify this, so we'll have to take the Golf Channel's Jerry Foltz's word for it, but in the third round of the Nationwide Tour Championship, at the par-5 11th hole, James Hahn and his caddie Dong Yi apparently engaged in a childhood game to determine whether he should take the aggressive route and attempt to reach the green in two.
"In perhaps the most priceless moment I've ever witnessed, James Hahn and Caddie Dong Yi played rock paper scissors to determine shot choice."
"Scissors beat paper, Hahn went for it on 11, and hit it in the water. 4 spots out of top 25, it was guts play. HR [sic] made par. Classic."
Maybe Tiger and Stevie can try this the next time they're indecisive.
FORMERLY 'THE SLOW-PLAYING CRANE'
Ben Crane, who won the CIMB Asia Pacific Classic Malaysia on Sunday, is a notoriously slow player, or was, depending on which version of the Associated Press story you read.
From the first AP story: "The slow-playing Crane won the Farmers Insurance Open in January at Torrey Pines..."
From a later AP story: "Crane, who won the Farmers Insurance Open at Torrey Pines in January..."
They're both accurate, of course, but the first one is more descriptive. And in the interest of fighting the scourge of slow play, publicly identifying the perpetrators is a good place to start.
__WHO'S NO. 1 (LPGA EDITION)? __
Na Yeon Choi has joined the contenders by virtue of her victory in the LPGA Hana Bank LPGA Championship on Sunday. In her last 10 starts, she has won twice, tied for second three times, tied for third once and has not finished worse than a T-16.
Choi was No. 6 in the Rolex Ranking last week.
WHO'S NO. 1 (MEN'S EDITION)
was idle last week (as was Tiger Woods), but he still supplanted Woods as No. 1 in the World Ranking. Germany's Martin Kaymer, who could have taken over No. 1 had he finished first or second in the Andalucia Valderrama Masters, tied for 21st and is ranked No. 3.
"As far as the emotions go, it is what it is," Woods said Monday outside Tokyo, where he played a nine-hole event with Japan star Ryo Ishikawa. "To become No. 1 you have to win and win a lot to maintain it. That's the way it goes."
Woods has three events left in 2010 to regain the No. 1 ranking, beginning with the WGC-HSBC Champions this week in Shanghai.
meanwhile, won the Andalucia event to move to 10th in the World Ranking, dropping Matt Kuchar to No. 11.
and Jose Maria Olazabal each tied for 10th at the Andalucia Valderrama Masters in the second week of their comebacks, Garcia from apathy, Olazabal from rheumatism and arthritis... Vicky Hurst,
20, finished second in the Hana Bank LPGA Championship, the best finish of her career.
regarding San Francisco Giants pitcher Tim Lincecum: "@Brittany1golf maybe you two should get married so you don't have to change your last name!"
From Lincecome to Creamer in reply: "@ThePCreamer LOL. If he was hot maybe :). Prob going to pass"
PGA Tour: WGC-HSBC Champions at Sheshan International GC, in Shanghai, China. Defending champion Phil Mickelson.
LPGA: Mizuno Classic at Kintetsu Kashikojima Country Club in Shima-shi, Mie, Japan. Defending champion Bo Bae Song.
Tiger Woods returns to competitive golf sans his No. 1 World Ranking at the WGC-HSBC Champions. Woods held the No. 1-ranking for 281 consecutive weeks before Lee Westwood supplanted him in the latest rankings, released on Sunday.
Golf, in the name of progress, has over-scheduled itself, World Golf Championship and FedEx Cup playoff events bleeding lesser tournaments, one of them to the point of demise.
, the Oneida Indian Nation announced last week. The tournament was played last year opposite the WGC-Bridgestone Invitational, depriving Turning Stone of any of the game's elite players.
When the economy is strong, it's no doubt easier for sponsors to justify the prohibitive outlay required to host a PGA Tour event, even one without a strong field. In a difficult economy, without a guarantee of an equitable return on investment, it's easier to pull the plug.
Turning Stone was the first to do so, but it likely won't be the last.