News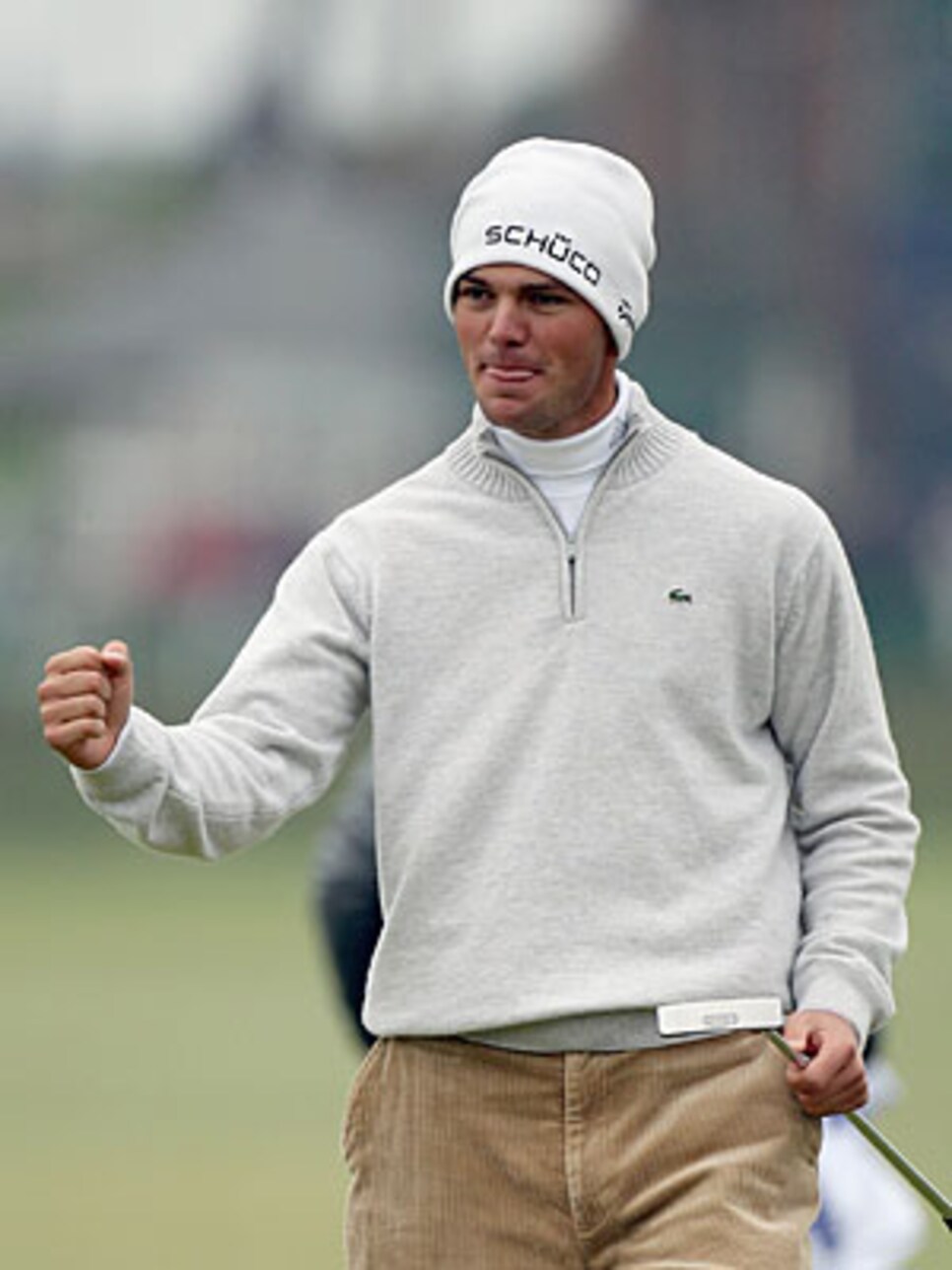 Kaymer has won his last three tournaments, including the PGA Championship.
There was a time not so long ago, before a fire hydrant brought Tiger Woods' world (and his Cadillac Escalade) to a crashing halt, that a computer wasn't necessary to identify who the best player in the world was. It still isn't.
of Germany is the de facto No. 1, his victory on Sunday in the Alfred Dunhill Links Championships on the Old Course at St. Andrews settling the issue, notwithstanding the World Ranking's position on the matter.
The World Ranking, of course, continues to tell us that Woods is No. 1. It also tells us that Kaymer is No. 4, despite his having won three straight tournaments, one of them a major, the PGA Championship
. Moreover, he has won four tournaments in 2010, contributed three points to the Europeans' Ryder Cup victory, and has had the best year worldwide.
The late and legendary New York sportswriter, Dick Young, used to argue that a scorecard wasn't necessary to determine who won a fight, that you knew just from paying attention. The same holds for the No. 1 ranking in golf. Kaymer has prevailed.
The flaw in the World Ranking has been obscured by Woods' dominance, its points unnecessarily reflecting what everyone already knew, that Tiger was No. 1. In the absence of a dominant Woods, however, it fell to Phil Mickelson to supplant him. He has been unable to do so, so the onus is now on Lee Westwood. Neither of them can match Kaymer's year.
The World Ranking awards points over a two year rolling period. If college football operated in a similar manner, Alabama would still be No. 1, despite its first loss since 2008, 35-21 to South Carolina. Even a computer would agree that the Crimson Tide is not the best team in the country.
We aren't arguing that a World Ranking is unnecessary; several elite tournaments depend on it to fill out their fields. But it is not necessarily an accurate portrayal of reality, as Kaymer has shown in 2010, a year in which he has been consistently good, starting with a victory in the Abu Dhabi Golf Championship in January. In addition to his four victories, he was eighth in the U.S. Open, seventh in the British Open.
Woods hasn't remotely been the dominant player in nearly a year. He's clinging to a lead based primarily on what he accomplished not in the last 12 months, but in the 12 months preceding that.
Kaymer, meanwhile, is ahead in this battle, in reality if not in points.
RYDER CUPPERS, A WEEK LATER
It would seem -- win, lose or draw -- that there would be an emotional letdown in the immediate aftermath of a Ryder Cup, but the players on either side who chose to keep playing generally played reasonably well.
There was Kaymer's victory in the Alfred Dunhill Links at St. Andrews, of course. But Westwood and Ross Fisher tied for 11th there, while Padraig Harrington and Graeme McDowell tied for 17th. Even non-playing captain Colin Montgomerie played respectably, tying for 41st.
Peter Hanson, meanwhile, tied for 62nd, while the Molinari brothers, Edoardo and Francesco, missed the cut.
On the American side, Zach Johnson tied for 12th and Matt Kuchar tied for 25th in the McGladrey Classic.
U.S. captain Corey Pavin tied for 57th in the Constellation Energy Senior Players Championship.
FALL SERIES OR FAIL SERIES?
The real PGA Tour player of the year is whoever was responsible for selling the Fall Series to tournament sponsors.
The Fall Series opener, the Viking Classic, was played in obscurity, opposite the Ryder Cup. The new McGladrey Classic that concluded on Sunday, Heath Slocum its winner, was played at Sea Island, Ga., at a bankrupt resort that was sold to Wayne Huizenga as the tournament played on.
It gets worse. Next up is the Frys.com Open. It will be played at CordeValle Golf Club, a spectacular resort, but a remote one, 30 miles south of San Jose.
Its competition on the sports calendar further threatens to undermine it. The San Francisco Giants will possibly be playing in the National League Championship Series. The San Francisco 49ers are home against the Oakland Raiders on Sunday. Boise State, the third-ranked team in the country, is playing up the road at San Jose State. The NHL's San Jose Sharks are playing their home opener.
Misery, at least, has company. The LPGA's CVS/pharmacy LPGA Challenge has to deal with the same issues the Frys.com Open does. The LPGA event will be played in Danville, a suburb east of Oakland.
YOUR NEXT RYDER CUP CAPTAIN
Davis Love III. Love does not need to lobby hard, if at all, though he seemed to have been doing so last week. "If you asked me two months ago, I'd have said, 'No, I don't want to take any chance on screwing up playing,'" he said. "But now I look at it, I don't want to take any chances on not getting to be the Ryder Cup captain."
Not to worry. His father Davis Love Jr. was a longtime member of the PGA of America and a highly respected one. Love has often expressed his admiration for the organization and was the honorary chairman of its National Golf Day in 1998. To boot, he won the PGA Championship in 1997.
The PGA of America no doubt would prefer not to have a clear-cut favorite. Better to milk intrigue for its public relations gain. But who else would it consider at this point?
THOMSON: 'TIGER ERA IS FINISHED'
Peter Thomson is among the game's elder statesmen, a five-time British Open champion whose opinions deserve a hearing, but this one seems premature, if not preposterous.
"His golf peers are not afraid of him any more and there seems to be a new crop of players coming up and the Tiger era is already finished," Thomson told Australian Golf Digest.
He isn't the first to have rendered this opinion. But the likelihood that a player who only a year ago was regarded as the best in history (notwithstanding his trailing Jack Nicklaus by four in majors), who has yet to turn 35, will no longer stand out seems farfetched.
Thomson also said that Woods wouldn't repeat as champion of the JB Were (Australian) Masters next month. "He won't be the dominating figure and he won't win," he said.
Graeme McDowell is gearing up to make a run at Kaymer in the Race To Dubai. Toward that end, he put the PGA Grand Slam of Golf in its proper perspective.
"My next event is the Grand Slam of Golf and that is not a huge priority," he told the Belfast Telegraph, "but then it's back to the European Tour for five straight."
Golf World's Ron Sirak posted this on Twitter regarding Louis Oosthuizen, one of four playing in the Grand Slam: "Folks at PGA Grand Slam of Golf say Louis Oosthuizen's dream 4-some is Sean Connery, Charlize Theron, Nickelback lead singer Chad Droeger."
If Ernie Els hadn't agreed to step in for Tiger Woods, who declined to replace Phil Mickelson in the Grand Slam, Connery was probably on deck.
In other words, the Grand Slam has outlived its usefulness. Not a huge priority indeed.
Y.E. Yang won the Korea Open, his first victory since defeating Tiger Woods in the PGA Championship in 2009. Yang began the final round 10 strokes behind leader Seung-yul Noh, the 19-year-old sensation, who shot a 79 in the final round and finished fourth ... Bill Haas has finished first and second in his last two starts, assuring his finishing in the top 30 on the money list, earning him an invitation to the Masters. Haas has climbed to 56th in the World Ranking ... Cristie Kerr moved to No. 2 in the Rolex Rankings. Kerr needed to finish first or second in the Navistar LPGA Classic to reclaim the top ranking, but she was unable to retain the three-shot lead she carried into the final round and finished third. Katherine Hull was the winner, her second LPGA victory.
PGA Tour: Frys.com Open at CordeValle Golf Club in San Martin, CA. Defending champion Troy Matteson. LPGA: CVS/pharmacy LPGA Challenge at Blackhawk Country Club in Danville, Calif. Defending champion Sophie Gustafson.
PGA Tour, Champions Tour, what's the difference?
Michael Allen is entitled to ask himself that today. In successive weeks, Allen finished second in a PGA Tour event (the Viking Classic) and a Champions Tour event (the Constellation Energy Senior Players Championship.
Well done, Michael. That said, how does this happen?