News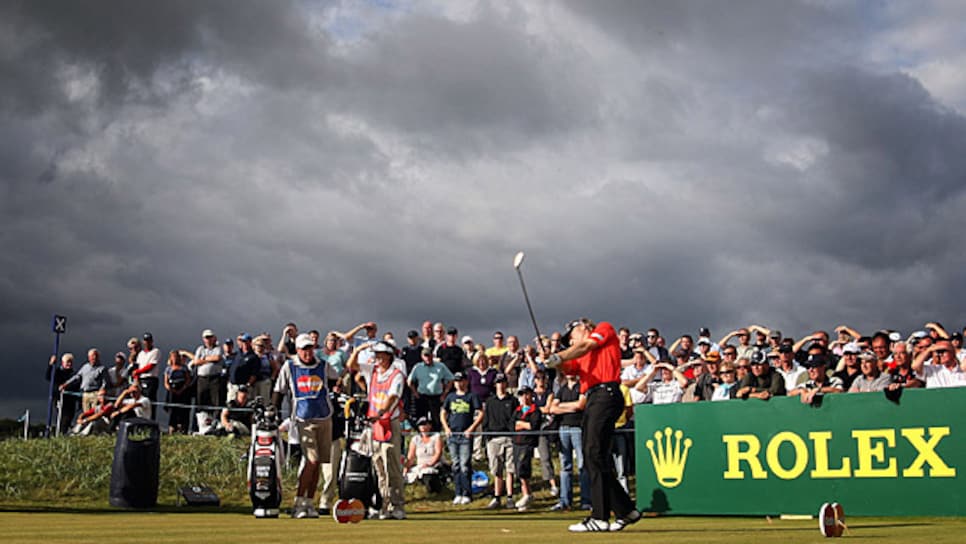 Bernhard Langer of Germany was just one of the international players to win this week.
Professional golf took its leave last week, not of its senses, though the xenophobic among us might disagree. It took its leave of the country, American idle.
There was no professional golf in the United States, save for a Nationwide Tour event. The PGA Tour, meanwhile, was in Canada (the RBC Canadian Open), the LPGA in France (the Evian Masters) and the seniors in Scotland (the Senior British Open).
The story lines produced scant evidence of America's participation, as well. A Swede (Carl Pettersson) won in Canada, a South Korean (Jiyai Shin) in France and a German (Bernhard Langer) in Scotland. Six countries, none of them the U.S.
To further illustrate the game's global outreach program, a South Korean (Doris Chen) won one of the two important tournaments played within our borders, the U.S. Girls Junior, while an American of Chinese descent (Jim Liu) won the U.S. Junior Amateur.
On the eve of the British Open recently, Ian Poulter boldly declared the end of American dominance. It smacked of gamesmanship, but for one week, at least, in the wake of an odd confluence of schedules and outcomes, it smacked of the truth, too.
Pettersson, bless him, produced a victory on behalf of the hot-dog-at-the-turn crowd, then delivered an important lesson to all for whom the belt toils.
"I kept thinking, 'What am I going to do to get better,' and obviously I was a little overweight," he said Sunday. "I thought, 'Well, I'll get fit.' So I actually lost 30 pounds and my game completely left me. I guess the timing of the swing and everything was thrown out, and I really struggled in '09. I've played fairly well this year. I'd love to be fitter, but I'm not going to go down that road again."
When Dean Wilson was still leading the RBC Canadian Open on the back nine on Sunday, the two players in closest pursuit at one time were a Swede, Pettersson, and a South African, Tim Clark, who were college roommates at...North Carolina State. Go figure.
The next Tiger Woods has been identified too often for the rest of us to be anything other than dismissive of such proclamations. But when John Anselmo draws a comparison it warrants attention.
Anselmo, now 89 and still teaching and playing, was Woods' second instructor (from ages 10 to 17, before he handed him off to Butch Harmon). He also is Jim Liu's teacher. Liu on Saturday became the youngest ever to win the U.S. Junior Amateur, a few weeks shy of his 15th birthday, or nearly seven months younger than Woods was when he won the Junior Amateur in 1991.
"He's quite something," Anselmo said from his home in Huntington Beach, Calif. "He's another Tiger, as far as I'm concerned -- his mannerism, how he devotes his life to what he's doing, like Tiger did. He told me he had eight birdies on the first 18 holes (of the 36-hole final with Justin Thomas). That's the way he is. He's like Tiger that way. He's got no fear. He's not going to back away.
"He might even be just a little bit ahead of Tiger (at a similar age). But not much."
Anselmo began working with Liu seven years ago, after the boy read his book, "A-Game Golf," and sought him out. Anselmso, drawing on the wisdom that one gains over a long lifetime, won't predict stardom for Liu, however. "No, I can't predict that," he said. "It's up to him. But he loves what he's doing."
More than a handful in the media, in the aftermath of Woods' failure to contend at the British Open, advanced the argument that Woods' reign is over. A sampling:
From Joe Posnanski at Sports Illustrated (headline: "Few people see it, but there are now plenty of reasons to write off Tiger Woods"): "Tiger Woods is not a machine. Tiger Woods is not a story. Tiger Woods is not a movie, and he's not a fairy tale. Tiger Woods is not even the young man who played golf at a higher level than any man in the history of the sport. No. Tiger Woods is a balding, 34-year-old man fighting his swing, his putter, his confidence, his past and his history. So many of us expect him to return to his previous dominance.
"But I wonder if that really says more about us than it does him.
From Rafer Weigel at CNN.com (headline: Tiger Woods days of dominance, done): "[H]e will never dominate the sport like he did -- not with the competition being what it is now. He no longer instills fear in other golfers like he used to. His presence alone no longer intimidates the field. The psychological advantage he once enjoyed has given way to a psychological mess for him."
From an un-bylined column in the Mobile (Ala.) Press-Register (headline: Stick a fork in Tiger Woods -- he is done): "It is official now: Stick a fork in Tiger Woods -- he is done…He doesn't have the mental game anymore…He is mentally burnt. He is done."
The reaction here? Unchanged. By many accounts, Woods' swing was better at St. Andrews than it has been in months, but his putting kept him in check. It's still more likely that his touch has taken a temporary leave rather than a permanent one.
Write him off at your own analytic peril, but it's a hard sell convincing anyone that Woods is done when less than a year ago he won three of seven tournaments and finished in the top two in six of seven to close his season.
There is this, too, which should never be discounted: He's Tiger Woods.
This conclusion, from Kevin Dunleavy of the Washington Examiner, seems more in line with reality: "When the PGA Championship tees off next month at Whistling Straits, the favorite will be the most talented and accomplished player in the field -- Tiger Woods."
MDF stands for Made (the cut) Didn't Finish, which is the designation accorded those who make the 36-hole cut in a tournament, but don't survive a 54-hole cut enacted to keep the number of players in the final round at a manageable level to help ensure that tournaments conclude on Sunday.
Daly has never been a fan of the rule and still isn't, based on his number of Twitter posts on the matter after the rule claimed him and four others when play was completed on Saturday.
Whatever the merits of his opinion, that the rule is absurd, he'd have more credibility were he to avoid arguments that include these points:
"[I]f any of us 5 cut were to shoot a 60 tomorrow (Sunday) it would be top 5."
Comment: Well, no. Only two of them, Arjun Atwal and Lee Janzen, could have leaped into the top five with a score of 10-under par 60 (a score shot by Carl Pettersson on Saturday). Daly would only have gotten to a T10, this before the leaders went off. By day's end, it would only have gotten him into a tie for 17th.
We won't mention the odds against Daly shooting 60 these days.
"It used to be a 72-hole tournament, shouldn't they let everyone play hard right to the end?"
Comment: This from a man attempting to live down a reputation for too often failing to play hard right to the end.
The sponsor exemption that Wilson received from the Canadian Open paid a dividend greater than the $550,800 he received for finishing second. It will get him into the Greenbrier Classic this week and goes a long way toward his regaining his PGA Tour exemption...Louis Oosthuizen followed his victory in the British Open with a T4 at the Nordea Scandinavian Masters...Alexis Thompson, 15, birdied the final two holes of the Evian Masters to tie for the lead until Jiyai Shin won with a birdie on 18. Thompson, who finished T2, tied for 10th in her previous start, the U.S. Women's Open. She is not in the Ricoh Women's British Open field this week and will play again next at the CN Canadian Women's Open in late August...Matt Kuchar tied for fourth and has moved into a tie for the PGA Tour lead in top 10s. Kuchar and Retief Goosen each have seven top-10 finishes...Trevor Immelmann bogeyed two of the last three holes in Canada to miss finishing in the top 10 for the first time since 2008, the year in which he won the Masters.
"I got a call from Mr. Greg Norman and he said something that I will remember for the rest of my life. He said I am the first person to get him to watch a full round of golf on television. He watched my first shot (on Sunday) to my last and couldn't leave the couch." -- British Open winner Louis Oosthuizen
PGA Tour: The Greenbrier Classic on the Old White Course in White Sulphur Springs, W.V. A new event. Champions Tour: U.S. Senior Open at Sahalee Country Club in Redmond, Wash. Defending champion Fred Funk. LPGA: Ricoh Women's British Open at Royal Birkdale Golf Club in Southport, England. Defending champion Catriona Matthew.
Seattle native Fred Couples has a rare opportunity to win in his homeland in the Senior Open at Sahalee, in Sammamish, maybe 30 minutes or so from the Jefferson Park course on which he learned the game.
The PGA Tour returns to the Greenbrier, a site that hosted the Ryder Cup in 1979 (and the Solheim Cup in 1994).
Nearly a year ago, at the WGC-Bridgestone Invitational, the PGA Tour brought together a governor, a billionaire and Tom Watson to breathlessly announce the formation of a new PGA Tour event, the Greenbrier Classic. The billionaire, Greenbrier Resort owner Jim Justice, made a passionate pitch to PGA Tour players, who will think they're at "Disney World times 10."
There is no doubt that it's a special place, historic even (Sam Snead was its pro emeritus before Watson), but…
The game's elite has decided against going to "Disney World times 10." The inaugural Greenbrier Classic begins Thursday and Jim Furyk is the only player in the top 30 in the World Ranking playing there. Only four in the top 50 in the world are entered -- Furyk, Nick Watney (No. 32), Kenny Perry (39) and Sergio Garcia (45).
It was an obvious tournament to skip for the game's elite. They're committed to playing the two following weeks (the WGC-Bridgestone Invitational and the PGA Championship), six of the following seven weeks (assuming they keep advancing in the FedEx Cup playoffs) and possibly seven of eight, if they're playing in the Ryder Cup.
The schedule is simply too crowded to accommodate any number of existing tournaments with gilded histories, much less a newcomer to the field, even one played at "America's Resort," as West Virginia governor Joe Manchin called the Greenbrier.