News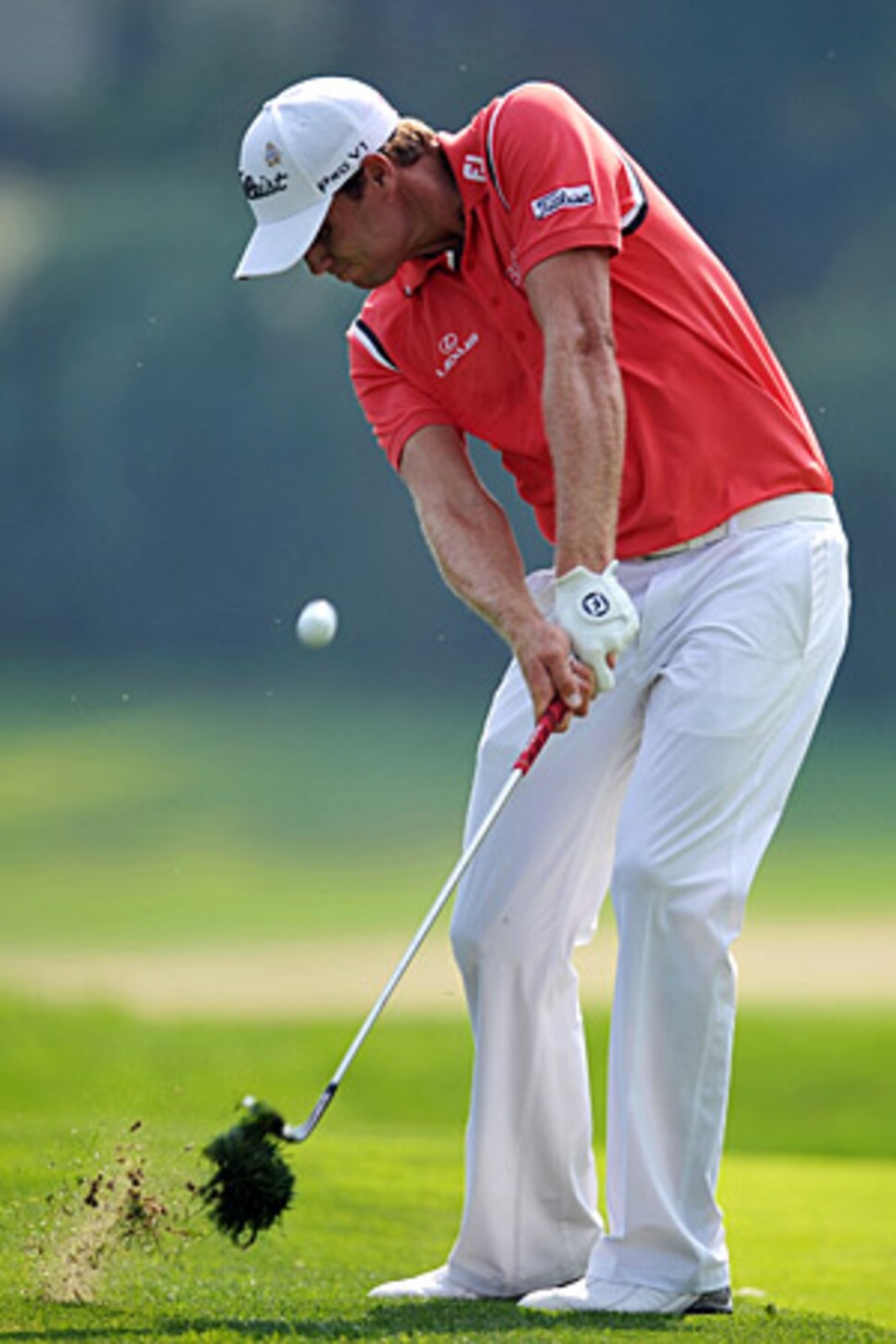 Watney's fourth career win has propelled him into the top 10 for the first time.
Nick Watney is a bona fide star now, an unassuming one, who quietly has turned up in a place where no one -- not even those closest to him -- would have thought to look: the world top 10.
"Knowing how difficult it is out there, I never would have envisioned him in the top 10," his uncle and college coach at Fresno State, Mike Watney, said in a recent interview. "He never had superstar written all over him like Phil or Tiger.
"But he continually gets better. One thing you don't know is when does a person reach his peak? It doesn't look like he's reached it yet. He hasn't stopped improving."
Watney won the AT&T National on Sunday by entering the final round tied for the lead and shooting a bogey-free four-under par 66. It was his second victory of the year and the fourth of his career, moving him to 10th in the World Ranking.
"When he was on the Nationwide Tour (in 2004) he called me in March," Uncle Mike said. "He said, 'Coach, I can play with these guys.' He calls me Coach. He said, 'I've played enough with these guys and I can do everything as well as they can.' Until you experience some time with them, you're kind of in awe and your game is not as sharp as it normally would be. At every level, he's gone through that."
Watney, 30, is making an argument that in the absence of a healthy Tiger Woods and an uneven Phil Mickelson, he has become the best American player on the PGA Tour.
"Nick Watney is the face of American golf...I'm incredibly bullish and a buyer long term, he'll be World's #1 someday," Joe Ogilvie posted on Twitter.
Watney leads the tour in earnings ($4,189,233) and is tied for the lead in top 10s (eight).
"Nick has a work ethic that people might not realize," Mike said. "He works very, very hard on this game. And he's also smart about it. He's just got a very, very solid game."
The British Open at Royal St. George's is 10 days away and Watney, who tied for seventh at St. Andrews last year, has to rate consideration. U.S. Open winner Rory McIlroy, meanwhile, will go into the British Open having not played since the U.S. Open, a curious way to prepare.
The best bet might by Martin Kaymer, who tied for fourth in the French Open and is suggesting that the tweaks to his swing have taken root.
"It was always a little bit too steep, a little too far out," he said of his swing. "I wanted to get it more on a neutral plane, to hit it straighter and have more options to shape the ball. I can see it. I'm getting closer every day. I just need to be patient and keep working on it, and I think soon everything will come together, hopefully at the right time. That would be nice. Around the British Open it would be fantastic."
What to make of Bubba Watson's performance on and off the course at the French Open last week? What to make of the reaction to it?
"Rumour has it that Bubba Watson has had surgery to mouth to make it smaller so foot won't fit with as much ease, hope it's successful ???" Stuart Appleby wrote on Twitter.
"Watson's French foray lacking in entente cordiale," a headline in the Independent said. Entente cordiale translates to "a cordial understanding."
"He's so disingenuous," Christina Kim posted on Twitter.
He played poorly, was angry and mishandled himself, as he has done before. As for his bumbling about Paris landmarks, he has never represented himself as a sophisticate. He's Bubba from Bagdad, Fla. He's also a professional athlete. By now shouldn't we know better than to expect more of one?
On Twitter, David Feherty offered this: "For the record, I like Bubba. He screwed up, he apologized, so move on. Anyway, the Lafite is one of the most overrated wines in history."
Exactly, except for the reference to Château Lafite Rothschild. We have no opinion on Lafite, no experience with it, either, this being one of the most expensive wines in the world.
Is Watson's image irreparably harmed? Not likely. Does anyone recall the controversy England's Paul Casey ignited with disparaging remarks about Americans ("we properly hate them") in the wake of Europe's Ryder Cup victory in 2004?
THE WRONG ONE TO CRITICIZE?
One more thing: Among Watson's harshest critics was Kim, who might be the wrong person to criticize someone for behavior that conjures the image of the ugly American. Remember her Solheim Cup histrionics?
"Goodness knows what Lee Westwood might have made of it all. He would probably have taken Kim's wedge and shoved it up her beret," Mark Reason wrote in the Telegraph then. "Westwood was contemptuous of Tom Lehman when he began conducting the crowd in the national anthem on Brookline's first tee. But this was way beyond that."
Frenchman Thomas Levet turned the focus of the French Open away from Watson and back to golf by winning his national championship.
"It was just crazy," a jubilant Levet said. "The way it went was just like a dream. The atmosphere was great. I felt like one of the Tour de France riders climbing a mountain. I had everyone behind me basically the same as a Ryder Cup and it was the same adrenaline rush."
Graeme McDowell on the Wimbledon men's final: "Been ousted to the cheap seats today. No Royal box with @McIlroyRory. Current US open champs only!! Great to be here though!"
Paul Goydos: "75-66-79-75. Which if these scores in not like the others"
Comment: He's headed to the John Deere Classic, where last year he could have asked the same question -- 59-68-67-68
"I called Joe Biden, who's the best golfer in the foursome and carded an 89. I said, 'Joe, I don't mind if you go to funerals. I don't mind if you have to go to budget [talks]. But, you know, no vice president should have to throw a golf game to make America a better place.' And he proceeded to swear to me he didn't throw it." Bill Clinton on the recent Golf Summit (from Politico's Mike Allen)
Amateur Patrick Cantlay concluded a strong three-week PGA Tour run by finishing T-20 at the AT&T National. His run began with a T-21 at the U.S. Open at which he was low amateur and followed with a T-24 at the Travelers Championship..Jim Furyk missed the cut at the AT&T National and has missed the cut in four straight tournaments and five of six. He has missed six cuts in a year for the first time in a season since 2004, when he underwent arthroscopic surgery to repair cartilage damage in his left wrist and played only 14 tournaments...Izzy Beisiegel, the first female to earn membership on the Canadian PGA Tour, missed the cut by five strokes at the ATB Financial Classic in her debut. Beisiegel shot 78-70...Erik Compton missed the cut at the AT&T, his first missed cut in 14 starts this year (nine on the Nationwide Tour, five on the PGA Tour), though he did withdraw from one tournament...Kaymer finished fourth in the French Open to move to third in the World Ranking, dropping Rory McIlroy to fourth.
LPGA: U.S. Women's Open on the East Course at the Broadmoor, Colorado Springs, Colo. Defending champion Paula Creamer. PGA Tour: John Deere Classic at TPC Deere Run, Silvis, Ill. Defending champion Steve Stricker. European Tour: The Barclays Scottish Open at Castle Stuart Golf Links, Inverness, Scotland. Defending champion Edoardo Molinari.
Yani Tseng, who recently won the Wegmans LPGA Championship, needs only a victory in the U.S. Women's Open to complete a career grand slam. Tseng won her first LPGA Championship in 2008 and won the Kraft Nabisco Championship and the Women's British Open in 2010.
Betsy King, 55, came out of retirement and qualified for the U.S. Women's Open. King, a Hall of Famer, last played in 2005, appearing in 10 tournaments and making the cut in only one. She won the U.S. Women's Open in 1989.
After 14 consecutive years playing on a parkland course (Loch Lomond), the Scottish Open returns to a links, a better way, all would probably agree, to prepare for the British Open the following week. Among the Scottish Open entrants: Lee Westwood, Luke Donald, Phil Mickelson, Matt Kuchar and Graeme McDowell.
The Humana Challenge, as the old Bob Hope Classic will now be known, will have "an innovative new focus on health and well-being," a PGA Tour news release said, and will be "a week-long celebration of world-class golf, healthy lifestyle options, and fitness-oriented activities."
Don't you now have to root for Tim Herron, aka Lumpy, to win?