News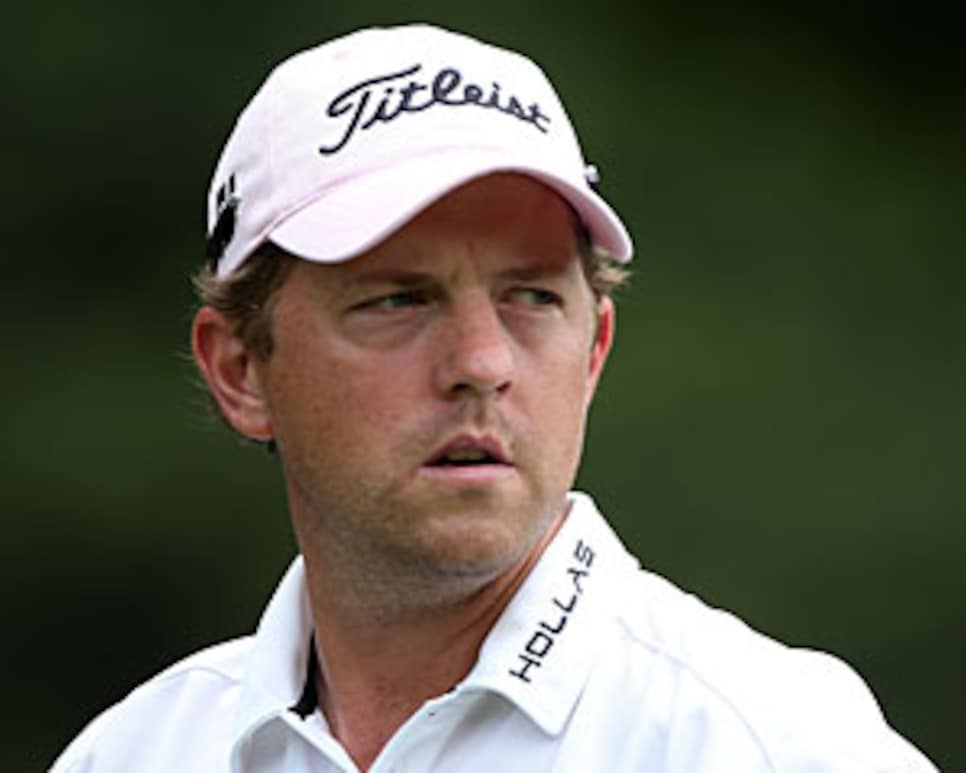 Bryce Molder has failed to match the success of his All-American career at Georgia Tech.
It wasn't a reunion per se for the class of 2001, however class is defined, but its two most prominent members butted headlines on Sunday morning and gave us pause to reflect.
Luke Donald, a Northwestern graduate whose major -- art theory and practice -- suggests that it's a good thing he can play golf, and Bryce Molder, a Georgia Tech graduate, were the class of college and amateur golf when they chose to forgo the '01 U.S. Amateur, instead opting to turn pro on the same day and in the same tournament, the Reno-Tahoe Open nearly nine years ago.
They were as heralded a duo as any in recent memory. Donald earned first-team All-America honors three times, was the college player of the year in 1999, and twice was a member of the Great Britain-Ireland Walker Cup team. Molder was one of only four to have earned first-team All-America honors four consecutive years (Gary Hallberg, Phil Mickelson and David Duval were the others), was the college player of the year in 2001 and also was twice a member of the U.S. Walker Cup team.
Who was going to have a more productive professional career? Flip a coin. Donald's precision with his irons was going to adequately offset his lack of length from the tee, while Molder's short game was going to deliver him from the ranks of the mediocre.
In Tahoe, Molder moved to the fore, threatening to win in his professional debut, before faltering and finishing third. Donald missed the cut.
Stardom has not yet materialized for either, though Donald has come closer. His victory in the Madrid Masters on Sunday, his first win since 2006, elevated him to No. 9 in the World Ranking. In 2007, he was ranked seventh.
It might seem odd to suggest that one of the 10 best players in the world has not fulfilled his promise, but at the elite level success is measured with victories. Donald has won only five times -- twice on the PGA Tour, three times on the European Tour.
Molder's career has been marked by its inconsistency, which continued on Sunday. Like Donald at Madrid, Molder was tied for the lead through three rounds of the Crowne Plaza Invitational at Colonial. The only player in the top 10 to fail to break 70 on Sunday (he shot 70), Molder slipped to a tie for fifth, five back of winner Zach Johnson.
Only once in his three full seasons on the PGA Tour has Molder retained his playing privileges, in 2010, after finishing 63rd on the money list the year before. He has not won on the PGA Tour and has a single victory on the Nationwide Tour, in 2006. But he's gaining on it. The 79th ranked player in the world, Molder has five top 10s this year, nearly doubling his career total.
The most likely to succeed from the class of 2001, Donald and Molder are completing their first decades as professionals in a manner that portends this: The best is yet to come.
England now boasts four of the top 10-ranked players in the world -- Lee Westwood (No. 3), Ian Poulter (No. 7), Paul Casey (No. 8) and Donald, whose victory on Sunday bumped Anthony Kim from the top 10. (The U.S. still features four of the top five players -- Tiger Woods, Phil Mickelson, Steve Stricker and Jim Furyk.)
Yet the four Englishmen have yet to win a major championship among them. The last Englishman to win a major was Nick Faldo, in 1996.
MICKELSON: HE'S UP, HE'S DOWN
Mickelson missed the cut for the first time in more than a year, since the Shell Houston Open in April of 2009. What does it mean with the U.S. Open on the horizon? Nothing. Inconsistency is his calling card. Mickelson wasn't playing well prior to winning the Masters, tying for 35th at Houston and tying for 30th at the Arnold Palmer Invitational the week before that.
Who knows? "It's pretty disappointing," Couples said, this his only statement afterward as he went straight to a waiting car and left the premises.
We could have figured that out for ourselves. Couples, whose back-to-back eagles at 15 and 16 on Sunday gave him a share of the lead at the Senior PGA Championship, missed an eight-foot birdie putt at 18 to win, then hit his drive on the first playoff hole into a shrub, requiring a drop that essentially ended his bid.
Disappointing, yes, but isn't the runner-up in a major championship obligated at least to answer a few questions, particularly on a tour starved for attention in a crowded sports world and ostensibly dedicated to better PR?
The winner, incidentally, was Tom Lehman, this his first individual victory since joining the Champions Tour last year.
Remember Richard Lee? Didn't think so. A Vancouver native, Lee was the boy who lost to Philip Francis in the final of the U.S. Junior Amateur in 2006. He was 15 at the time and then, in an ill-advised move, decided to turn professional.
Lee's career hasn't gained traction since. He's played in three Nationwide Tour events in the ensuing years, missing the cut in two of them. He qualified for the U.S. Open in 2007, but withdrew after an opening round of 79.
Last week, he resurfaced as the medalist of the Canadian Tour qualifying tournament.
"This (Canadian Tour) is going to be great for my development," Lee told the Canadian Press. Junior golf and college golf, suffice it to say, might have been better for his development.
When an athlete is called "a great guy" and it qualifies as headline news, it's safe to assume that he's probably not generally perceived as such.
Last week, Natalie Gulbis was in the Pittsburgh area and opted out of a practice round at Oakmont Country Club, site of the U.S. Women's Open, in favor of a round at Laurel Valley Country Club with Steelers quarterback Ben Roethlisberger. Gulbis apparently dated Roethlisberger at one time.
Queried about it after their round, Gulbis said, "He's a great guy."
It must be heartening for Roethlisberger to know that the prevailing opinion of him isn't unanimous.
Gulbis' endorsement, meanwhile, did nothing to help his image, nor did it help her own. One blog said this in a headline: "Natalie Gulbis shows the world's worst judgment."
Johnson's victory at the Crowne Plaza gives him wins in four straight years. It jumped him from 35th to 16th in the World Ranking. The highest he's ever been ranked is 13th, in 2007... Brian Davis finished second to Johnson, the second time this year that he's been a runner-up and the fifth time in a career without a PGA Tour victory ... John Daly has made the cut in seven straight starts (though he withdrew from two of them because of an ailing hip), which is the good news. The bad news is that he doesn't have much to show for it, $69,382. The last time he played seven in a row without missing the cut was 2004. Daly finished 66th at the Crowne Plaza Invitational ... David Frost, who along with Couples also lost to Lehman in a playoff at the Senior PGA Championship, hasn't won a tournament since the wining the South African Open in 1999.
From John Daly: "boston WON'T win if the refs keep calling phantom fouls and phantom technicals.....but Ref's will win their money they bet tonight"
ON DECK PGA Tour: The Memorial at Muirfield Village Golf Club in Dublin, Ohio. Defending champion Tiger Woods. Champions Tour: The Principal Charity Classic at Glen Oaks Country Club in West Des Moines, Iowa. Defending champion Mark McNulty.
Story lines: The Memorial will be the best test yet of where Woods is with his golf game in the run-up to the U.S. Open. He's the defending champion and has won the tournament four times, including three years in a row. This is his first start since withdrawing from the Players Championship with neck pain.
South Korean Seung-yul Noh, 18, who won the Maybank Malaysian Open in March to become the second youngest ever to win on the European Tour, makes his PGA Tour debut at the Memorial.
"They gave me a standing ovation in the class. I think some of my friends just wanted to see if I would blush." -- Jordan Spieth, 16, on his return to high school after tying for 16th in the HP Byron Nelson Championship. (From USA Today)
The golf courses last week -- one old, one new, neither akin to what the PGA Tour routinely presents -- refreshingly stood out for something other than encouraging the bomb and gouge.
Colonial Country Club, site of the Crowne Plaza Invitational, annually provides all comers a chance at contending, even short-hitting graybeards, specifically Corey Pavin, 50, who tied for seventh. It's a grand old venue that brings anyone playing well, short or long, into the weekend spotlight.
Colorado Golf Club, site of the Senior PGA Championship, is a new course designed by Ben Crenshaw and his partner Bill Coore. It's hard to gauge what players thought of the course, given their respect for Crenshaw and desire not to offend him. The reviews generally seemed favorable (notwithstanding some early complaints about blind approach shots), and it was a visual success, as courses in that part of the country tend to be.
In both cases, the courses represented a welcome escape from the mundane.