News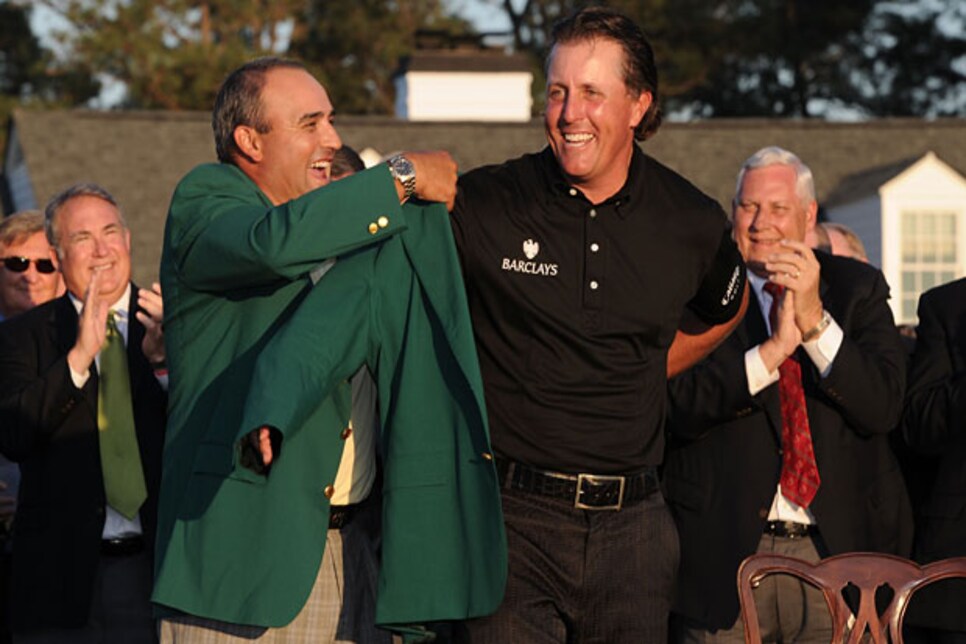 Mickelson shot a pair of 67s over the weekend to win his fourth major championship.
It was, start to finish, a feel-good Masters, notwithstanding the imposing presence of a man who has fostered no small measure of antipathy. Arnold and Jack was a nice way to begin the Masters, Phil and Amy a better way to end it.
Tom Watson and Fred Couples contributed their own goodwill, something other than small doses of nostalgia, two of the game's icons still grinding in their golden years.
Ultimately, a week that will find its own prominent position in the annals of golf was punctuated by a victory that for the emotional among us might have required a tissue. When Phil Mickelson walked off the 18th green and into the arms of wife Amy, who wasn't elated for this family that has endured so much?
Their three kids were there, too, as were mom and dad, the former, like Amy, in the midst of a breast cancer battle.
The scene was poignant and hammered home the point that for Tiger Woods, a tournament might be the least of what he has lost in the last five months.
As CBS' Jim Nantz said Sunday, this one was for the family.
Successive shots at the par-5 13th hole tell you all you need to know about the career of Mickelson. He has the capacity to amaze and confound in the span of moments.
True to his nature, he took the aggressive route from the trees and pine straw at No. 13 and delivered a brilliant shot to three feet of hole. Then he missed the three-footer for eagle.
Mickelson is consistently inconsistent, save for his methodical assemblage of one of the great careers in golf history. Thirty-eight victories, four majors and counting.
THE GAME GIVETH AND TAKETH AWAY
Couples' sentimental journey was derailed by golf's innate ability to even things out. Eighteen years ago, Couples' tee shot to the 12th at Augusta National on Sunday afternoon hit the bank short of the green and on its descent toward the pond it inexplicably stopped. This fortuitous turn enabled him to save par en route to his lone victory in a major championship.
This time, he came to the 12th in contention and hit the same bank with his tee shot, but the ball did not acquiesce to his enormous popularity. It rolled into the water, leading to a double bogey that ended his bid. He eventually tied for sixth.
Still, it was a remarkable performance for a man of 50, another in a recent string of them. He has a three-tournament winning streak on the Champions Tour and now this.
His scoring average for the year on the two tours combined is 68.1.
Many suspected that when Woods returned to golf, he was certain to encounter some hostility. Who knew it would come from Augusta National chairman Billy Payne?
Payne said this in his prepared remarks he read at his pre-tournament news conference:
"... as he now says himself, he forgot in the process to remember that with fame and fortune comes responsibility, not invisibility. It is not simply the degree of his conduct that is so egregious here; it is the fact that he disappointed all of us, and more importantly, our kids and our grand kids. Our hero did not live up to the expectations of the role model we saw for our children.
"Is there a way forward? I hope yes. I think yes. But certainly his future will never again be measured only by his performance against par; but measured by the sincerity of his efforts to change. I hope he now realizes that every kid he passes on the course wants his swing, but would settle for his smile."
Here's a thought: Don't turn to the modern sports world for role models. That's a cynical view. Alas, it's also a realistic one. As often as not, they're bound to disappoint.
Here's another thought: Payne's remarks smack of piling on. Everyone agrees his conduct was egregious, but does it bear repeating by the tournament host, taking dead aim at an invited guest? Should a man representing a club with a history of its own dubious behavior be lecturing another about his conduct and responsibility?
The quality of a telecast probably correlates neatly with the quality of the show, and on the latter front Augusta National put on one of its most memorable on Sunday. For its part, CBS capably fulfilled its obligation.
• The coverage of Mickelson's missed putt for birdie at No. 2, when a twig or leaf mysteriously fell from the sky and directly into Mickelson's line just as he was about to pull back the putter. The ball hit the interloping object and bounced, possibly throwing it off line. "If that costs him the Masters, that is going to be the most incredible...that could make you think, 'are the golfing gods against me today?'" Nick Faldo said.
• David Feherty said this regarding the working relationship between Mickelson and his caddie Jim Mackay: "You've got to look at Jim Mackay and think...there aren't many caddies who would be very happy with their player, taking on a shot like 13, but he knows how Phil thinks. He knows that he would rather have him go ahead and hit the wrong shot if he's happy with it than the right one if he's not."
• When it became apparent that Mickelson was going for the green in two from the trees at the par-5 13th, Peter Kostis said this: "This might be the tournament." When it settled three feet from the hole, Faldo said this: "The greatest shot of his life. Must be."
One notable miscue: Kostis using Anthony Kim's Sunday charge in a clumsy attempt at explaining how well the Koreans were doing. He caught himself, but still said that Kim is a Korean and American. Kim, in fact, is an American of Korean descent.
K.J. Choi, who tied for fourth, and Y.E. Yang, who tied for eighth, are Koreans.
Kostis redeemed himself with his post-tournament interview with Woods, who was generally unhappy, disturbed by the questions or disturbed that they were asked by Kostis. A refresher on the latter point: Woods' camp reportedly once asked of CBS that Kostis no longer interview Woods after a round. "I was told we had gotten a call from (Woods' IMG agent Mark) Steinberg," Kostis told Golf World in June of 2005. "I'm told it had to do with the questions I asked (Woods) at (the Wachovia Championship)."
After Woods' round on Sunday Kostis asked him what, after all he has gone through in recent months, this week meant to him.
"Finished fourth," Woods replied tersely. "Not what I wanted."
Kostis followed with a question about Woods' attempts to keep his emotions in check on the golf course, a bid that went awry at points on Sunday.
"I think people are making way too big a deal about that," Woods said before
Really? On Monday, when Woods sat for a pre-tournament interview with the media, he was asked this: "You said in February that when you returned to the game that you wanted to show more respect for the game. In what way are we going to see sort of differences out there between the ropes and outside the ropes?
Woods' response: "Yeah, great question. I'm actually going to try and obviously not get as hot when I play. But then again, when I'm not as hot, I'm not going to be as exuberant, either. I can't play one without the other, and so I made a conscious decision to try and tone down my negative outbursts and consequently I'm sure my positive outbursts be will calmed down, as well."
The green jacket, were it found in a men's store, would simply be an objectionable piece of haberdashery. In the context of golf, it represents arguably its most coveted trophy.
This perhaps is Ernie Els' problem. He may want it too much, as he readily acknowledges.
"I tell you, it's killing me," said Els, who tied for 18th and was never a factor.
There is a lot to like about Italian teen Matteo Manassero, notably the speed at which he plays. David Birtill wrote this in the Telegraph after the British Open last summer: "He won many admirers during the week, not just for his boyish charm, his free-flowing swing and impressive ball striking but for his pace of play which was a refreshing change in these days of the slowcoaches clogging up the world's fairways."
Manassero, 16, tied for 12th in the British Open and was the low amateur at the Masters, the youngest ever to make the cut (he tied for 36th). He intends to make his professional debut at the BMW Italian Open, a European Tour event that begins May 6.
The Nike ad featuring Woods and the voice of his late father Earl generated a great deal of attention (and criticism) last week. "In all of my years of reviewing commercials, I have never seen a single spot evoke such a media firestorm -- and without a single wardrobe malfunction," Barbara Lippert of Adweek wrote.
In the black-and-white ad, Woods is staring expressionless, while Earl says, "I want to find out what your thinking was. I want to find out what your feelings are. And did you learn anything."
Whatever your thoughts on the ad, the guess here is that Earl would have approved of it; he often spoke of communicating with Tiger telepathically and Woods has said his father's words often come back to him.
From Christina Kim: "I love Freddie and Lee. I disdain Phil, TW is flailing, KJ has an outside chance... You?"
In response to a follower asking why she dislikes Mickelson, she wrote: "because he is a lackluster human being. I hate to say it bc his fam is suffering, but he provides me with no excitement or joy"
Lee Westwood is one second or third-place finish from a slam of the disappointing sort. In the last three major championships, Westwood has finished second, tied for third and tied for third. Up next, Pebble Beach and the U.S. Open...Rory McIlroy and Ryo Ishikawa, two of the most celebrated young players in the world, both missed the cut at Augusta. McIlroy, 21, shot 74 and 77 to miss by four, while Ishikawa, 18, had rounds of 72 and 76 to miss by one...Watson tied for 18th in his first major championship since finishing second at the British Open. Will these performances earn him a special exemption to the U.S. Open at Pebble Beach, where he won the Open in 1982?
PGA Tour: Verizon Heritage at Harbour Town Golf Links in Hilton Head, S.C. Defending champion Brian Gay. Champions Tour: Outback Steakhouse Pro-Am at TPC Tampa Bay in Lutz, Fla. Defending champion Nick Price.
• This is the final year that Verizon will serve as sponsor of the Heritage -- the latest PGA Tour event in the throes of sponsor issues.
• Couples will seek his fourth straight Champions Tour victory at the Outback Steakhouse Pro-Am. His game is up to the task. The question is whether his back is, too. It's the fourth straight week he will play.
When Woods announced that he would resume his career at Augusta National, he was said to have been hijacking the tournament.
"Tiger returns to hijack the Masters," a headline in the Guardian & Mail read.
"How typical of the man to hijack the world's most famous golf tournament," Oliver Holt wrote in the Daily Mail.
Websites around the world repeated each of these examples (google "Woods," "hijack," and "Masters" and 186,000 entries turn up).
It was nonsense. Woods was an asset to the tournament, heightening interest, even among those rooting heartily against him. Rather than overwhelming the Masters, he simply contributed to it, helping define it as one of the most intriguing in its history.
Ultimately, the show belonged not to Woods, but to his chief rival. And wasn't the Masters better for it, Mickelson prevailing not only against the best players in the world, but against the best player in the world?