News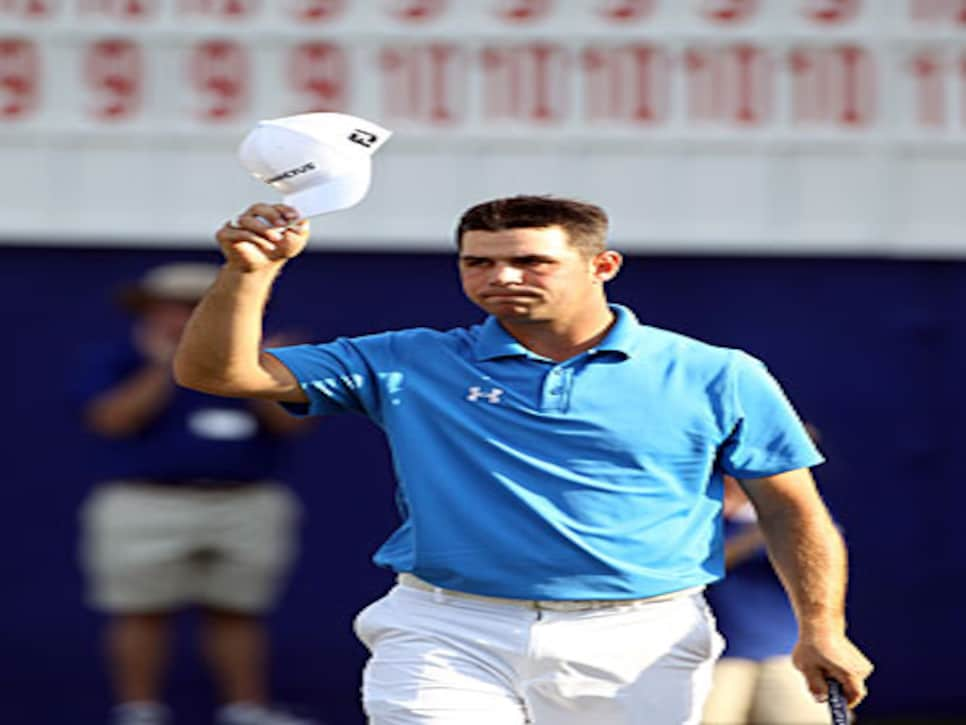 Woodland climbed to 53 in the world rankings.
Gary Woodland is his name and basketball is his game, or would have been had he not been a 6-foot-1 guard at an NCAA Division II school.
Woodland, 26, played a year at Washburn University in Topeka, Kansas. Every two years, Washburn heads to Allen Fieldhouse in Lawrence for a scrimmage with the Kansas Jayhawks, who always win in a rout, 30 points or so in Woodland's experience. He made one of seven shots. He said it was the highlight of his life.
Presumably until now. At the Transitions Championship on Sunday, Woodland put the ball in the hole at a rate that might have earned him a basketball scholarship rather than the golf scholarship he eventually accepted from Kansas. He made everything inside 20 feet, 17 of 17, including a 10-footer to save par at the 18th hole to defeat Webb Simpson by a stroke
He's got moxie. His dream foursome doesn't include Hogan or Nicklaus or Jones, but it does include Self. That would be Bill Self, the Kansas basketball coach, with whom he has played before, at Lawrence Country Club. On the first hole, 359 yards from the black tees, he drove the green and made eagle, according to an eyewitness and old friend, Lawrence Journal World sports editor Tom Keegan.
If Self couldn't intimidate him, what chance did Simpson have? "The tip of the iceberg," Woodland said about his victory Sunday. Given his titanic length, athleticism and a rapidly-improving short game, it promises something special when the rest of the iceberg reveals itself.
No, not Jhonattan Vegas. Las Vegas. Or at least the Las Vegas bookmakers.
Woods, the Masters favorite at 7 to 1 (Phil Mickelson is next at 8 to 1), is still attracting a great deal of action, despite not having won a tournament in 16 months, according to Jeff Sherman, the assistant manager of the Race and Sports Book at the Las Vegas Hilton and the man who sets its golf odds (they can be found at golfodds.com). At the same time, Woods' winless skein has increased betting on other players.
"We're on pace to set another record for golf," Sherman said. Woods' return to competition in 2010, at the Masters, set a record for golf wagering at the Hilton. "Tiger's right up there with most tickets written compared with other players. But we had most of our money taken [when he was] at 4 or 5 to 1. At the same time, with his odds being higher, Nick Watney at 15 to 1, Dustin Johnson at 20 to 1, all these guys in the 15 to 20 to 1 range, a lot of people are taking a lot of chances on these guys.
"The most popular golfers right now, ticket-wise, are Dustin Johnson and Matt Kuchar. There are a lot of golfers with a lot of tickets on them. [Tiger's slump] has really spread it out."
What happens should Woods handily win the Arnold Palmer Invitational this week? Or should he miss the cut?
"Based on that scenario [winning handily], I could see him going down to 9 to 2," Sherman said. "If he misses the cut, the odds could hit 10 to 1."
NBC's Johnny Miller, as usual, was the ringleader.
When he suggested a player's putting stroke got so quick it looked like Paul Azinger's, tweeting went into overdrive.
"Not watching golf but [some] are saying Johnny gave me a plug, others saying a rip. Either way, should I care?" Azinger wrote in his first post on the matter.
"Maybe Johnny [angry] at me cause he heard about the twitter chatter i got going last week when he said he invented Kutcher's [sic] putter?"
One of Azinger's followers suggested that Miller was referring only to his quick stroke, that it wasn't intended as a criticism.
"I hit putts, i didn't stroke them!" Azinger replied.
Another follower said, no, "it was a rip."
"I guess he wasn't referring to the year I led the tour in putting!" Azinger wrote.
Another follower: "how can Johnny talk about putting??? He can't putt one off a ship and hit water."
Azinger: "I bet he could."
NBC's crew has always been good about identifying slow play, albeit diplomatically, as it did again on Sunday regarding Webb Simpson's methodical pace.
"Taking his time, isn't he?" anchor Dan Hicks said on one particular shot.
"It's definitely gotten slower as the day's gone on, Dan," Dottie Pepper replied.
A few moments passed in silence.
"Wow," Miller said finally, breaking the silence, as everyone waited on Simpson.
WATNEY AN ALSO-RAN (FOR A CHANGE)
Nick Watney's run of seven straight top 10s on the PGA Tour ended with an 18th-hole bogey at the Transitions Championship on Sunday. He needed a birdie to get into the top 10, but finished T-13th. Still, he moved past Ian Poulter and into 14th in the World Ranking
FEEL GOOD STORY OF THE WEEK
Scott Stallings is a PGA Tour rookie who was living less a dream than a welcome-to-the-big-leagues nightmare. He was 0 for January and February, missing the cut in the first five PGA Tour events he played before finishing T-42 in the Puerto Rico Open.
In the meantime, he and veteran Kenny Perry had developed a friendship, and Perry used his influence as an endorser of Transitions to get Stallings an exemption into the Transitions Championship. Stallings demonstrated his gratitude by finishing third, his best finish as a touring pro, and earning $374,000.
Karrie Webb, 36, won't be paid for her victory in the RR Donnelley Founders Cup on Sunday, but her talent is still bankable. Webb's 38th career victory was her second in a row. In three starts in 2011, she has finished no worse than a T-3. It's her best three-tournament run since she won the Kraft Nabisco in 2006 and followed with a pair of T-2s.
...is seldom good these days.
First the professional. John Daly missed the cut at the Transitions, his fifth MC in six PGA Tour starts this year (he tied for 65th in the Farmers Insurance Open). He finished 63rd in his one European Tour start (the Commercialbank Qatar Masters).
Now the personal. One of his ex-wives, Sherrie Daly, has written a book about him called, "Teed Off," scheduled to go on sale on April 5, Tuesday of Masters week. Her publisher, Simon & Schuster, posted this about the book on its website: "She dishes on John's out-of-control antics throughout their marriage, many of which she helped cover up to protect his career, and his self-destructive addictions to whiskey, sex, and gambling, which led him to lose one of his biggest purses ever -- nearly one million dollars -- in an hour."
Then there's this: Last week, he signed to represent Dancing Rabbit Golf Club in Philadelphia, Miss. Given his history with gambling, one has to wonder whether even this qualifies as good news. Dancing Rabbit is part of the Pearl River Resort, which features three casinos -- the Silver Star Hotel & Casino, the Golden Moon Hotel & Casino, and the Bok Homa Casino.
took a beating on Twitter last week, particularly from Azinger, who used photos to make the case that so many great players moved off the ball on their backswings:
Azinger: "Pics, Tiger, Seve and Curtis. 21 MAJOR titles! Stack & Tilt?"
Azinger: "Who won more tournaments than Sam Snead? Is he behind the ball?"
Azinger: "Jack Nicklaus in the 60s. 9 top 3s in majors and 6 major wins! Was he behind the ball?"
Azinger: "Was Hogan behind the ball? Is his left knee moving backwards?"
Azinger: "The pics I posted today represent some of the games best ball strikers behind the ball at the top. They played with feel, not video science!"
One of Hank Haney's followers: "Hank who needs your signed book, I already got foley to sign my stack n tilt dvd!"
Haney: "Good one, u don't need a right leg either"
Azinger: "Can someone pls find a picture of a batter, pitcher, boxer, tennis player, lumber jack, etc, staying on front foot during their motion? Thx"
Peter Kostis: "Yea but batter struck out, pitcher walked the side, tennis player double faulted and boxer was knocked out."
ANOTHER STRIKEOUT FOR SMOLTZ?
Former pitcher John Smoltz is an excellent golfer -- as baseball players go. His handicap index is plus 1.5 (though he has not posted a score since April of 2010). Is he good enough to compete professionally?
The answer is no, which he will demonstrate next month, when he misses the cut in the Nationwide Tour's South Georgia Classic that he'll be playing on a sponsor's exemption.
Smoltz's appearance will boost the gate, of course, which is why he was accorded an invitation. But it's a novelty act that no longer is a novelty. Jerry Rice, whose handicap index has been as low as plus 1.1, has played two Nationwide Tour events on sponsors' exemptions. His scoring average in four rounds (two missed cuts): 83.25.
Rice, incidentally, announced last week that he is not through with his professional golf career, such as it is; he will play in the Nationwide Tour's Fresh Express Classic at TPC Stonebrae next month. Alas.
Indicative of how far Sergio Garcia has fallen, his tie for 16th at the Transitions in his first PGA Tour event of the year is regarded as a positive sign...Spencer Levin tied for 44th at the Transitions, his ninth consecutive start. No. 10 will come at the Arnold Palmer Invitational this week, and there's no reason to believe that he won't extend his streak to 11 at the Shell Houston Open the following week (he's played there in each of the last two years). Barring his earning a Masters invitation, his streak is likely to end there...Reigning U.S. Amateur champion Peter Uihlein made a cut for the first time in a professional tour event, finishing T-57 at the Transitions. Uihlein missed cuts in a Nationwide Tour event in 2010 and in the PGA Tour's Buick Championship in 2006.
PGA Tour: Arnold Palmer Invitational at Bay Hill Club & Lodge, Orlando, Fla. Defending champion Ernie Els. LPGA: Kia Classic at Industry Hills Golf Club at Pacific Palms, City of Industry, Calif. Defending champion Hee Kyung Seo.
Tiger Woods and Phil Mickelson will attempt to find some form in advance of the Masters two weeks hence. It will be Woods' last tournament before the Masters, while Mickelson has indicated he will play the Shell Houston Open next week. Woods has won at Bay Hill six times, including the last two he played there. Mickelson has won there once.
Under "Schedule" at JohnDaly.com, it shows that Daly will next appear at the "3rd Annual Merchandise at the Windsor" in Augusta, starting April 5, Tuesday of Masters week. This means that he'll again be hawking Daly merchandise from his motor home, parked in the lot outside Windsor Jewelers on Washington Road.
Wouldn't it be interesting were ex-wife No. 4, Sherrie Daly, whose book, "Teed Off," goes on sale on April 5, to set up at an adjacent site for a book signing?