News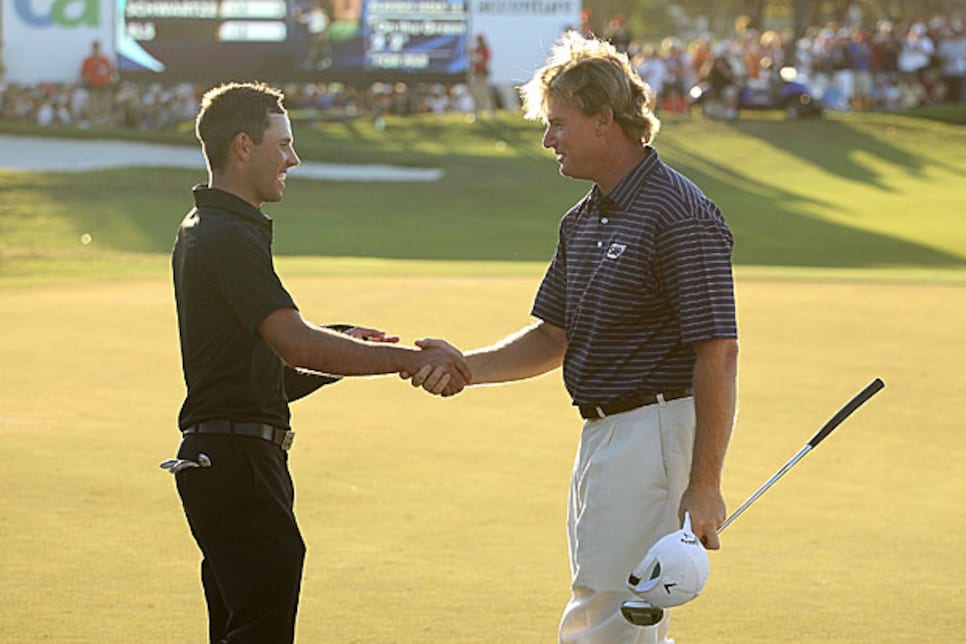 Ernie Els and Charl Schwartzel lead the PGA Tour and European Tour money lists, respectively.
When Tiger Woods was king, the golf world had order. He was No. 1 and nothing else mattered. Then a rogue fire hydrant imposed itself on the game and nothing has been the same since.
Consider this: South Africans now lead the money lists of the two most prestigious tours -- Ernie Els on the PGA Tour, Charl Schwartzel on the European Tour. And anyone holding an exacta ticket with Els and Schwartzel last week would have won large; they finished one-two at the WGC-CA Championship on Sunday.
Two weeks into the Florida swing of the PGA Tour, the Southern Hemisphere is two-up on the Northern Hemisphere -- the winners hailing from South America (Colombia's Camilo Villegas) and South Africa (Els).
Phil Mickelson has been discombobulated by Woods' absence. Mickelson entered the season with high hopes and a rare opportunity to supplant Tiger as No. 1, yet in five starts, he's finished no higher than eighth and has fallen in the World Ranking, to third. Lose your foil, lose your focus.
The game may have been born in Scotland, but the U.S. long ago appropriated it. Now its grip on superiority has become tenuous. It still has 15 players among the top 50 in the World Ranking (including the top three), more than any other country, as it should, given its population and golf heritage. But England, a country of about 51 million, or roughly one-sixth of the U.S. population, has six players in the top 50, which per capita gives it a significant advantage.
This isn't necessarily a troublesome turn, particularly in light of golf's global outreach program. Nor is the PGA Tour in danger of going the way of the LPGA, which has had only a single American winner since May of last year (Michelle Wie, in the Lorena Ochoa Invitational in November). Many of the top international players aren't members of the PGA Tour, which enhances the odds of Americans winning at home.
But it's a strange new world, dominated not by Tiger, but by rumors involving Tiger, two more surfacing last week. One had him returning for the Arnold Palmer Invitational, another for the Masters.
Either way, come back soon, Tiger. The game has no equilibrium without you.
BUT DON'T COME BACK YET, TIGER
You know who does not want Woods to return at the Arnold Palmer Invitational? The LPGA.
The LPGA's first domestic event, the Kia Classic presented by J Golf, is scheduled opposite Palmer's tournament and it has two new sponsors for which it would like to make a favorable first impression.
The LPGA struggles for media attention week in and week out, but against the return of Woods, the Kia Classic at La Costa Resort and Spa in Carlsbad, Calif., might be played in a vacuum.
The WGC-CA Championship might have met its demise on Sunday. CA's contract has expired and it has not indicated that it intends to renew it, though PGA Tour Commissioner Tim Finchem said last week that one way or another, the tournament would continue.
It is one of nine on the PGA Tour, however, without a sponsor in place for 2011.
Then there was this, from Peter Dixon of the Times (U.K.), quoting Chubby Chandler, agent of Els, Lee Westwood and Rory McIlroy, among other prominent international players:
"Sponsorship money is about 50 percent of what it was two years ago. That's for everything. Club deals, hats, the lot. Not only that, but we are having to fight for 50 per cent.
"In the whole of last year, I had no idea what a good deal was. We managed to do a couple with Ernie that turned out to be really good. It's only later that you find out that there is little or no money out there. I was negotiating with Ping for Lee and thought it wasn't enough. And then you make a few inquiries and realize they are bang on the money."
A RIVALRY FIT FOR A HEADLINE
It's much too soon to declare it a rivalry, but the potential is there, and should it evolve into one, it would rank as the best in history for those charged with squeezing it into the tight confines of a headline: Ryo, Noh. Six letters, or eight fewer than Palmer, Nicklaus.
Such a rivalry wouldn't be bad for golf in their respective countries, either, and a new event might foment it. Last week, the Japan Golf Tour announced that a team event, the Hyundai Capital Invitational, will be played in September. It will feature 10-player teams from Japan and South Korea.
There are those already salivating at the possibility of Japan's Ryo Ishikawa and Korea's Seung-yul Noh playing one another.
"A head-to-head battle between the two prodigious talents would be a dream match-up for television stations in Japan and South Korea," Reuters wrote.
The seed of a rivalry already has been planted, for apparent reasons: Ishikawa and Noh are each 18, hail from Asian countries, and hold the potential of stardom.
Noh followed his victory in the Maybank Malaysian Open eight days ago by finishing second in a 36-hole British Open qualifier to secure one of four spots available.
Ishikawa, meanwhile, already has demonstrated his ability to dominate the Japan Golf Tour.
A NOH WIN: AT LEAST ONE MAN SAW IT COMING
India's Jeev Milka Singh proved prescient when he wrote this in the Gulf News in December: "Noh is an exceptional talent, and if the last two years are any indication, the Korean is bound to make his breakthrough this year."
When Noh won the Malaysian Open, Singh followed with this in the Gulf News: "I was so happy to see Korean youngster Noh Seung-yul (win) the European Tour co-sanctioned Malaysian Open ahead of his illustrious countryman K.J. Choi. I have written before in this space how good Noh is. With his second professional win before coming out of his teens, Noh has proved once again that he is a definite star to watch out for in the future."
Here's what not to have happen when you're an Australian playing on a U.S.-based tour that frequents Asia: Passport issues.
"On February 14th in Thailand," Australia's Katherine Hull told Patrick Smith of the Australian, "the photo page of my passport fell out. In a nutshell, my passport was impounded and destroyed. This also destroyed my U.S. visa. I got a new passport. That was an ordeal in itself. Now I have to get a U.S. visa in order to play. Being in Thailand and Singapore, I could not do anything about it and last week I did not give it a high enough priority because I was busy focusing on golf. We are working on it."
SKATE YOUR WAY TO BETTER GOLF
Former tennis star Ivan Lendl is now a golf junkie, whose daughters Marika and Isabelle play at the University of Florida, while a third daughter, 16-year-old Daniela, also known as Crash, is headed to Alabama on a golf scholarship next year.
Lendl also IS an ardent student of the game, as Forbes.com noted here: "Lendl recently did his own informal survey of the parents of girls who hit the ball particularly long. He wanted to know what other sports these kids were involved in. Nine out of 10 of them played soccer or ice skated."
So what did Lendl do with the information he culled? "I suggested to Crash that she start rollerblading," he said, having concluded that leg strength was the key to gaining more power.
Lendl, 50, is heeding his own advice, too. He has begun rollerblading in an attempt to gain distance for his quest to qualify for the U.S. Senior Open this year.
IS THIS PROFESSIONAL GOLF OR AMERICAN IDOL? Online begging is an unseemly way to complete a small field of players vying for $1 million, but a group of golfers was reduced to doing so by virtue of a bad idea: A fan vote.
The LPGA's new Mojo 6 Tournament, scheduled for April 29-May 2 in Jamaica, features 16 players, 15 of them pre-selected. The 16th was to be chosen via vote from a group of 12 players put forth by the tournament, ranging from Amy Alcott, who essentially is retired, to reigning U.S. Women's Open champion Eun-Hee Ji. Voting closed on Sunday.
Several players up for consideration routinely solicited votes via Twitter, and they did so in more than one language. A sampling:
"Last day of voting!!! C'mon we can do it!!! Thank you so much for all the help!!!" -- Sandra Gal
"LAST DAY TO VOTE! Please vote for me one more time at http://themojo6.com/ . Thank you so much for your support!" -- Vicky Hurst
"Quereis clases personalizadas conmigo?? 3 fans lo conseguiran! Pincha en el link para el Mojo6 y votame aqui: http://bit.ly/a83I6D A ganar!" -- Spain's Beatriz Ricari
"Still a couple more days to vote me into the Mojo 6! Need everyone's votes these last two days: http://golftwitt.com/voteforanna " -- Anna Rawson
Rawson has even pledged to donate her earnings to four different charities should she be selected, a nice gesture to be sure. Nonetheless...
Against persistent trolling for votes via Twitter, weren't those who aren't active on Twitter (Alcott and Laura Davies, among them) at an insurmountable disadvantage?
Preferred lies were used again at the Puerto Rico Open, a victim of torrential rain last week. Preferred lies (otherwise known as lift, clean and place) also have been in effect at the Bob Hope Classic, the Northern Trust Open, the AT&T Pebble Beach National Pro-Am and the Waste Management Phoenix Open in this, among the wettest starts to a PGA Tour season in recent memory ... Matt Kuchar hasn't won this year, but he's off to the fastest start of his career. Of the six tournaments in which he's made the cut, he's finished in the top three in three of them, including a T3 in the WGC-CA Championship on Sunday ... PGA Tour rookie Alex Prugh finally missed a cut, at the Puerto Rico Open, after making six straight to open his PGA Tour career ... Tom Kite, 60, shot 73-73 to miss the cut by four in the Puerto Rico Open, his first PGA Tour start since 2008. Kite designed the course, Trump International Golf Club, on which the tournament was played ... Amateur Alexis Thompson, 15, tied for 16th in the Women's Australian Open, 12 shots behind winner Yani Tseng.
PGA Tour: Transitions Championship at Innisbrook Resort & Golf club, Palm Harbor, Fla. Defending champion Retief Goosen. European Tour: Trophee Hassan II at Royal Golf Dar Es Salam, Rabat, Morocco.
The Transitions Championship has assembled a strong field despite its place between the WGC-CA Championship and the Arnold Palmer Invitational. Padraig Harrington, Geoff Ogilvy, Ian Poulter, Sergio Garcia and Japan's Ishikawa and even the Champions Tour's Fred Funk are among the entrants. Alas, so is John Daly, who continues to collect sponsor exemptions that he doesn't deserve.
The Trophee Hassan II, a Moroccan sports mainstay, will be part of the European Tour for the first time. It counts among its past champions Els, Harrington, Sam Torrance and Colin Montgomerie.
From Bo Van Pelt: "I just increased my carbon footprint. It's freezing in Oklahoma. Bring back global warming. I wish I could drive 2 SUV's at once."
We're not here to advocate on behalf of appearance fees, which aren't allowed on the PGA Tour, but doesn't the tour already pay them? Michael Sim, for instance, finished 68th and last at the WGC-CA Championship, for which he received $40,000.
There are no cuts in WGC events. A player could have finished last in all four of them last year and still earned $141,250 for his feeble effort.
Wouldn't these events benefit from expanded fields and a 36-hole cut? Or would golf be too concerned that qualified players might be less inclined to play in all of them if there weren't an ample guaranteed reward?