News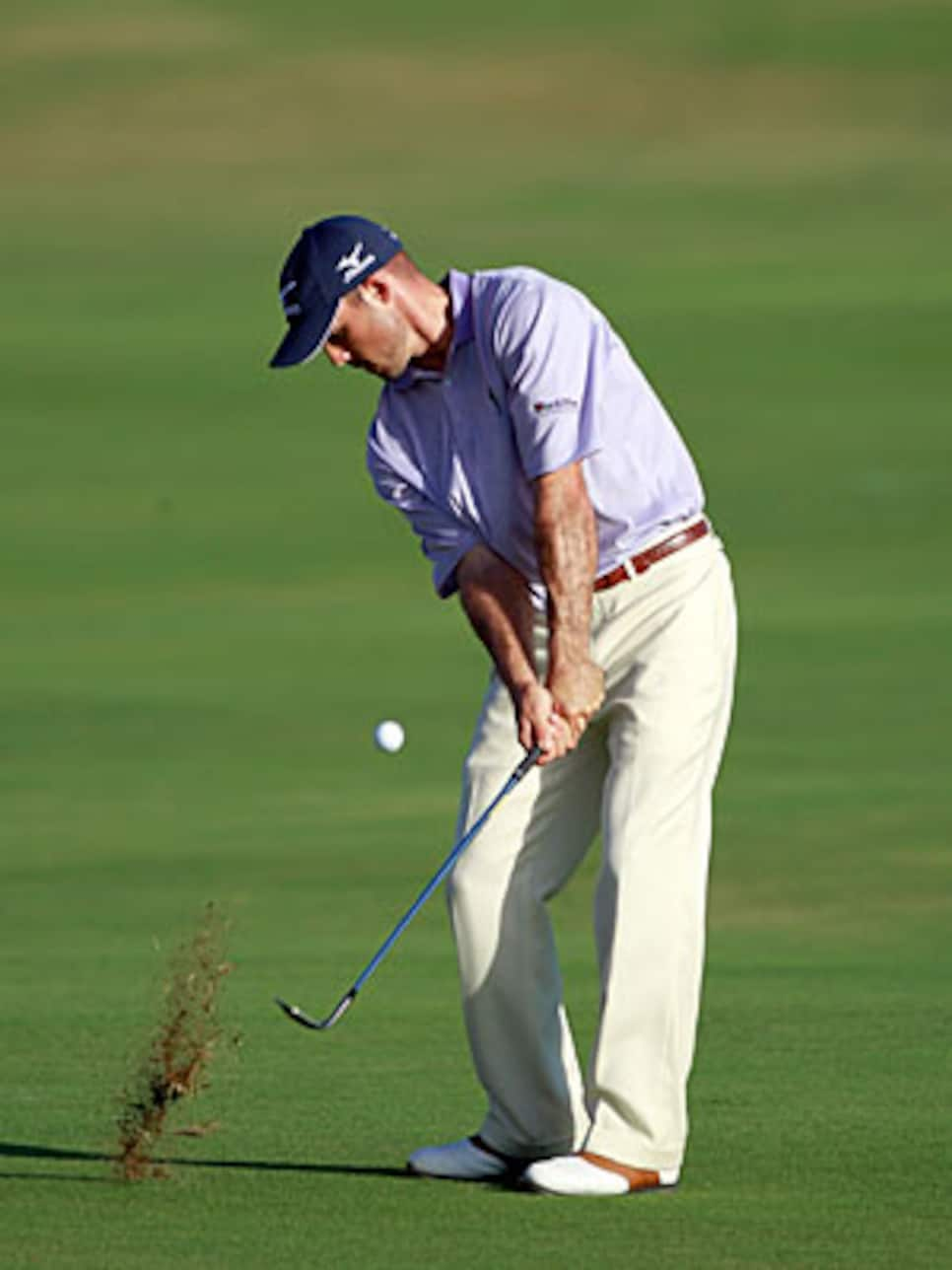 Byrd's swing was compared to that of the legendary Ben Hogan by Nick Faldo during Sunday's telecast.
Jonathan Byrd's model is Ben Hogan, with whom he shares a common stature, 5-foot-9 and unimposing, and a swing borrowed from the legend himself.
"His swing is just so repeatable," Byrd once said. "Who wouldn't want to swing a club like that?"
On the Sunday telecast of the Hyundai Tournament of Champions, the Golf Channel's Nick Faldo was effusive in his praise of Byrd's swing, calling it "Hoganesque" at one point and one that would hold up forever.
on Sunday, it raises a pair of questions:
Why isn't Byrd ranked among the game's elite?
At 32, is he on the threshold of joining them?
The victory was his fifth, but more importantly to the second question, it was his second in a row; he won his last tournament of 2010, the Justin Timberlake Shriners Hospitals for Children Open with a hole-in-one in a playoff. He also has finished in the top 10 in four of his last eight tournaments.
This victory jumped him from 121st in the World Ranking to 58th, earned him a start in the Masters and U.S. Open, and suggests that the potential he brought to the PGA Tour in 2002, when he was its rookie of the year, is coming to fruition.
Byrd's victory at Kapalua was the first by an American since Jim Furyk won there in 2001.
Here's the takeaway from the Hyundai Tournament of Champions: Golf these days has a plethora of players for whom it is easy to root, arguing favorably on behalf of a game that took a hit in the aftermath of Tiger Woods' troubles.
Robert Garrigus, for instance. One who hits the ball as hard as he does is inherently fun to watch, but more to the point, he's genuinely likeable with a story of redemption (from addiction) that begs admiration.
Then there's Graeme McDowell, the reigning U.S. Open champion from Northern Ireland, for whom affection in golf circles in widespread. Throw in Bubba Watson, Dustin Johnson, Rickie Fowler, Lee Westwood and Rory McIlroy and the conclusion is inevitable: The game is in good hands.
ANOTHER SPONSOR GONE MISSING
Just a thought, but Hyundai might regret reintroducing the moniker "Tournament of Champions" to the title of the season-opening Kapalua event. The Associated Press, among others, referred to it as the Tournament of Champions, omitting the title sponsor from the title.
The previous sponsor, Mercedes-Benz, got no such short shrift when it was known simply as the Mercedes-Benz Championship.
TIGER'S NIECE: THE DOWNSIDE
It surely has its advantages, but it isn't always be easy being Tiger Woods' niece while pursuing a career in golf. Cheyenne Woods, 20 and a junior at Wake Forest, encountered one uncomfortable moment while playing in the Harder Hall Women's Invitational in Sebring, Fla., last week, and posted this on Twitter:
"Overheard some old men talking about me today... 'Ya that's the tigers niece girl, I wonder if she parties like her uncle' smh..."
SMH is Internet shorthand for Shaking My Head. Woods, whose father is Earl Woods Jr., Tiger's half-brother, finished second at the Harder Hall tournament, a stroke behind Ashleigh Albrecht.
There has been some talk that Louis Oosthuizen, at 28, might already have fulfilled his destiny, winning the British Open at St. Andrews, sating his desire, to his detriment. "Oosthuizen...already shows signs of being happy with what he has already achieved," Golf World contributor John Huggan wrote.
Or not. Complacency remains at bay for Oosthuizen, now a PGA Tour member who chose to forgo the Hyundai Tournament of Champions to play for the first time in the European Tour's African Open. He won it in a playoff.
Oosthuizen began 2010 ranked 89th in the world, finished it ranked 20th and is now 19th. In other words, he's still moving in the right direction.
, though that would be a logical guess, given the attention they garnered at Kapalua following the revelation that they are now an item. No, we're talking PGA Tour rookie Martin Piller and LPGA rookie Gerina Mendoza, who were married on Saturday.
Piller earned his PGA Tour card by finishing eighth on the Nationwide Tour money list. Mendoza earned her LPGA membership by finishing fifth in Futures Tour earnings.
They're stereotypically -- though unconventionally -- honeymooning in Hawaii. It's a working week for Piller, who is entered in the Sony Open in Hawaii.
Incidentally, former LPGA player Liz Janangelo and former Nationwide Tour player Jason Caron also were married on Saturday.
Jeff Shain of the Orlando Sentinel noted that 11 of the 92 players to have received invitations to play in the Masters are members at Lake Nona Golf and Country Club in Orlando, nearly 12 percent of the field. Among them: McDowell, Ian Poulter and Peter Uihlein, the latter the winner of the U.S. Amateur.
BEST/WORST SHOTS OF THE WEEK
The best (and a candidate for the best of the year) has to be Bubba Watson's second shot from a downhill lie on the 18th fairway, with a driver, from more than 300 yards. Watson hit a low sweeping slice that rolled up to 10 feet of the hole, setting up an eagle 3 in the first round. He was the only player to hit the green in two that day.
"That is an actual carve with a driver, 40 to 50 yards of slice to get it track in on the right spot," Faldo said, he, too, in wonderment.
Watson's reaction? Ho-hum. "In five years on tour I've probably hit it 50 times," he said. "It's a little harder on the downslope."
The worst shot was Jason Day's chunked drive on the 13th hole that traveled 106 yards.
We'll let Paul Azinger (via Twitter) say what you were thinking: "...And it looks like a new hair color for Sir Nick..Blimey!!!"
That was the word employed by Ian Poulter to describe Dave Andrews for having the audacity to keep the game honest. Andrews was the man who brought to the attention of the golf world the fact that Camilo Villegas was guilty of a rules violation
, eventually resulting in Villegas' disqualification.
It began with this Tweet: "Rules violation??? Camillo Villegas on the 15th hole moved a piece of turf (loose divot) as his ball was rolling back towards him. Penalty??"
Among Poulter's other disparaging remarks ("what is wrong with people have they got nothing better to do"), he posted this on Twitter: "Yes the rules r the rules it was a mistake on Camilo's behalf, he didnt know he had done wrong, but people calling in, no 1 likes a snitch."
Later Poulter acknowledged that Villegas deserved the penalty. "Case closed yes he should have been punished but it's a shame it wasn't before he signed his card. Came down to an armchair official," he wrote on Twitter.
Without an armchair official, Villegas would not have been punished for a rules violation. Someone has to "protect the field," using a phrase the game routinely trots out. If it has to be a viewer, so be it.
Poulter tied for sixth, continuing a string of exceptional golf. In his last three official tournaments of 2010, he finished sixth in the Barclays Singapore Open, first in the UPS Hong Kong Open and second in the Dubai World Championship. In two unofficial events in December, he tied for sixth in the Chevron World Challenge and won the Shark Shootout (with Dustin Johnson)...Dustin Johnson was entered in the Sony Open in Hawaii this week, but has decided against playing...Matt Kuchar, who led the tour in top 10s with 11 last year, picked up where he left off, tying for sixth.
From Bo Van Pelt: "My 9 yr old says 'dad, don't ever lose your tour card' I ask why and she says" because Hawaii is awesome and I want to keep coming back!"
PGA Tour: Sony Open of Hawaii at Waialae Country Club, Honolulu. Defending champion Ryan Palmer. European Tour: Joburg Open at Royal Johannesburg and Kensington Golf Club, Johannesburg, South Africa. Defending champion Charl Schwartzel. Hooters Tour: Bridgestone Winter Series tournament at Deer Island Golf Course, Tavares, Fla.
Champions Tour veteran Dave Eichelberger, 67, will play in the Sony Open, by virtue of his victory in the Aloha Section PGA Professional Championship last September. Eichelberger last played a PGA Tour event in 2004, the Sony Open, at the age of 60.
LPGA star Brittany Lincicome is entered in the Hooters Tour event. Lincicome, who finished third in another men's event on the Moonlight Golf Tour last week, is simply looking for competitive opportunities in preparation for the start of the LPGA season next month in Thailand. "Tee times are out for my tour this week," she posted on Twitter. "I'm even more nervous now. No turning back!"
"I'm a dinker compared to him." -- Bubba Watson on Jamie Sadlowski, who won a long-drive contest with Watson, Robert Garrigus and Dustin Johnson last week with drives that measured 402, 394 and 407 yards.
When the LPGA schedule was released last week, it featured 25 tournaments, one of them, the RR Donnelley LPGA Founders Cup, that will be played without prize money, the entire purse, $1.3 million, going to the LPGA's in-house charity.
It's the right idea at the wrong time. This is a tour wracked by the economy and providing a limited number of playing opportunities for those who don't star. Only 70 players earned $100,000 or more last year. For those who didn't (and even for those at or around that number), whatever they might have earned in the Founders Cup, whether it's $2,500, $5,000 or more, isn't pocket money. It's living expenses.
Asking them to forfeit it in a tough economy doesn't seem right.