News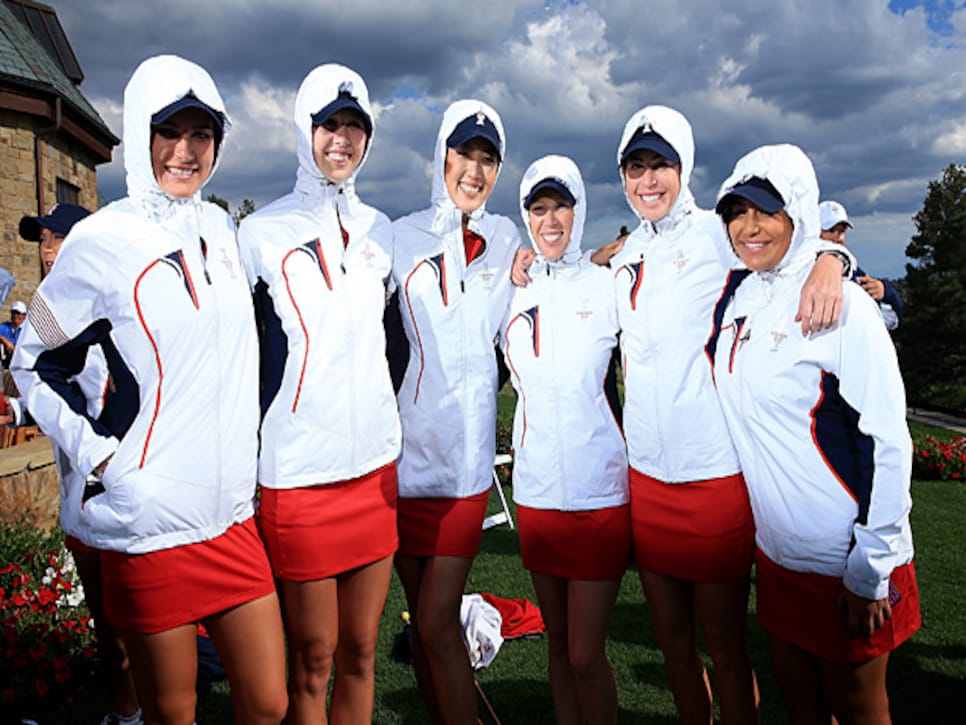 The talk going into the 12th Solheim Cup at Killeen Castle in 2011 was muted but persistent. The event, in the form it existed, was in trouble.
With the United States having won three consecutive competitions rather handily it was time to bolster the European team with reinforcements from Asia, Australia and other nations not eligible for the Solheim Cup, some said.
But in one hour of competitive brilliance that matched any other 60 minutes in the sport that year -- and in most other years -- Europe not only won, but it saved the event as a competition against the United States.
When the blue and gold side took three and a half of the final four points for a 15-13 victory to raucous hometown-side cheers and capped it with a wild celebration, it was clear the Solheim Cup had come of age and needed to be left alone.
Instead, the LPGA created the International Crown, an eight-team event in non-Solheim Cup years starting next year in which four-person teams qualify based on Rolex Rankings points.
If the International Crown were to be held today, the teams qualifying would be the United States, Britain, Spain, Sweden, Australia, South Korea, Japan and Taiwan.
So that takes care of that problem: The rest of the world will have a team event and it won't come at the expense of the Solheim Cup.
But the International Crown is not going to be played today, or this week. The Solheim Cup is. And if Europe wants to prove it is really ready to make this a ball game, it can do what it has never done -- win in the United States.
That effort will begin Friday at Colorado Golf Club outside Denver. And the assault will be made by an unprecedented number of fresh faces.
This is truly a changing-of-the-guard year for both teams -- the United States has four rookies to go along with grizzled vets Michelle Wie, 23, Morgan Pressel, 25, and Paula Creamer, 27.
Liselotte Neumann will have one of the most challenging jobs of any captain ever as she tries to figure out how to hide, exploit and manipulate her inexperienced European team.
Gone are Laura Davies and her 12 Solheim Cup appearances and Sophie Gustafson and her eight.
Neuman's most-experienced Solheim players are Suzann Pettersen and Catriona Matthew, each with six appearances. And they have put those appearances to good use: Pettersen is 12-8-5 and Matthew 12-7-6.
No one else for Europe has appeared more than twice. Anna Nordqvist has played in two, while Karine Icher, Azahara Munoz and Caroline Hedwall have each been in only one Solheim Cup.
What Neumann has is a talented but unproven Kiddie Corps. Her Solheim Cup rookies are Carlotta Ciganda, 23; Caroline Masson, 24; Beatriz Recari, 26; Jodi Ewart Shadoff, 25; Charley Hull, 17; and Giulia Sergas, who will be 34 in December.
The European side also represents a changing of the guard in another way -- more and more players are coming from the continental mainland.
Matthew is the only Brit who qualified for the team off either the Solheim Cup points list or the Rolex Rankings. Both Shadoff and Hull were captain's picks.
Meanwhile, Spain has Ciganda, Recari and Munoz; Masson is German; Sergas is from Italy; and Icher is from France, joining the Norwegian Pettersen and a pair of Swedes, Nordqvist and Hedwall.
How can Europe pull off a victory in the U.S.? First, its big players need to come up big. Pettersen, Matthew and Nordqvist must win a majority of their points.
Secondly, Europe must get off to a fast start and build up a lead in foursomes, which they have always dominated, and four-ball before Sunday's singles.
An early lead might silence what's expected to be a loud and rowdy home crowd.
The Americans are also going through a bit of a transition. Juli Inkster and he nine Solheim Cup appearances will not be competing.
The most-senior player for the U.S. side is Cristie Kerr with six. Creamer and Angela Stanford have four each; Pressel and Brittany Lincicome three; Wie and Brittany Lang two and Stay Lewis one.
The rookies on the American side for captain Meg Mallon are Lexi, Thompson, 18, Jessica, Korda, 20, Lizette Salas, 24, and Gerina Piller, 28.
Mallon's two captain's picks were Piller and Wie with Michelle by far being the most controversial. Left off the team, and ahead of Wie in the points race was Jennifer Johnson, who won an LPGA event this year.
But Wie, as weird as it is to say about a 23-year-old, brings experience to the team and with a 4-3-2 record has played some of her best golf in the Solheim Cup.
One oddity of the event is that a father/son duo will be working against each other. Worth Blackwelder loops for Kerr and his son, Myles, caddies for Shadoff. Wouldn't that be a fun match?
If the name Blackwelder sounds familiar that's because Worth's daughter, Mallory, was on The Big Break, and his wife, Myra, was LPGA Rookie of the Year in 1980 as Myra Van Hoose.
The fun starts Friday and if you have never tuned in to or attended a Solheim Cup, you should. There is a special intensity to this event. It is as if the Ryder Cup has met the movie "Bridesmaids."
It's wacky. Creamer and others will have flag decals on their faces, and when's the last time you saw Tiger Woods do that?
The fans for Europe -- and reportedly thousands are coming -- will sing and chant witty songs and slogans as if they were at a football match -- oops, soccer game.
The Solheim Cup may have been on the ropes when it went into Killeen Castle, but it was just fine, thank you very much, when it came out.
Now Europe tries for that elusive victory on American soil. Can this be 1987 all over again for Europe? That's when the European Ryder Cup team won in Ohio to back up a triumph the year before – and things have never been the same in the event.
Expect to see that Ryder Cup intensity -- and much more -- this week at the Solheim Cup.