News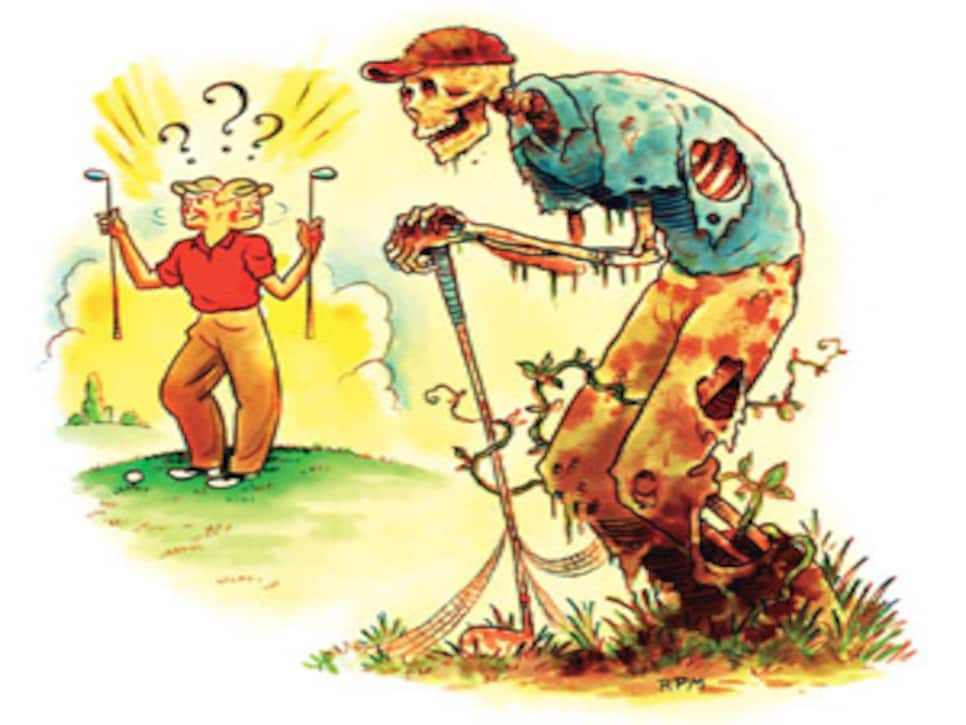 Of the thousands of rounds of golf I have witnessed in my 26 years as a sportswriter, one of my all-time favorites was the 18-hole playoff between Annika Sorenstam and Pat Hurst for the 2006 U.S. Women's Open at Newport Country Club.
That it was Sorenstam's 68th LPGA victory, 10th major championship and third Women's Open title was impressive enough, as was the near-flawless one-under-par 70 she shot in the Monday finish to win by four strokes.
But what has really stuck with me all these years was this: Sorenstam and Hurst, playing for the national championship in women's golf, covered 18 holes on an extremely difficult golf course in 3 hours and 20 minutes.
Now think back to that Monday finish at Torrey Pines a couple weeks ago and remember that the final group featuring Tiger Woods needed 3 hours and 51 minutes to play the last 11 holes.
If for no other reason, that stark contrast is why anyone who cares about the game of golf should be celebrating the fact that USGA president Glen Nager made improving pace-of-play a centerpiece of his speech at the governing body's annual meeting in San Diego.
Taking on this crucial issue is a sign that the USGA has come to understand that it must be involved not just in its traditional role of governing the game, but that it must also be involved in growing the game.
Participation has been flat, at best, for a decade, and the time it takes to play 18 holes is right up there with price and the game's sometimes lukewarm embrace of new players as one of the reasons as many people quit the golf each year as take it up.
In a session with reporters before the annual meeting, Nager said slow play "has now become one of the most significant threats to the game's health" and that six-hour rounds "threaten to drive players away from the game."
Certainly, one of the impacts of the Great Recession is that all of those who didn't lose their jobs are working harder than they ever have, putting in longer hours and wanting to use the time they have away from work to be with their families and not stuck behind the foursome in front moving at a snail's pace.
"Slow play is incompatible with our modern society in which our personal time for recreation has become increasingly compressed," Nager said. "Slow play drains enjoyment from the game and discourages participation."
Amen, brother. But what can be done to fix it?
The USGA initiative will focus on four key areas:
Course design: This includes the overall length of the course, the distance to walk from greens to the next tee, and the location and number of hazards. A nice idea, but it can't fix the bad courses built for carts in the 1990s.
Course management: Green speed, hole locations and the height of the rough are factors here. Not all greens need to be running at an 11, not all holes need to be cut on the edge of a ridge and not all rough needs to hide your shoes.
Player management: Forget seven minutes between tee times and opt for 10 or 12. Maybe you lose some revenue in the short run, but if it means not driving away those already playing and maybe attracting new golfers, the deficit will soon be an asset.
Player behavior. This might be the hardest to control. How do you get people using the proper tees? How do you get the 18-handicap to not play from the tips? Maybe create a financial incentive, like cheaper green fees for playing from shorter tees. Or maybe a strict handicap rule for each set of tees.
Nager said the USGA "must also work to promote the nine-hole round as a complete and enjoyable golf experience." Certainly, one of the staples for growing the game -- the nine-hole league -- has been ignored in recent years. We need to get back to that.
While the USGA can work to take the slow-play message to the masses, it is going to need help from the professional tours. Many recreational players learn bad habits by watching the endless pre-shot routines of tour players on TV.
And while the LPGA goes on its occasional flurries of issuing slow-play penalties -- just ask Morgan Pressel -- the PGA Tour hands out penalty strokes at a glacial pace, the last being issued to Glen Day in the 1995 Honda Classic. Is there any reason to think the tour will crack down on slow play?
"We had commissioner [Tim] Finchem here yesterday," said USGA executive director Mike Davis. "He is very supportive and wants to be a partner and work together on this."
That's one of those time-will-tell things. Basically, the tour lets the tail wag the dog on many issues, including slow play. There is a reluctance on the part of the commissioner -- who, unlike the heads of the teams sports doesn't have a collective bargaining agreement with the players -- to infringe upon what we are constantly reminded are independent contractors.
But these are guys, and in some cases gals, who are making millions of dollars. They need to be held accountable for the overall health of the game of golf.
Here's my suggestion: Each week the tours should publish a list of the 10 slowest players. The PGA Tour does not make disciplinary actions public -- independent contractors, remember -- and I think that is a huge mistake. We only found out about the multiple disciplinary actions against John Daly when he sued a newspaper and in a countersuit, the paper got his personal file released.
I think a very effective way of modifying bad behavior is public humiliation. I'm guessing a player's endorsement partners won't be happy if one of their guys -- or gals -- appears on a slow play list.
And then there is the misconception that playing slower will make you score better because you are being more careful. There is simply no evidence to support that notion. In fact, many times when a player is put on the clock they start to do better.
Two years before Sorenstam won that Women's Open at Newport, Meg Mallon took home the trophy at the 2004 U.S. Women's Open at The Orchards in South Holyoke, Mass. As Mallon sat in the post-tournament interview room, she made this observation about Annika, who finished second.
"I hope young players, and their coaches, pay attention to the fact that the best player in the game is also the fastest player in the game." Amen to that, sister.
Except for her caddie from 1999 through 2008, Terry McNamara, I probably walked more holes with Sorenstam than any other human being. She was the most meticulous, most prepared player I ever saw.
And one of the fastest. There is a lesson in there for both recreational and professional players. Without a serious effort to take on the pace-of-play issue, golf will die a slow death. Good job, Glen Nager. Now back up your words. Time is running out.