News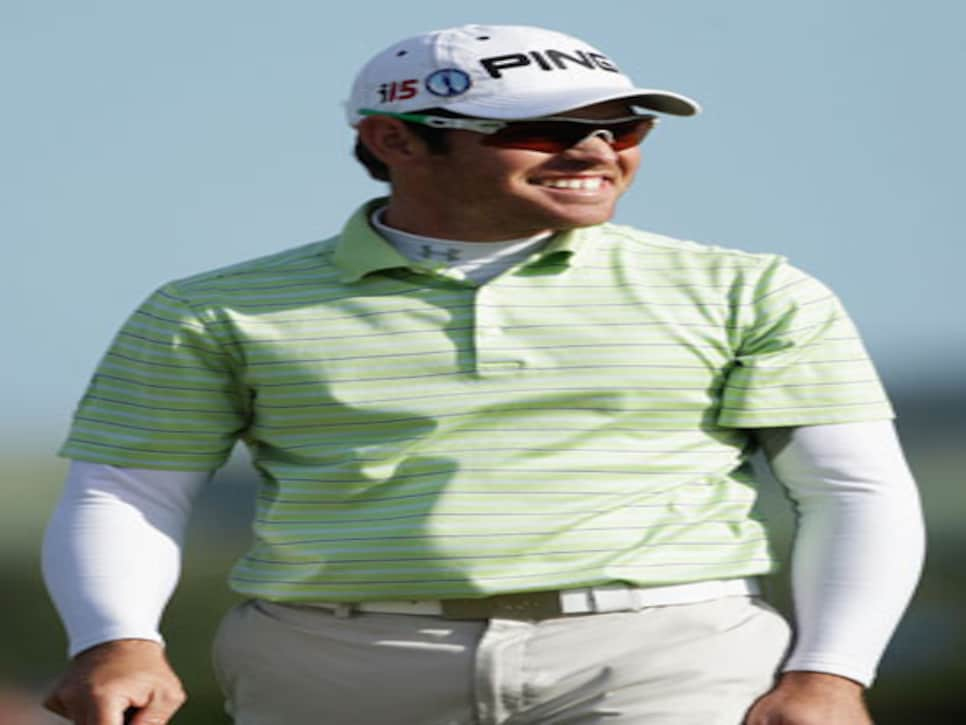 Casey will start the final round four shots off the lead. No one else is closer than seven shots behind.
ST. ANDREWS, Scotland -- Louis Oosthuizen looked like a world-beater Saturday on the Old Course, showing the kind of shot-making ability and composure needed to win a British Open. A rather brilliant and apparently nerve-free 69 gave him a four-stroke lead over Paul Casey going into the final round.
And in the process of building up that advantage, the 27-year-old South African displayed technique so solid you've got to like his chances to take home the claret jug -- except for this: Stars are not born on Saturday at a major championship. That's a job for Sunday.
Just ask Dustin Johnson. Remember how solid he looked in the third round of this year's U.S. Open at Pebble Beach as he amassed a three-stroke lead only to collapse to an 82 on Sunday, the downward spiral beginning with a triple bogey on No. 2?
And how about Aaron Baddeley, who looked unbeatable in the third round of the U.S. Open at Oakmont in 2007 when he opened a two-stroke lead, and then unraveled to an 80 on Sunday that commenced with a triple bogey on the first hole?
And don't forget the immortal Jean Van de Velde, who took a five-stroke lead into the final round of the 1999 British Open at Carnoustie and closed with a 77 -- including that memorable 7 on the final hole and lost the title to Paul Lawrie in a playoff.
The history of major championships is full of players who produced great efforts through three rounds, only to melt under the heat of Sunday pressure. Like that trio, Oosthuizen has shown no cracks in his game up to now to make you think he will spit the bit on Sunday. Unlike the other three, he just might be able to pull it off.
"I'm really looking forward to tomorrow," said Oosthuizen, who spoke with a calm that belied his lack of experience in situations like this. "I'm swinging it nicely." Then he applied some rather mature perspective.
"It is not everybody who gets the chance to play in the last group of the Open Championship," he said. "I'm just going to go out and enjoy the moment."
One of the things that could work to his favor is that not only has Oosthuizen no experience closing out a major championship victory, almost everyone trying to catch him is equally untested. Of the top 17 players after 54 holes -- those within 11 strokes of the lead -- only Retief Goosen at 211 -- 10 strokes behind Oosthuizen's 15-under-par 201 -- has won a major championship.
If the first three rounds have been buffeted by wind, the final round could very well be shaken by nerves -- or both. While Oosthuizen has been rock solid up until now, there always lurks the chance that Sunday could turn into a demolition derby if he makes a mistake early that lets others into the hunt.
On this blustery Saturday when wind gusts hit 34 mph, Oosthuizen handled the pressure with utter calm. For most everyone else, the only safe place to be was in the clubhouse. That was the one place where the wind couldn't reach you.
Henrik Stenson found that out when he posted a 67 early and then watched his name move up the leader board as he finished at 209. The same was true for Martin Kaymer after he completed a 68 to get in at 208. They ended up poised right behind Casey's 205.
"It wasn't as bad as yesterday, but it really picked up, I thought, and the gusts were extremely strong, and it's really difficult to putt more than anything, especially on a few of the exposed holes," Stenson said about the playing conditions tamed by Oosthuizen. "It feels as if the wind is trying to rip your pants off, and that's not a good thing."
Coming into the third round, Oosthuizen led at 12-under par followed by Mark Calcavecchia at seven under. Casey was at six under along with Lee Westwood, Alejandro Canizares and amateur Jin Jeong. None could match Oosthuizen's 69 in which his only bogey came when he three-putted No. 1.
"I had a quite a bit of nerves on the first hole, which was apparent when I hit that first putt 10 feet past," Oosthuizen said. "But I made two good par saves on the first six holes and probably left some strokes out there."
Everyone was leaving strokes out there. Tiger Woods, who started the day four-under par, had his second consecutive 73 and was 12 back at three under. This was to be an important year for Woods in his pursuit of Jack Nicklaus' record of 18 professional major championships. Woods had won half of his 14 majors on Augusta National, Pebble Beach and St. Andrews, but this year apparently won't win on any of them.
Realistically, who has a chance to catch Oosthuizen? Well, that's pretty much up to him. Casey at four back certainly has a chance to put pressure on him early in the round and perhaps start a slide that will let other's get into contention. But Kaymer is seven back with Stenson, Westwood and Canizares eight strokes off the pace -- and that's a lot of ground to make up.
No one else even need be considered. While it was true that Lawrie erased a 10-stroke deficit when he fought his way into the playoff with Van De Velde and Justin Leonard with a 67 on an extremely difficult Carnoustie course, it was only made possible by the 77 from the Frenchman.
Those chasing Oosthuizen are going to need similar generosity from him. And, on Saturday at least, he displayed no indication we was going to be in a giving mood in the final round. Then again, Sunday is certainly not Saturday -- especially when you are trying to close out your first major championship victory.