News
Back To The Drawing Board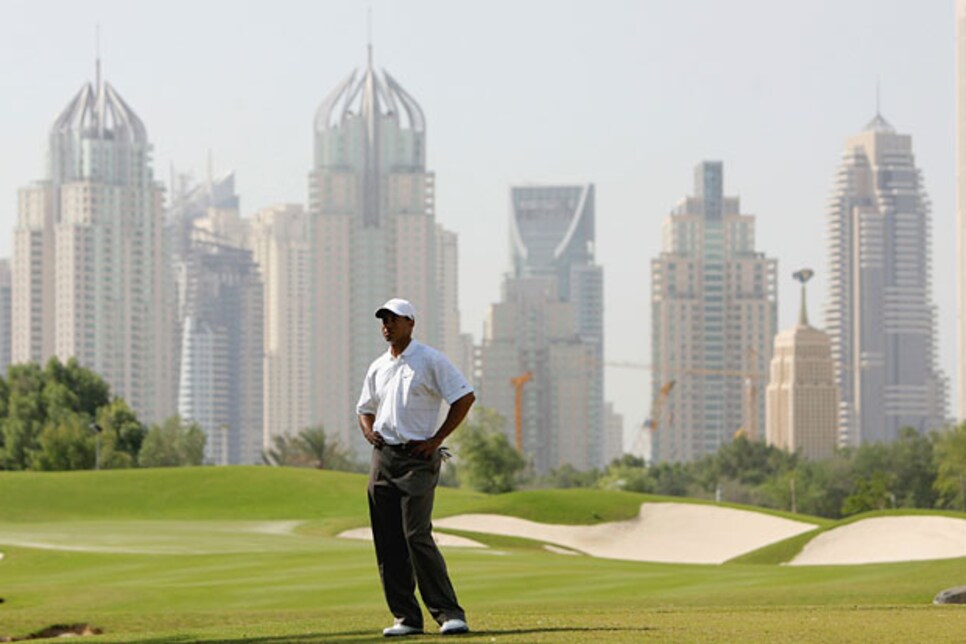 Woods has spent a lot of time in Dubai, the site of his first design project.
The last thing you need right now is unsolicited career advice. So here's some more!
Unlike successful player-architects Jack Nicklaus, Ben Crenshaw and Tom Weiskopf, you dove head-first into the course architecture business instead of first apprenticing with an established designer. In November 2006 you launched your architecture firm and a month later announced the ambitious Al Ruwaya project. Today that "Dubailand" layout consists of three partially constructed holes and little sign of serious progress. Your other two big-budget projects -- for The Cliffs in North Carolina and Punta Brava near Ensenada, Mexico -- also face challenges because of the global economic crisis.
So after the paparazzi move on and your major chase recommences, you'll need a creative outlet to rebuild your image and more importantly, your soul. That's why it's time to hit Control-Alt-Delete on Tiger Woods Design.
The days of lavish "signature" designs are gone. Even before the events of Nov. 27 (and beyond), your design career would not have progressed due to exorbitant compensation packages -- reported to be as high as eight figures -- along with the staggering price tag associated with the ambitious sites you chose. There will only be a handful of such future design jobs, and they won't be coming to you.
To kick off this reboot, you should hang out with designers you respect, learning the tricks of the trade. If all goes well, one of these architects will involve you in a project where you can learn about construction, offer a few ideas and, say, influence politicians on a revitalization project that gives back to a community. Lord knows we have no shortage of rundown courses in need of freshening. Throw your weight behind saving San Francisco muny Sharp Park or sprucing up an Air Force-base course before taking a tournament there.
This, however, means no more staged design visits showing up in your freshly pressed slacks, and most definitely no HD film crews in tow. I'm talking about real golf course design, the kind player-architects such as Crenshaw or Weiskopf practice: blue jeans, old golf shirt, faded cap and lots of time walking in the dirt, connecting with the land and talking to shapers with names like Jimbo and Scooter.
Anyone who has practiced golf architecture with even a shred of passion will tell you the most fulfillment comes from those days wandering a site, learning the wind, the scents and coming in contact with wildlife. That's followed by the joy of taking the canvas -- whether it's a new project or the renovation of an existing course -- and watching the design progress unfold, followed by the reward of hearing what golfers have to say about your vision.
"You leave a bit of your philosophy behind when you build a course," Crenshaw says. "It's a part of you and, in some ways, a reflection of the way you treat people."
Tiger, deep within your soul is a noble desire to impact the lives of young people and the disadvantaged. And though the Tiger Woods Foundation is doing wonderful things, it gives surprisingly small amounts of money back to the game you love. While I get the concept of doing something bigger and beyond the reach of golf, as a damaged spirit, it's time to reconnect with the child-like creativity you once demonstrated.
Thanks to Jaime Diaz's underrated 2002 book An Enduring Passion, many of us have seen the 18-hole course drawing you made as a 9-year-old, as well as the 1986 Golf Digest "Armchair Architect" entry your father mailed in just a year later. The detailed drawings suggest perceptive and imaginative early expressions of the creative golf genius we would soon come to know. (Well, kind of get to know.)
Your personal and public salvation lies not in new endorsement deals or even in majors won. This is about reconnecting with the game you love, the outdoors and -- brace for impact here -- people. The best way to reclaim a sense of who you are and what you mean to the world is through the wondrous, bizarre and sometimes mystical art of golf course design.
With all due respect to Brit Hume and his suggestion that salvation lies in an overnight conversion to Christianity, your religion is Golf. And despite everything that's gone on, your fellow parishioners will embrace anything you do that's in the best interest of our faith.