News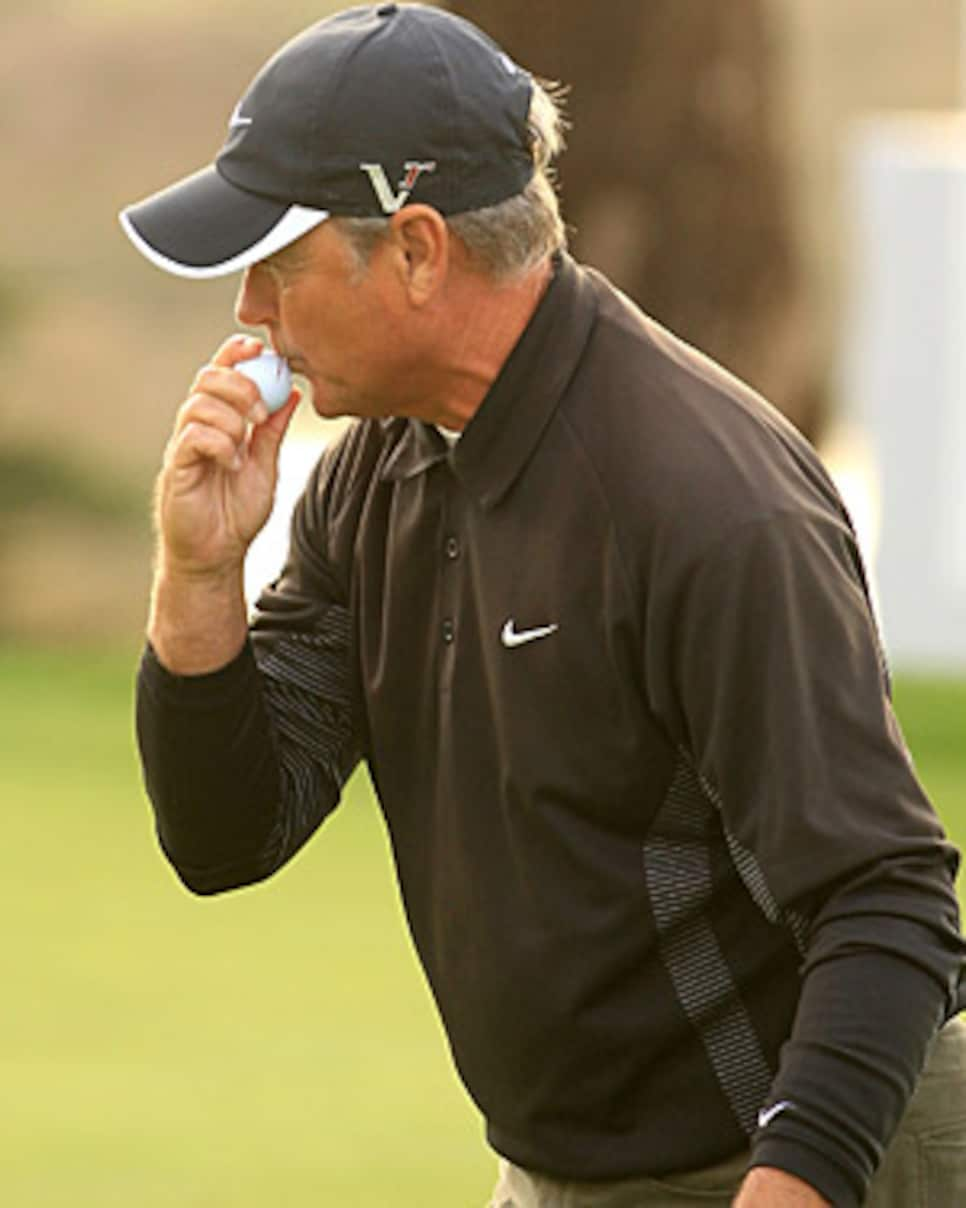 Cook's fifth career Champions Tour win came at a familiar time of year.
SAN FRANCISCO -- The Champions Tour season will end a couple of weeks earlier in 2011 than it did this year, but it still won't conclude until autumn, when the leaves are falling and John Cook
's game is rising, so that will be fine by him. Golfers are a quirky lot, favoring tournaments held on courses where the holes fit their eye, the grass suits their putting stroke and, it's not unheard of, even where the locker room buffet satisfies their taste buds. Cook sprinkled his 11 PGA Tour victories around the calendar, but since his 50th birthday, all that seems to matter is that the event is held in the fourth quarter. Then there is an excellent chance he will be the person finishing first.
, a new name for an old course, was certainly no surprise. He had won the season-ending tournament in 2009, when it was contested not too far away in Sonoma, Calif., and his other three previous senior victories also had come in the fall. If Cook were an NFL team, he would be a Super Bowl contender every year -- in October and November, not only does he have a quintet of wins but 10 top-10 finishes, 33 of 48 rounds in the 60s and is a cumulative 103-under.
"I guess when I have a birthday, it means I'm getting a little closer to the end," said Cook, who turned 53 on Oct. 2, "so I guess it whips me into shape."
The $440,000 winner's check, late though it may be, wasn't a bad birthday present although fall's guy wasn't thinking about the money. After months of playing well and not collecting a trophy while others -- notably Bernhard Langer, who earned five titles en route to the Schwab Cup points title, and Fred Couples, a four-time champion -- were getting it done multiple times, Cook needed a victory.
"If I had gone through this year without a win, it would have been disappointing to say the least," Cook said. "I was happy, of course, about playing well and being competitive, but people remember who [the] champions are, and it's about winning out here."
The hurdles to winning on the Champions Tour, in their most basic forms, aren't any different than on any other stage. Someone beats you, or you beat yourself. Langer did the former to Cook in a playoff at this year's Allianz Championship, when he holed out a difficult shot from a greenside bunker. As with any golfer who has been around for a while, Cook has cost himself dearly, too.
"I didn't finish like a champion," Cook said at the 2009 Jeld-Wen Tradition after he hit a loose approach to the 72nd hole, made a bogey then lost the playoff to Mike Reid. The previous year, at the Senior British Open, he had bogeyed the final hole then was defeated in a playoff by Bruce Vaughan. Cook sabotaged his best chance to win a professional major championship, in the 1992 British Open at Muirfield, by following three consecutive birdies with a missed two-footer for birdie on the 71st hole, then pushing a 2-iron approach and making bogey on the 72nd hole to lose by a shot to Nick Faldo.
Whatever golf demons Cook might have to suppress from time to time, they were outmanned at Harding Park by an abundance of good shots and good karma. The muny is where his friend and for decades, instructor, Ken Venturi, the 1964 U.S. Open champion, learned to play and was a local legend -- shooting a couple of 59s in money games and co-holding (with Colin Montgomerie) Harding's competitive course record of 64, which Cook matched in the first round. Cook, who was just a young teenager when he began taking lessons from Venturi, heard plenty of Bay Area lore along with a steady dose of fundamentals.
But sometimes golf isn't merely about grip and alignment, and it wasn't for Cook on Sunday when he was busy trying to make up a one-shot deficit after 54 holes to Allen, who put up a stunning 61 Saturday. "His voice was in my head all day long," Cook said of Venturi's influence. "For some reason, it just clicked in. I had a little extra. It was quite a walk."
It was a walk in which Cook remembered something Venturi often said to him. "Play like I'm standing behind you," mentor would tell student when student had a chance to win. "When he was behind me," Cook said, "I knew what I needed to do to make a good golf swing. And that was pretty much it."
On the back nine Sunday, golf's proving ground, Cook showed his mettle a few times. At No. 10, he sank a 10-footer for birdie right after Allen drained one three times that long to pull into a momentary tie. At No. 18, putting for par from 15 feet with Allen, two back and a little closer for a birdie attempt, Cook poured it in. "I was going to bury that thing," Cook said. "I just knew it. I knew I had to make it."
He might really have won the tournament, though, on No. 16, a par 4 which was only playing a teasing 274 yards. Allen drove it into a bunker, about 60 feet from the flagstick, but he was unable to get it up and down. Cook's tee shot finished slightly short and right of the green, about 75 feet from the hole. You didn't need to have been a pupil of Venturi's to know what the shot was there. How many times, in his instructional tips over the years on CBS, did Venturi counsel viewers to abandon risky carry for reliable roll around the green?
"Get the ball on the ground and hook it in there," said Cook, who used an 8-iron, executing the most beautiful pitch and run, emphasis on the run, to a foot for a tap-in birdie. "No joke, his voice was in my head all day."
And Cook was listening, closely.