Finding Peace On The Road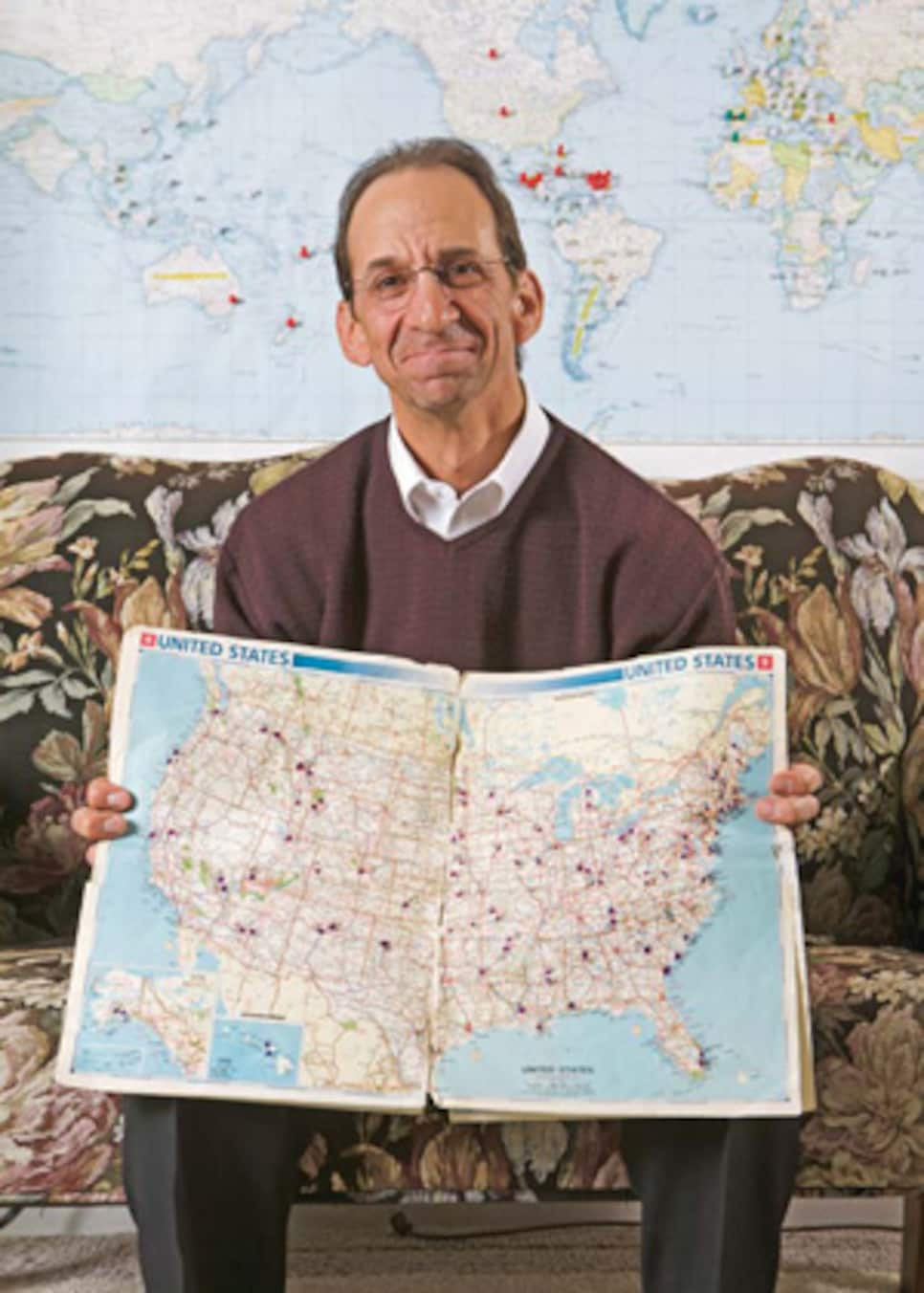 After rounds in all 50 states, Weinstein is heading abroad.
On the afternoon of May 3, 2005, my wife was driving our two sons to an orthodontist appointment. As her Honda Accord waited in the left-turn lane, a Yukon Denali going 70 miles per hour, driven by a man with a .43-percent blood-alcohol level (that's more than five times the legal limit in Michigan) slammed into them from behind, killing them all instantly. Judy was 49, Alex was 12 and Sam was 9.
The driver was convicted of three counts of second-degree murder and is serving a sentence of 19 to 30 years. I filed a wrongful-death lawsuit against his employer, claiming the company allowed him to leave work intoxicated. The defense said the man was a recovering alcoholic and had hidden his relapse from co-workers and supervisors. The jury didn't rule in my favor, but in the end I was granted one face-to-face meeting with the man. The first thing I thought to ask was how his children were. He said he hadn't seen his son since the crash because the jail didn't allow minors inside.
"I haven't seen mine, either," I said.
My wife used to say, "You have to live life with something out in front." Like a lot of men, what was always in front for me was raising a family. But suddenly I didn't have one. Four months after the crash, my jewelry store of 20 years was destroyed in an electrical fire. I spent the next year rebuilding. Sometimes after a hard day, I would walk through my front door and shout, "I'm home!" to an empty house. Needing an outlet to relieve my stress, I started exercising. Instead of having me count for each repetition, my trainer had me memorize the 50 states. I learned them alphabetically as well as the order in which they joined the Union. From this unlikely source an idea germinated. Why not visit all these states?
Judy, who was my business coach as well as my wife, used to say I should be so successful that I could play golf every day if I wanted. Thinking of her words, I set the following rules for my golf road trip: I'd play at least two championship courses in all 50 states, and I'd never play as a single. I'd have enough alone time behind the wheel.
I started on New Year's Day 2007 and finished that September. The meandering of my route defies retelling in limited space. I circled back through my hometown of Farmington Hills, Mich., nine times, logged 42,000 miles on the used 2003 Infiniti G35 I bought shortly after the crash, and flew only to Hawaii and Alaska. I stayed at Hampton Inns, ate at roadside diners, surfed local radio stations and dog-eared my copy of Golf Digest's Best Places to Play. I went from a 14-handicapper to an 11. In all, the tab on my AmEx card was about $70,000. I tried not to pay too much attention to the cost. The goal was to think about other things. I called my store once a week. When you have a great staff, you don't have to be present.
I teed it up with some friends and relatives along the way, but the routine was to ask the starter to pair me and then wait on the putting green. Invariably, chance golfing partners will ask a little about each other. So I'd talk about my trip.
Telling of the loss of my family over and over proved the ultimate therapy. When you share a painful story almost daily, somewhere along the line that story loses some of its charge. However, I learned to wait until the 18th tee; if I told my story too early, it could make people uneasy and they'd treat me differently during the round.
I met so many good people, and I'll stay in touch with several of them. One particularly reaffirming moment happened one morning in June 2007 when I was reading a newspaper in a hotel lobby. The birth of Tiger Woods' first baby, Sam Alexis, was announced. Same names as my boys.
Who I am now is more than what happened to my family. I am more than my circumstances. So what's next for this 53-year-old? I'm going to play my favorite game in 100 countries -- I've already got 16 crossed off. I am honoring my wife's coaching to live life with something out in front.